How F1 Driver Attitudes Evolved Ahead of the British Grand Prix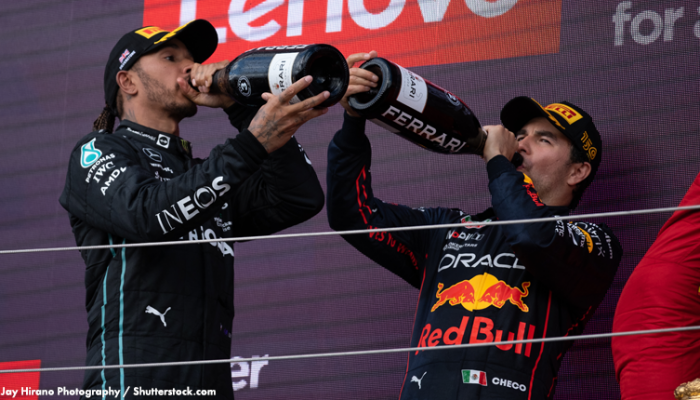 Last Sunday, Carlos Sainz scored his first Formula 1 win at the 2022 British Grand Prix, overcoming Oracle Red Bull Racing's Max Verstappen, who lost his lead in the first few laps due to bodywork damage. Verstappen and Perez top the leaderboard and Oracle Red Bull Racing tops the constructors, which is reflected in media coverage as the team has also been the strongest competitor in overall media presence since F1 began in March.
In the month leading up to the GB race, pressure has grown on UK-based teams following heightened array of discriminatory language towards this year's drivers. Piquet's attack on Lewis Hamilton made national headlines in the final week of June, alongside the suspension of Red Bull's Juri Vips due to racial slurs used on Twitch. Between 20 June and 4 July, 'racism' and 'xenophobia' were the third and fourth most popular search terms on an international scale in relation to Formula 1.
Overall, Oracle Red Bull received an 82% positive sentiment on all UK coverage between 1 June – 1 July. This is largely due to Verstappen's current lead in the FIA Formula 1 Standings, alongside a selection of bespoke modifications on his vehicle ahead of the GB race. However, while the team's victories have been greatly supported by positive attitudes across UK press, Verstappen's personal relationship with the Piquet family ultimately created a spike in national negative coverage between 26 June – 5 July. Of the 1,106 print and online news sources that associated Verstappen with the racial attacks on Hamilton, 92% were negative in overall sentiment.
Commentary was also amplified around this time by the booing that took place over the race weekend, which Verstappen was quoted as calling a 'bit of a problem' but he still called the Silverstone Circuit a 'great track and great atmosphere in general' (AutoSport, 02.07.22).
Most Mentioned Drivers
While Sainz achieved victory at the British F1, Verstappen's heightened media exposure has created the highest volume in both national press and UK-based automotive media since 1 June. Despite ongoing controversies, Verstappen's consistent wins and crowd-pleasing car upgrades means he has maintained an overall 62% positive coverage sentiment over the past month. In addition, Sainz downplayed his win over Verstappen as 'nothing special', which has been quoted 159 times by UK-based F1 news sources since 3 July.
Between June 25 – July 2, Mercedes also received a spike in positive coverage as Hamilton teased significant improvements to their vehicle ahead of the GB race. Having won eight times in the same location, he referred to Silverstone as the 'best track there is', describing the corners as 'hair-raising and just epic to drive' (Sky Sports, 02.07.22). These statements were used 173 times between 20 June – 2 July, with the majority of coverage coming from online F1 sources like Planet F1.com and local/regional radio stations, such as Isle of Wight Radio.
Fan Expectations
While Verstappen has previously told AutoSport that it was 'never straightforward' to meet high fan expectations, Oracle Red Bull Racing's modifications have received the strongest representation of positive international coverage since the start of June. This was complemented by commentary from former F1 driver Gerhard Berger, who claimed Oracle Red Bull Racing 'knew they had a good car' and were likely to drive at the front.
The most popular upgrade to receive attention across UK print, broadcast and online media was the 'well thought-out slimming method' that made the car nearly five pounds lighter than it was at the Canadian Grand Prix, worth an estimated 0.2 seconds per lap.
Following closely behind, Mercedes received the second-strongest volume of coverage on updates to their W13 car ahead of the British Grand Prix, including a 'revised front suspension, sidepod vanes, floor, rear wings and bib wing tweaks' (Auto Breaking News, 22.06.22). According to Motorsport.com, the team was 'pushing to take a step forward in performance' and 'ease some of the bouncing that has blighted both Hamilton and Russel's efforts' so far this season.
Hamilton was quoted 84 times between 20 June – 1 July in calling these changes a 'small step forwards', while urging that Mercedes have 'got to keep working' in response to the issue. The Mirror called this an 'optimistic British Grand Prix message' and a 'vow to fans' in their headline, which was syndicated a further 28 times by local and regional online media.

Most Active Authors
Between 6 June – 6 July, Luke Chillingsworth has led the F1 conversation across UK media. His commentary on the progression of UK-based teams, as well as the fluctuating relationship between Mercedes and Oracle Red Bull Racing, has featured across 539 articles in national and regional online publications. Both Michelle Foster and George Dagless have also maintained high coverage volumes over the 30-day cycle, with Foster offering an array of high-reaching exclusive insights into how GB drivers were feeling days before the Silverstone race. In a prominent article with Planet F1, Foster wrote of George Russell's belief that 'Red Bull and Ferrari will be ahead' but maintained 'high hopes' for Mercedes' overall performance.
Amicable Attitudes and Short-Lived Sportsmanship
While the public remains averse to Verstappen's defensive relationship with Piquet, his performance throughout the F1 Grand Prix has greatly supported the continued positive media presence of Oracle Red Bull Racing. As crowds booed Verstappen on 2 July, Mercedes received a direct positive spike in sentiment as Hamilton asked fans to stop.
As the multi-layered conflict evolves, coverage for McLaren, Alpine, Aston Martin and Williams remains much lower, with the strongest coverage and highest reaching sources coming from automotive and lifestyle publications. So long as Verstappen remains in the lead, it is likely that the overall F1 focus will remain in favour of Oracle Red Bull Racing as well as the correlative impact on both Hamilton and Mercedes.
Want to know more about this data or how media insights can support your PR and communications? Find out more.
https://www.vuelio.com/uk/wp-content/uploads/2022/07/British-Grand-Prix-2022-F1.png
430
760
Hollie Parry
https://www.vuelio.com/uk/wp-content/uploads/2023/09/vuelio-logo-200px.png
Hollie Parry
2022-07-06 15:24:14
2022-07-06 16:27:05
How F1 Driver Attitudes Evolved Ahead of the British Grand Prix