How Brand Britain is part of Super Bowl frenzy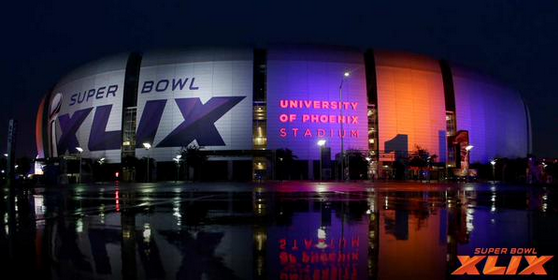 Americans are estimated to spend over $14 billion on the Super Bowl XLIX that kicks off this Sunday and while it may be years before Britain can match that level of excitement (or the tab) for the sport, the growing popularity of the event and the advertising extravaganza it represents, has got many UK businesses contributing to the hype.
One British animation studio is planning on recreating this year's ads in stop-motion Lego animation in less than 36 hours. According to Wired.co.uk, A+C Studios, based in London and Margate, is planning a live animation jam that it's dubbed "Brick Bowl". The team, led by director Dan Richards, will be watching the ads live as Super Bowl XLIX airs on Sunday, then immediately getting to work remaking them in plastic brick form.

The Telegraph reported that a British freelance director could be in line for a £660,000 windfall if an advert he made for £10 is screened during the Super Bowl. The article stated that James Bedford, 40, beat off competition from 5,000 clips around the world to be named as the only Briton in the final ten. The 30-second entry sees James, who acts in the video himself, angling at a lake in Longparish near Andover, Hants, while eating a packet of Doritos crisps.
With a 30-second ad spot selling for a whopping $4.5m,  Newcastle Brown Ale has taken a smarter approach to advertising on the Super Bowl without breaking the bank. The company has produced the first crowdfunded ad by teaming up with 37 other brands to participate in the 'Band of Brands' campaign. While Newcastle will not be able to run a national ad during the Super Bowl because Anheuser-Busch InBev holds exclusive beer advertising rights for the game, AdAge reports that 'Newcastle is seeking to skirt those rules this year by buying local air time during the game's broadcast Feb. 1 on NBC.'
'
Meanwhile, Twitter has attracted several other businesses in  the UK to get in on the excitement in the run up to the event
Throwing a #SuperBowl party this Sunday? We've got all the advice you need http://t.co/oLV66aVkFX pic.twitter.com/ttkPVyRw02 — Food Network UK (@FoodNetwork_UK) January 27, 2015
Last chance to win an evening at Joe's @beercanchicken1 for Super Bowl Sunday with FREE food & drinks! http://t.co/GCommqRmdB — London on the inside (@LondONtheinside) January 30, 2015
Fancy watching live #SuperBowl action at a VIP Super Bash event in London? We have tickets to #giveaway! Enter at http://t.co/JAEaX56Ray — Papa John's UK (@PapaJohnsUK) January 23, 2015
Superbowl London 2015 – We will be screening the big game with a swimming pool and games room! http://t.co/BtbQ4jTnPN pic.twitter.com/UmZO3kqGv9 — Superbowl London 15 (@SuperbowlLondon) January 6, 2015
#FoodDrink ▪ Classic American recipes for the Super Bowl: It's the Super Bowl this weekend, so if you're prepa… http://t.co/x3CTWarEoa

— Kazi Media UK™ (@Kazi_UK) January 30, 2015
https://www.vuelio.com/uk/wp-content/uploads/2015/01/Super-Bowl-img.png
280
558
Priyanka Dayal
https://www.vuelio.com/uk/wp-content/uploads/2019/09/vuelio-logo.png
Priyanka Dayal
2015-01-30 15:08:59
2015-01-30 15:08:59
How Brand Britain is part of Super Bowl frenzy