How to pitch to travel journalists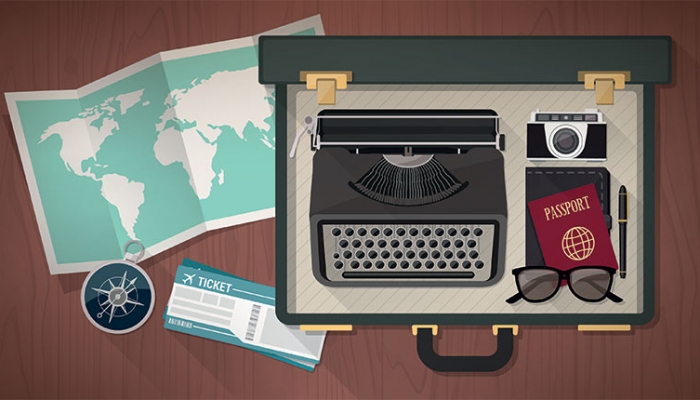 One industry heavily impacted by the COVID-19 pandemic has undoubtedly been travel, and by extension, the media that reports on it. While the next Travel Media Awards have been pushed back to January 2021, travel journalists have continued to write about the changing fortunes of the holiday industry during lockdown, and are now busy putting together alternatives to the usual summer features on luxury long-haul trips.
Read on for suggestions and requests from seven travel journalists working across trade, consumer and national press titles on how you can help them keep upcoming features and round-ups packed with useful ideas and inspiration.
1. Start with a story – classic, or with a spin
'Even in these surreal times the basic principles still apply. There's got to be a story. And it's got to be relevant to our audience.
'So, the fact that somewhere, whether a destination or a hotel, is reopening is not a story in itself. But a spin on that regarding, for instance, the impact lockdown had on people or nature may be of interest. And the classic hooks of 'new' routes, new immersive experiences, a secret corner, or a fresh way of doing things will always be what we are really looking for.
'While domestic tourism will be the big winner this year, magazines plan well ahead, so I am already looking at stories well into 2021 and beyond. Don't just think in the short-term.'
Lyn Hughes, editor-in-chief of Wanderlust
2. Get in touch to give journos a choice of what to cover
'Most things are useful. We'd rather hear than not. That way we can pick through and decide what we want to follow up on – or not.'
Jane Memmler, deputy travel editor at Reach plc outlets including the Daily Express, Daily Star and Daily Mirror
3. Think about how you can be relevant right now
'The world – and travellers' views of it – has changed since lockdown and content must be sensitive to the shifts. Travellers have lost confidence, which means they are looking for a different kind of travel information (content about safety and hygiene is as important as inspiration right now). Travellers have developed more of a conscience (seeing the world heal before our eyes and having our carbon footprints reduced on our behalf has made us all think about the impact our travel plans have on the planet) and they want to see content that helps them make more sustainable decisions. Travellers are thinking more about why they travel and what role travel plays in their wellbeing, so the content produced needs to reflect that change in mindset, recognising that travel is a gift and a privilege.
'Think about your angle: Is now the time to pitch the big hitters (at risk of overcrowding and overtourism prior to COVID) or a new angle? How can your ideas encourage dispersal and off-season travel? How can you help travellers see the world through beginners' eyes? With smaller teams and smaller issue sizes (in print), your content needs to champion the alternative. There is no room for generic right now.'
Jackie Scully, executive director of Think Travel
4. Target appropriately with B2B or B2C travel content
'TOPHOTELNEWS covers global hotel design, development, construction, openings and industry news so I'd welcome press releases and comment on these topics, and I work for a B2B publication so wouldn't be interested in the 'softer' B2C side of hospitality. I work remotely, so emails are the best way to get in touch. Plus, I receive so many pitches that I can't respond to everyone I'm afraid, but there's no need to follow up – if I like it, rest assured we'll run something eventually.
Having said all that, I'd like to finish by pointing out that we actively encourage contributions from PRs – TOPHOTELNEWS wouldn't be nearly as popular without them! If you've got a story that might work, please drop me a line.'
Richard Frost, editor in chief of TOPHOTELNEWS
5. Unusual angles are timeless
'Please get an idea of what I write about and who for – and never ever phone me! Other than that, I'm interested in pretty much any topic that might illustrate a genuine trend or provide an unusual angle on a topic – so long as it's not in need of very quick coverage.'
Norman Miller, freelance journalist covering travel alongside food and drink, education and science
6. Remember the images
'Your Holiday & Cruise Magazine is available in glossy print and online versions via our websites. We are also very active on our social media channels with our social media manager Steve Newman posting daily.
'We continue to welcome press releases for the travel industry, both holidays and cruises. Press releases should fit with our publication and we would appreciate three images, with links to them, or the PR can invite contact to send the hi-res versions.'
David Powell, editor of Your Holiday & Cruise Magazine
7. Email is better than phone for contact, wherever the writer is based
'It's always great when PRs approach me – usually via email is the easiest. Then we can work out the best way to work together. It's always good to meet face to face if possible, but as I often work with UK PRs and live in Australia, that isn't always an option, (especially right now!)'
Hayley Lewis, blogger at A Lovely Planet
Find travel journalists writing all over the globe with the Vuelio Media Database.
https://www.vuelio.com/uk/wp-content/uploads/2020/07/Travel-journalists.jpg
430
760
Phoebe-Jane Boyd
https://www.vuelio.com/uk/wp-content/uploads/2019/09/vuelio-logo.png
Phoebe-Jane Boyd
2020-07-27 09:43:43
2020-07-27 09:46:04
How to pitch to travel journalists