How using a Blogger Database can help stay on top of influencers
Tomorrow's key influencer may not be the same as today's. A blogger with influence within one sector may not resonate with another, while newcomers join the online community every day. Bloggers and vloggers have become key players in outreach campaigns, but making sense of influence across the social sphere is far from easy.
The foundation to building meaningful relationships starts by identifying the key influencers for your campaign. Generating lists of bloggers isn't a simple process. It involves understanding who they are, what they write about and who their audience is. Statistical information is only one aspect to keep in mind, as a blogger with a small audience may have great influence, say one of their followers happens to be a top influencer.
With dozens of social media channels to research and thousands of influencers to compare, using standalone platforms to analyse social influence becomes a necessity. Vuelio's integrated solution combines Kred, Klout and Moz – three of the biggest social influence scoring platforms with the Vuelio Blogger Database of over 11,000 UK bloggers.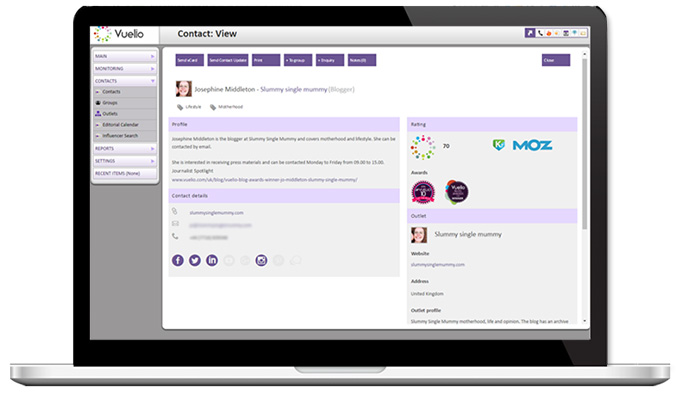 Once you have determined who you need to reach out to, finding bloggers' contact information is the next challenge in your outreach campaign plan. Many do not list their personal contact details on their website and sourcing the information can take up a lot of time and resources.
The Vuelio collection of bloggers, vloggers and media contacts is updated regularly by our expert team of media researchers as we understand that the media industry is constantly evolving.
Having contact information, social influence scores and the Vuelio weekly top 10 blogger rankings at your fingertips helps you lay the foundation for strong blogger relations.
Cut down the time it takes to collate contact details and profile information by having a demonstration of our Blogger Database today.
https://www.vuelio.com/uk/wp-content/uploads/2016/08/How-using-a-Blogger-Database-can-help-stay-on-top-of-influencers.jpg
400
710
Jake O'Neill
https://www.vuelio.com/uk/wp-content/uploads/2019/09/vuelio-logo.png
Jake O'Neill
2016-08-10 10:33:13
2016-11-06 15:41:39
How using a Blogger Database can help stay on top of influencers