In it together? The reputation Cameron can't shake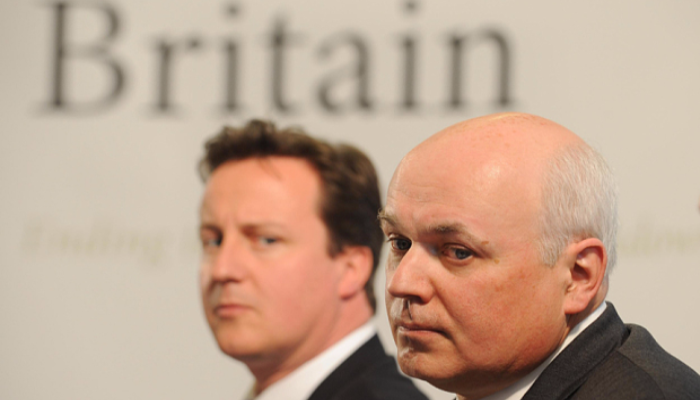 Iain Duncan Smith's explosive resignation on Friday has pushed the Conservative party towards a split and reopened some old and very painful wounds. The resignation accomplished the political double whammy of weakening the pro-EU leadership at a tumultuous time, whilst undermining the reputation that Cameron has made a priority to build in the last six years- that we're all in it together.
The idea that we're 'in it together' may have been questioned consistently during Cameron's time in power, but it's been an important tool to reassure voters that they can vote for austerity measures with a clear conscience. Only last week, there were triumphant declarations from the dispatch box that the Conservatives are ''the true party of labour''. And even in the face of defeat over tax credits, the official party line remained consistent: the burden is shared equally.
Duncan Smith's resignation has pulled the rug from under the leadership's feet. The Department of Work and Pensions has in the last six years cut welfare time and again, but cuts to Personal Independence Payments (PIP) have proven a truly controversial subject, with £1.3 billion savings made from disability welfare in last week's budget. This directly coincides with tax breaks for higher earners, which has been met with opposition from MPs across the political spectrum. A high profile resignation over the cuts means this issue will not quickly subside, and fuels the idea that the leadership is unwilling to let its middle-class, older voters bear the burden of austere policies.
Long thought of as the 'nasty party', the rhetoric pedaled by the Conservative leadership has sought to change the party's reputation to one which is economically sound but also socially aware. After Duncan Smith's shock resignation, it looks like neither will be left unscathed.
https://www.vuelio.com/uk/wp-content/uploads/2016/03/Cameron-and-IDS.png
410
700
Jake O'Neill
https://www.vuelio.com/uk/wp-content/uploads/2023/09/vuelio-logo-200px.png
Jake O'Neill
2016-03-21 14:09:52
2016-03-21 14:16:14
In it together? The reputation Cameron can't shake