Influencer Insight: Sion and Ben, The Globetrotter Guys, on travel blogging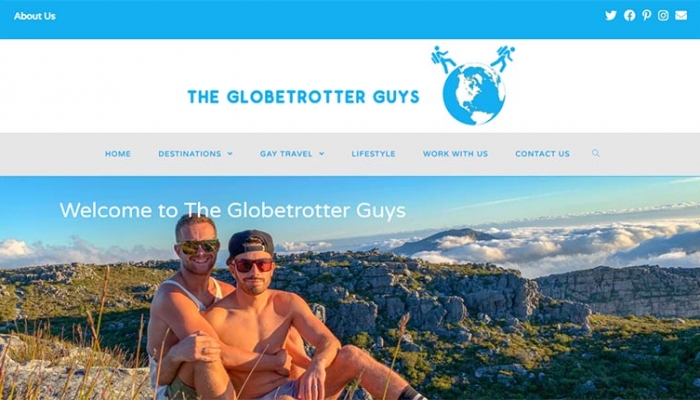 'Trying to keep a travel-focused blog alive without being able to travel is a huge challenge,' say Sion and Ben, who have been meeting the challenges of the pandemic with upbeat and interesting content over at The Globetrotter Guys blog.
Winners in the Best LGBTQ+ category at the Online Influence Awards, The Globetrotter Guys successfully switched from sharing practical information on navigating unfamiliar parts of the world for LGBTQ+ people to 2020-friendly advice for what to do when the furthest travel possible is a walk to the sofa. Read on for how Sion and Ben rerouted, how they like to collaborate with PRs and their possible plans for 2021.
How does it feel to win your category this year?
Honestly, we were both shocked and thrilled. There were some incredible people within the LGBTQ+ category so we felt very proud to have had the nomination, let alone a win!
What started your passion for your subject?
There are so many more things to think about as an LGBTQ+ traveler, not least of all some serious safety concerns depending on where you choose to go. We wanted to share our own experiences, both good and bad, to give other LGBTQ+ travelers the confidence and information to expand their own horizons and see more of the world. While we were on the road, we also wanted to give a platform to those that lived in different countries to share their own stories about being LGBTQ+.
How has the pandemic impacted your work?
Massively so! Trying to keep a travel-focused blog alive without being able to travel is a huge challenge. However, we have invested a lot of time into refreshing and creating new content outside of travel that our audience would also be interested in, whether that's the best LGBTQ+ shows to watch in lockdown or our favorite clothing brands aimed at the LGBTQ+ market.
What do you love most about being a blogger/influencer?
It's a wild ride for sure and there has been so much to learn! For us, we really love the sense of community, especially being in the LGBTQ+ niche, it's something that automatically brings us, our followers and other LGBTQ+ bloggers together and makes us feel like what we do can really help others.
What plans do you have for 2021?
At this exact moment in time it's hard to predict! The optimist in us hopes that a vaccine is successfully, effectively and efficiently rolled out and travel can resume again. Assuming that is the case, we have some big LGBTQ+ travel conferences we plan to attend including IGLTA in Atlanta and Proud Experiences in New York. We also want to create content in new destinations we have never set foot in before such as Lisbon, Puerto Vallarta and more of the US.
How do you collaborate with brands and which kind of brands do you really like working with?
We love working with brands and PR companies that have the right intentions when it comes to the LGBTQ+ market. We really appreciate it when brands and PR companies either understand or take the time to ask questions about the LGBTQ+ community.
We collaborate with a huge range of brands from travel to fashion, grooming, food and beverage and everything in between. We do this through creating promotional content on our website or through our social media channels, predominantly Instagram (@theglobetrotterguys).
Naturally, we get a lot of collaborations which focus on Pride but what is more important to us and our audience is being included in campaigns all year round and being a visible gay couple outside of Pride month (we are gay all year!). We really like working with brands that understand this point and are inclusive in all their campaigns. We also love to see brands giving back to the LGBTQ+ community – a % of profits from a campaign going to an LGBTQ+ charity, for example.
For PRs looking to work with you, how would you prefer they approach you and with what kind of content?
We are always happy to talk so for any PR companies that would like to work with us, just drop us an email and we can arrange a chat. We like to get to know the brands and the PR companies we work with, as having a good relationship is really important to us. When it comes to content we like to get creative so are always keen for people to bring ideas to us as well as us sharing our own ideas.
Which other influencers/podcasters do you follow/enjoy?
There are so many inspiring influencers out there. We really love the likes of Once Upon a Journey, 27 Travels, Couple of Men and Nomadic Boys to name a few, but the list honestly goes on!
Which other media do you always make time for?
We always make time at the end of the day to cuddle up on the sofa and get into a bingeworthy show on Netflix – we are currently getting through Schitts Creek, which is hilarious. By contrast, stick us by a pool and we will pretty much always have the latest edition of Attitude Magazine in hand, one of our favourite gay magazines that we have been reading for years!
https://www.vuelio.com/uk/wp-content/uploads/2020/12/The-Globetrotter-Guys.jpg
430
760
Phoebe-Jane Boyd
https://www.vuelio.com/uk/wp-content/uploads/2023/09/vuelio-logo-200px.png
Phoebe-Jane Boyd
2020-12-22 15:33:17
2020-12-22 15:33:17
Influencer Insight: Sion and Ben, The Globetrotter Guys, on travel blogging