Influencer Insight: Uju Asika, Babes About Town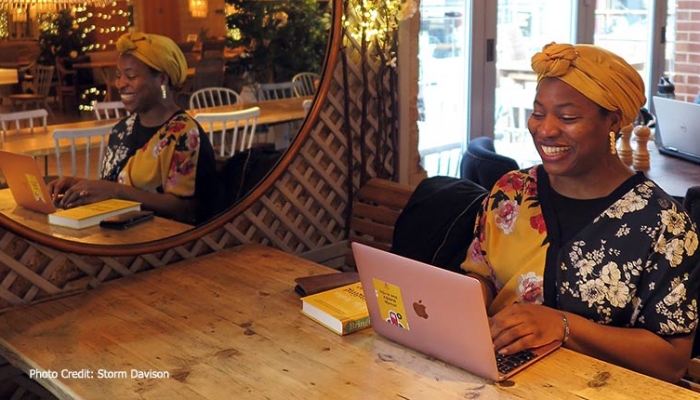 While you and your babes might not be able to get out and about in town, Babes About Town London lifestyle blogger Uju Asika can help with ideas for what to do about the house (Big Fish Little Fish kitchen-based dance parties, anyone?).
Uju shares how she's had to switch things up during both lockdowns this year, what her favourite things about London are and what she's most looking forward to doing with her own children when the world opens back up again.
How did you get started with blogging about life in London?
I started blogging about London life after I had my two boys. As a new mum, I had wondered about what I could still do around town with a babe in tow. So, I decided to launch Babes About Town, curating cool ideas and experiences for parents in London and beyond. The goal was always to create 'parent-friendly' content, so rather than just focusing on baby groups, etc. I made a point of sharing restaurants, theatre, gigs, festivals and other activities that were fun for grownups, too.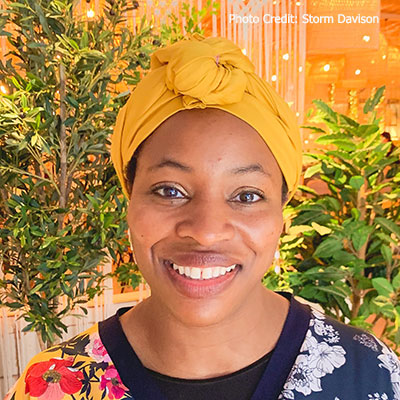 What's your favourite thing to post about and why?
I'm an arts and culture nut and that was my background as a journalist before blogging. I love posting theatre reviews and film reviews and I enjoy roping my boys in to write their own reviews. They're both seasoned critics now! We are a foodie family so I'm also a big fan of restaurant reviews, especially if it's something I haven't tried or even heard of before.
How did you change your approach and content during lockdown?
For the first lockdown, I made a temporary (and unofficial) 'rebrand' to Babes About The House, so I could cover more family activities at home. I spent more time researching what was actually open in London and where people could take their children out safely in this environment. Luckily, there was a ton of really cool stuff happening online, like Big Fish Little Fish kitchen raves for all the family. I'm always dancing in my kitchen anyway, so it gave me a perfect excuse!
Quick recommendations for things for Londoners to do during the pandemic?
Museums! Many of the museums were the first venues to reopen safely and you can have a really enjoyable, socially-distanced visit. Plus, most of them are better without crowds. If you prefer being outdoors, you could head to your nearest park or visit one of London's many markets when everything is open again. I haven't been yet but the new Chiswick Flower Market looks very inviting.
What makes London the best city in the world?
The people and the culture. It's that mix of multicultural backgrounds, flavours and influences that makes London so vibrant. In the book Bringing Up Race: How to Raise a Kind Child in a Prejudiced World, I wrote a chapter inspired by raising kids in London. I talk about the challenges and dangers but also the joys of bringing up my boys in the coolest city on the planet.
What's the most fun you've ever had in London?
That is a difficult question because I've had a LOT of fun in London. I mean, I started clubbing in town when I was just 13 (don't tell the kids). I think the most fun times now are seeing my kids discover the magic of the city. I love stumbling across free events, like years ago in central London where there was a massive free circus festival in the streets. I'll never forget the look of wonder on my boys' faces.
What are you most looking forward to doing when the world opens back up again?
Sitting in a darkened theatre or cinema and not having a panic attack if somebody clears their throat.
How do you collaborate with brands, and which kind of brands do you really like working with?
I am very picky about collaborations and I prefer to work with brands whose ethos resonates with my content and audience. I've done everything from sponsored posts and social, to brand ambassadorships or branded video content. The more creative I'm allowed to be, the better.
For PRs looking to work with you and your blog/website, how would you prefer they approach you and with what kind of content?
They can get in touch via my Contact page on the blog, but please read my FAQs first. I am open to ideas but as stated earlier, I'm selective because I only do a handful of blog collaborations.
Which blogs do you regularly check out?
My homegirls Honest Mum, Your DIY Family, Fitness 4 Mamas and Mummy's Little Monkey. For London blogs, I enjoy I Want You to Know and London On the Inside. And for travel, Oneika The Traveller is simply gorgeous.
https://www.vuelio.com/uk/wp-content/uploads/2020/11/Uju-Asika-Babes-About-Town.jpg
430
760
Holly Hodges
https://www.vuelio.com/uk/wp-content/uploads/2023/09/vuelio-logo-200px.png
Holly Hodges
2020-11-26 16:09:39
2020-11-26 16:09:39
Influencer Insight: Uju Asika, Babes About Town