Is it time to rethink your Twitter PR strategy?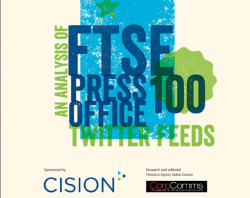 Journalists use Twitter to source and promote stories; PRs use Twitter to promote stories and help journalists source them – yet, few journalists actually bother following leading corporate Twitter press feeds.
Case in point: British television network ITV's press centre has over 84,000 followers on Twitter, making it the most popular press feed among the FTSE 100 companies present on the microblogging site. Yet only 14 (or one in 6,000) of its followers are journalists. 
The story is no different for the other 16 FTSE companies on Twitter: many takers for their press updates, but few journalists, their target audience.
Does this mean corporates need to rethink their press strategy on Twitter?
The results from two separate research surveys, an analysis of the FTSE 100 press office Twitter feeds from CorpComms magazine produced in conjunction with Cision, and the Social Journalism Survey from Cision and Canterbury Christ Church University indicate that it is in fact time for PRs to step-up their communication strategy on Twitter.
The findings from both studies suggest that Twitter is a powerful communication tool, and as more people join the 250 million strong active user-base, the site has become a resource for real-time information. 
This makes Twitter an integral part of how journalists and PR now work. The SJS study reveals that Twitter is the most popular social media tool with 92% of UK journalists using the platform in a week, up from 70% just two years ago.
The study also indicated that a third (30%) of journalists chose social media (mainly Twitter) as their preferred source of communication with PRs.  However, social media is the third most common platform used by PRs to communicate with journalists after e-mail and telephone.
Meanwhile, the findings from the CorpComms analysis show that while the press feeds of Britain's largest corporate accounts were intended to be a resource for journalists, their followers are a mix of bloggers, politicians, customers and even colleagues.
The study also pointed out that the personal nature of interaction possibly suits journalists well: 'While enjoying the interaction and banter with PRs on Twitter, when it comes to researching stories they prefer to do so away from their competitors. '
As Ian King, business and city editor of The Times, pointed out in the study: 'To be perfectly honest, I never look at corporate Twitter feeds. If I have a question I ring the press office or PR man.'
Added Andrew Hill, management editor of Financial Times: 'When I look at such (corporate) feeds, I'm after genuine, non-robotic responsiveness to customers, perhaps a sense of humour, where merited, and evidence that there is a real person or people behind the tweets.'
Ian and Andrew are among other journalists to express the need for PRs to change the content strategy on press centres from corporate updates such as annual results, speeches and competitions, to real-time news on resignations, movements, customer grievances redressal and real-time honest feedback and information during a crisis.
Meanwhile, Steve Hawkes, consumer affairs editor, the Daily and Sunday Telegraph points out how Twitter feeds done right can be a 'goldmine' for journalists. He said in the CorpComms study: 'There are some very good examples of companies using Twitter to engage with customers, such as Tesco and even train operators and British Gas, despite the negative publicity surrounding the #AskBG question and answer session. But remember, journalists will use them as valuable source material. They can be a goldmine.'

Priyanka Dayal
https://www.vuelio.com/uk/wp-content/uploads/2019/09/vuelio-logo.png
Priyanka Dayal
2013-12-16 14:36:10
2013-12-16 14:36:10
Is it time to rethink your Twitter PR strategy?