Journalist Spotlight: Helen Graves, food & drink editor at Londonist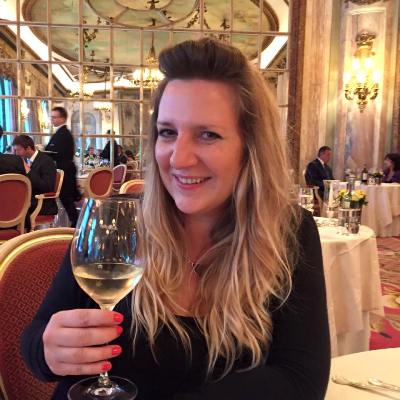 An interview with Helen Graves on her latest role as the food and drink editor at Londonist. Helen discusses how she juggles her work for the Londonist with her work as a freelance food and travel writer and her blog, Food Stories. Helen also reveals the best and worst parts of her job, Instagram's rising influence as a social media tool, particularly for bloggers, and why Georgia is the country to visit!
How are you settling into your new role as food and drinks editor at Londonist? Can you describe a typical working day for you?
There isn't really such a thing as a typical working day for me! I have so many different roles that I'm basically just trying to keep each plate spinning until I go to bed in the evening, which is exactly how I like it. I'm settling into the new role very well though thank you, it's really exciting to be part of such a great team. I've read Londonist for years so I'm really proud to be a part of it now.
I understand that you are also an author and work on a freelance basis writing about food and travel. Can you tell us how that compares and how you juggle your different roles?
As I said, it's very much a case of just doing what I can each day but I do enjoy the variety. I like that one day I can be cooking and styling, the next planning articles and writing. I think it's important for me to have lots of different roles on the go as I get bored easily and find routine de-motivating.
You are also a blogger at Food Stories. Can you tell us a little bit about your blog and the motivation behind starting blogging? What makes it different and why should people read it?
Food Stories is a food and travel blog, but it started out as purely a recipe journal. I was reading blogs and I felt like I had something to contribute. I was also working in academia at the time and I needed a creative outlet – badly! I had always wanted to write and cook professionally but I just hadn't realised and it all sort of came together without my even noticing. Food Stories then changed into something that was very much influenced by the area I was living in, in South East London, so I would see all these ingredients like scotch bonnets, strange fruits, vegetables etc, and start experimenting with them. That's when it started to become popular – I think people felt like they were on a journey with me. Nowadays I still cook like this, but I'm more influenced by my travels. Every month or so I'm off somewhere else. People should read if they like cookery and travel! I'm also very no nonsense – I don't take myself too seriously and I think people appreciate that.
How do you find the balance between honest opinion and reviews and the marketing and promotional side of blogs?
Marketing and promotion doesn't = dishonesty does it?
What do you enjoy the most about your job? What are some of the more challenging aspects?
I enjoy almost everything about it. The cooking, the creativity with photography and styling (which I used to hate), the writing (obviously!). I love the fact that I eat and cook and write for a living! It makes me laugh out loud with happiness. I'm lucky to have met so many great people with who find joy in the same things, too. I can't deny it's a wonderful life. There are downsides however, the main one being that people don't value creative work as they do other work. People will ask me to work for free very often, producing copy, recipes, photography. It's outrageous. Sometimes they just need to be told to get lost, other times good negotiating skills are essential.
How do you engage your audience? How big a role does social media have to play?
Social media has a huge role. It's interesting to see how Twitter has changed. At first people would comment often on the blog, and then they tended to respond more often on Twitter. I have my largest following there (+30K), but now Instagram is huge. There are people earning a lot of money for just one picture – nothing else!
How do you work with PRs and marketers? What advice would you give to PR professionals?
Don't ask people to work for free! The idea that you will send an ingredient then have a  blogger produce creative copy, write a recipe, test it, photograph it, style it, edit the photo, and then promote it in their social channels they've spent years building up is outrageous. Talk about taking the mick! Those people get very short shrift from me. Also do stop 'reaching out'. Your arms will get tired.
What type of press material are you interested in receiving?
Anything food and travel related.
Take 5:
If you could go on a food tour of 3 different countries, which countries would you choose to visit for breakfast, lunch and dinner?
Breakfast: Turkey
Lunch: Ethiopia
Dinner: Georgia
Where is your favourite place to travel?
My favourite country has been Georgia (although Turkey is a close call as Istanbul is my favourite city apart from London). The people are so welcoming, and the food is a really unique mix with Russian, European and Middle Eastern influences. It's fascinating. They also have these wonderful feasts, called supra, which go on for hours. People sing, make speeches and just keep eating. The khachapuri (cheese stuffed bread) is incredible. Actually I have to have Turkey as an equal and it's my favourite cuisine. I'm obsessed with Istanbul.
If you were reincarnated as an animal, which animal would you like to be and why?
A cat. I have two cats and all they do is sleep and eat. Perfect.
Who would you like to play you in a film?  
I've no idea. I'm really poor at even remembering the names of famous people. I pity them having to play me though.
Where do you see yourself in 5 years?
I've absolutely no idea. Given what has happened in the last five years it's hard to say! I'll probably be working on a book, I should imagine, but you just never know. That's the fun of it all, surely?
https://www.vuelio.com/uk/wp-content/uploads/2015/09/Helen-Graves.jpg
400
400
Christina Pirilla
https://www.vuelio.com/uk/wp-content/uploads/2019/09/vuelio-logo.png
Christina Pirilla
2015-09-15 11:07:29
2015-09-15 11:10:03
Journalist Spotlight: Helen Graves, food & drink editor at Londonist