Journalist Spotlight: Let's Talk Tech with Fabio Virgi
An interview with Fabio Virgi, founder and editor of Let's Talk Tech, a UK based tech blog covering product and service reviews, industry updates, tips and opinions. Fabio talks to us about how he keeps Let's Talk Tech less technical for the average reader, the role PRs play in the blog, and why (or rather when) Dwayne 'The Rock' Johnson would play him in a film.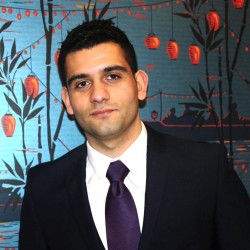 How does one 'talk tech' yet keep it understandable for the less tech savvy?
Rather than focusing solely on a product's specification sheet, I like to think about how a particular feature or technical spec will end up affecting user experience.
 At the end of the day, a product can have the biggest list of geeky features but it all boils down to whether the user will get value out of using the product and how they feel about using it. By taking that approach to an article or review, I feel like "tech talk" becomes a lot more understandable to the average reader.
Also, if you browse the website you'll notice that the content on Let's Talk Tech tends to be quite visual with photos and short videos. Not only does that break up the written content to make it more digestible, but it brings the reader closer to the product too and demonstrates the technology rather than being words on a page. 
What is the future of technology?
We live in a world where people are addicted to having the latest information on demand, and at the moment we're reliant on technology like TVs, smartphones, tablets & computers to give it to us. That said, I think we're going to see a bigger integration of technology (and especially the internet) in to the everyday products we already use.
Smart TVs, smartwatches and Google Glass are prime examples of this — where you previously had to sift through your phone's email inbox to get your flight information, services like Google Now will push that information on to your smartwatch when you need it.
It's exciting stuff and I'm curious to see what manufacturers come out with next!
What is unique about Lets Talk Tech?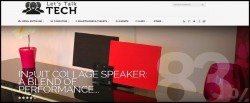 When I started up Let's Talk Tech I noticed that for the most part, it was the larger tech publications that had good looking websites that were a pleasure to browse. So, with that in mind, I wanted Let's Talk Tech to have the visual appeal of a larger tech publication with the down-to-earth independent views of a small blog.
The other thing is, Let's Talk Tech doesn't really cover too many mainstream products at the moment. While many tech websites are going wild about the specs on a new smartphone or tablet, I prefer to cover "smaller" and more niche products that people might not already know about.
How do you work with PRs?
Given that I'm obsessed with all things digital, I'm surprised to say that I like it when PRs send a product out with a hand-written note. It's a nice little touch!
On the more negative side, I can't stand having a PR nagging me about deadlines for a review sample. I like to really put a product through its paces so that it can be fairly judged, so being pressured to rush an article never goes down well with me. It just shows that they don't care about the content.
Fortunately, most of the PRs I've worked with have been very understanding about timelines for reviews and give me the space I need to get a fair review written up. Ultimately, they benefit from a higher quality article, better photography to show off the product and build a strong long-term relationship with a growing publication. Everyone wins!
What is the road ahead for Let's Talk Tech?
It's still early days considering that Let's Talk Tech is still under a year old, so at least for now, the aim is to keep producing high quality content that's useful, engaging and makes people want to come back for more. Fortunately, I've been joined by a couple of great writers who share my passion for technology, so that has helped the website's growth.
Until now though, things have been positive. Let's Talk Tech has been featured as a default tile/bookmark on the UK version of Coast by Opera (an iPad browser), Engadget acknowledges Let's Talk Tech as a "Critic Reviewer" in their review sections and traffic is constantly on the up. All in all, the road ahead is looking positive!
Take Five
What is the gadget you can't do without?
It has to be my iPad Mini with Retina display. It's so powerful as a productivity tool, so paired up with a small Bluetooth keyboard it's the gadget I can't do without.
What is the next gadget on your wish list?
It would probably be Google Glass. The internet on my face? Yes please.
As soon as the consumer versions are out I'll definitely be picking one up.
What would your super power be?
Telekinesis, although I'd become way too lazy from just 'summoning' my gadgets to me instead of grabbing them myself! I considered turning in to the Hulk, but I think the cost of my wardrobe would skyrocket.
Would you go forward or back in time? 
Forward. I want to see the day humans are capable of space travel.
Who would play you in a film?
When I pile on another 200kg in pure muscle and grow over 6ft, perhaps Dwayne 'The Rock' Johnson?
Priyanka Dayal
https://www.vuelio.com/uk/wp-content/uploads/2023/09/vuelio-logo-200px.png
Priyanka Dayal
2014-03-31 11:06:04
2014-03-31 11:06:04
Journalist Spotlight: Let's Talk Tech with Fabio Virgi