Leading different types of people while working remotely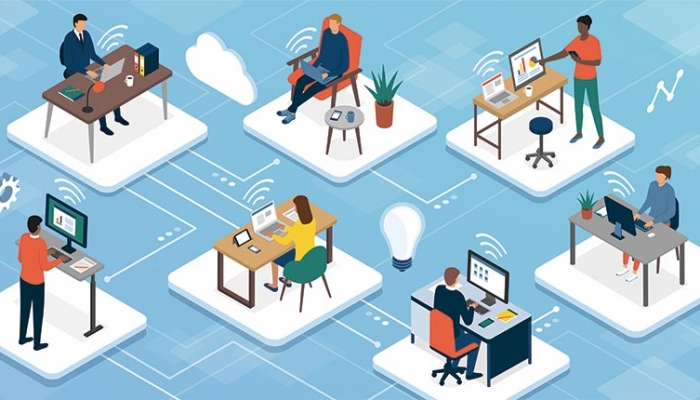 This is a guest post from Richard Middleton, leadership consultant at Middleton Consultancy Ltd and senior consultant with Engaging Business.
As a leader you may be feeling pressure right now to balance maintaining performance, creating a flexible and supportive environment, and managing your own energy levels. In addition to the fact that this may be the first time your team has had to work apart for an extended period.
Easy? Probably not. Especially if your world now includes the added challenges of relentlessly checking for the next available Click & Collect slot, answering your children's questions arising from your home schooling sessions or working out how to use an endless range of video conferencing apps with family and friends.
Through my company and work with Engaging Business, I coach leaders of all levels across the private and non-profit sectors and am privileged to get an insight into their challenges and successful strategies in tackling them. There are three key areas I see consistently delivering results that should help you now and in the future.
1) Build your self-awareness
Higher levels of emotional intelligence are fundamental to being a better leader. Understanding both you and your teams' personality preferences will help you to tailor how to work with them most effectively. Take a Myers-Briggs Type Indicator assessment – available free through Engaging Works. It's based on the work of Swiss Psychiatrist Carl Jung and is a great way to get started. Initially consider whether you're more 'extroverted' (energised by talking things through, working in groups, getting stuck into activity) or 'introverted' (energised by thinking things through, working more on your own, reflecting for longer prior to taking action). Don't confuse these words with social confidence as the meaning here is different.
People often lead as they like to be led – especially if they're experiencing stress. Right now, if you're an extrovert, that may mean you'd like longer or more frequent video calls, a lot of discussion and speed to pin down actions. What will this be like for an introvert? Likely, not great. Send information in advance, use the chat function alongside video to allow more reflective people to post, take more quick breaks or just stop the conversation for a minute. If you're more introverted, you might not have considered how extroverts may miss the banter and chat of the workplace. Recreate some of this with an online team lunch, encourage working 'alongside' each other on a video call or post-work drinks if that works for your team. Ask your team what they need.
2) Seek input and agree clear outcomes
It can be very easy to slip into micro-managing when you can't 'see' your team getting stuck into their workload. Working near them may have given you a better sense of where they were at which can leave you feeling in the dark now. Uncomfortable as it may feel, it's the outcome you need to focus on rather than how it's achieved.
Use open questions to understand your team member's views and tap into their experience, agree key milestones to check in and give them time to describe the result they're picturing as well as sharing your view. What will this work actually look like when it's done? Keep discussing until you can both describe the same outcome in detail. Give them the space to work out how to achieve it, remind them you're available to help and resist the urge to keep checking in outside agreed updates.
3) Invest in reflective practice
Don't underestimate the power of taking time to review how things are going. Reflection doesn't have to usurp hours out of your already stretched diary – even taking ten minutes daily while you're having a coffee can lead to useful observations.
Ask yourself what's working well and what could be better? What could this mean for when things change again with some form of return to the workplace? Encourage your team to do the same. Don't assume the team will or should work in the same way – capture their views on a survey such as the Working from Home Survey from Engaging Business if this is available in your organisation.
Overall, learn from this period of time. While it may be challenging, it's also a fantastic opportunity to expand your skills as a leader.
https://www.vuelio.com/uk/wp-content/uploads/2020/05/Remote-management.jpg
430
760
Phoebe-Jane Boyd
https://www.vuelio.com/uk/wp-content/uploads/2019/09/vuelio-logo.png
Phoebe-Jane Boyd
2020-05-04 09:22:54
2020-06-06 18:53:50
Leading different types of people while working remotely