Leveson inquiry closes: no part II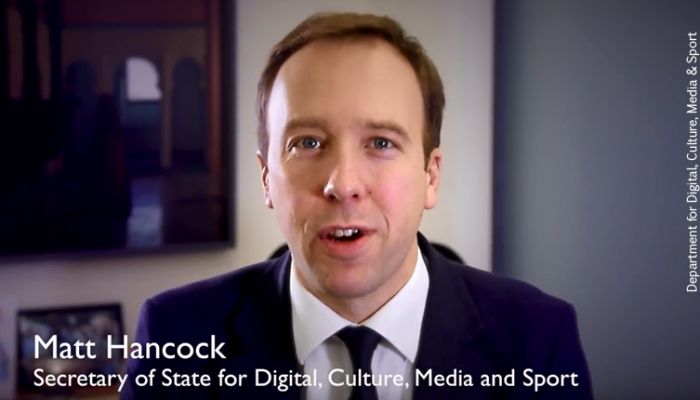 The sequel to the Leveson Inquiry has been cancelled by Matt Hancock, the secretary of state for digital, culture, media and sport.
Hancock made an announcement to the house which explained he would be 'formally closing the Inquiry'.
In the speech, Hancock praises the first part of the Inquiry: 'The Leveson Inquiry was a diligent and thorough examination of the culture, practices and ethics of our press in response to illegal and improper press intrusion.
'There were far too many cases of terrible behaviour and having met some of the victims, I understand the impact this had.'
He outlines how it heard from over 300 witnesses, led to 40 convictions and created two regulators: IPSO and IMPRESS. Hancock explains that IPSO regulates 95% of national newspapers by circulation and that it 'largely complied' with Leveson's recommendations.
Hancock's endorsement of IPSO in this speech will be a relief of the newspaper industry that has feared being forced to join the state-back regulator IMPRESS.
Hancock said there were improvements to IPSO and that he 'hopes' there are more to come.
Hancock suggests the second part of the Inquiry is no longer valid as the industry has changed dramatically – he cites figures that circulations have fallen by about 30% since the conclusion of Leveson part I; that for every £100 lost in print revenue in 2015, publishers made just £3 in digital; and how more than 200 local newspapers have closed since 2015.
He explains that 'Sir Brian [Leveson] agrees that the Inquiry should not proceed on the current terms of reference but believes that it should continue in an amended form'.
What that form is has not been explained.
The other major feature of Hancock's speech was the repeal of Section 40 of the Crime and Courts Act 2013, which would have meant that papers would have to cover BOTH sides of court cases against them, no matter what the outcome was.
While this speech is likely to be met warmly by the press industry, no everyone is happy. Hacked Off, the 'campaign for victims of press abuse' has tweeted: 'The Gov has just announced that they are formally closing the 2nd half of the Leveson Inquiry.  It has chosen to turn a blind eye to press and police corruption at the demand of corporate press owners. Victims have been disgracefully betrayed.'
While no decision pleases everyone, Hancock detailed the public consultation (which had 174,000 respondents) and clearly believes this decision is in line with public consensus. The move means the struggling press industry doesn't have to worry about Government regulation, but in some sections of society, disappointment at the status quo will continue to be against them.
https://www.vuelio.com/uk/wp-content/uploads/2018/02/Matt-Hancock.jpg
430
760
Jake O'Neill
https://www.vuelio.com/uk/wp-content/uploads/2019/09/vuelio-logo.png
Jake O'Neill
2018-03-01 11:42:27
2018-03-01 11:42:27
Leveson inquiry closes: no part II