LGBT Spotlight: Jamie Beaglehole, Daddy & Dad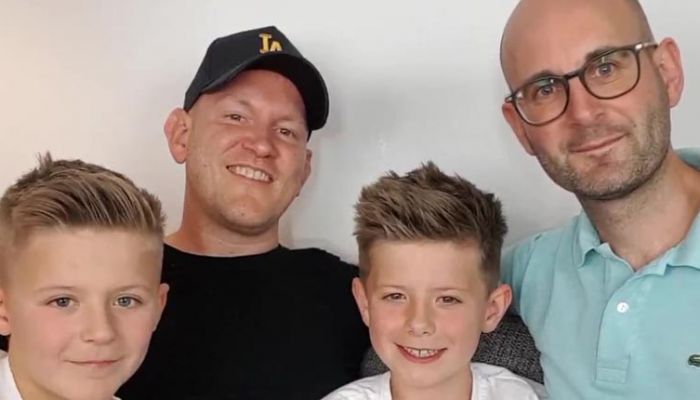 Jamie Beaglehole is one half of Daddy & Dad, which has once again ranked in the top 10 UK LGBT blogs. What started as a means to share adoption information for same-sex parents, Jamie and partner Tom have now become a major force in the parent blogging world with sons Lyall and Richard, and have featured in national television campaigns for the likes of eBay.
We spoke to Jamie about social media (and Lyall making sure they're on the right platforms), homophobia in society, supporting LGBT+ all year round and going mainstream when working with PRs and brands.
How do you describe what you do?
We're Jamie and Tom, dads to Lyall and Richard. We share our family's adventures via the Daddy & Dad blog. Our 'no filters' approach helps prospective adopters and young people get a feel for real-life parenting from a gay dad's point of view. The blog and social channels became my full-time job last year. Through partnerships with global brands and publications, we aim to raise the profile of LGBTQ families; showing the world how happy, settled and thriving our kids are with their two dads by their sides.
How do you use different social media channels with your blog?
There are so many channels now! As a thirty-something dad I'm trying my best to keep up. The Daddy & Dad blog has always been our main focus and I established our Instagram as a convenient gallery to run alongside the blog. Quite quickly Instagram became its own entity with its own troupe of followers and an outlet for brand-collabs. The engagement we receive on Instagram is fast and easy to respond to. Twitter is our channel for giveaways, general chit-chat and allows me to respond to LGBTQ current affairs. We're new on YouTube – we have a few clips on there, already attracting thousands of views. We're also new to Facebook (believe it or not!) and we've been blown away by the level of engagement our page generates.
I should also mention, Lyall's pestered us into signing up to TikTok – we'll be trying a few things out on there in the coming weeks. Brands have an expectation that influencers are conversant with all the latest social apps and channels so Lyall's a great resource for me!
Is society getting better or worse for the LGBT+ community? 
Do you know, a couple of years ago I would say better, but now I'm not so sure. The current political climate (I won't mention the 'B' word) has created a comfortable environment for homophobia. When homophobia is unchallenged by our political leaders and influential celebrities, people with extreme opinions come out and join 'the debate'. The trouble is, there's no debate. Prejudice against LGBTQ people is inherently wrong, whether it's born through religious teachings, family, upbringing, peers, whatever and it has no place in the UK in 2019. Unless we have the full, explicit support of the Government and our leaders, things aren't going to get better on their own.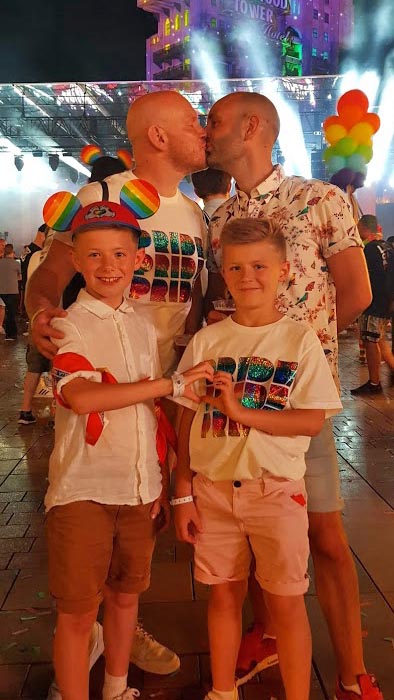 Have you ever experienced online trolling?
Yes we have, I'm afraid. For example, a beautiful picture [right] of our family at Disneyland Paris during Magical Pride was distributed to international news outlets in June and went viral. In the picture, Tom and I are kissing, with the boys looking very proud of their dads. As a result, we were unexpectedly launched into the public eye. To us, it was just an ordinary family photo – one of hundreds we snapped during our Disney trip. But we received a lot of feedback, including several nasty direct messages and comments and one particularly threatening death threat that we shared across social media before reporting to the authorities. Don't worry, we're thick-skinned. But we do worry about vulnerable LGBTQ people on social media. Bullying is completely unacceptable.
Why are Pride events important?
As a family, we absolutely adore Pride events. The colourful people, the music, the atmosphere – everything. There's a misconception among some people who assume Pride events are unsuitable environments for children; too sexy perhaps. But that's not our experience at all. They're very family-friendly; in fact you'll find more adult content at a football match.
As mentioned before, the UK is experiencing a resurgence of homophobia, ranging from a subtle 'why flaunt your sexuality?' or 'lesbian, gay, whatever – we don't care so why keep shoving it down our throats?' rhetoric, right through to harassment and assaults as you'll have seen in the news. Pride events are crucial to show the world we're here, we're very proud of our progress and we aren't going away. Essentially, Pride events are the direct response to people who would rather LGBTQ people weren't visible.
What's the best ways for brands to get involved without them just woke-washing?
So many global brands have adopted rainbow branding this year – it's fantastic to see. But, woke-washing is a problem. Brands should make it very clear which LGBTQ cause they're supporting and the Pride theme should follow all the way through to the branding on their website. Otherwise, customers click through to their website to find no sign of Pride whatsoever and it's very disappointing (Marmite, take note!). I think that's the answer – if they're genuinely interested in showing solidarity, brands should openly collaborate with an LGBTQ charity and really throw themselves into the theme. Either way, all these lovely rainbow logos are bringing LGBTQ right into the mainstream. Temporarily, I might add!
What are the best campaigns/collaborations you've worked on?
As a family we've been very lucky to work on several national campaigns with some huge brands. Every single one has provided an incredible experience so it's very difficult to pick a favourite. We featured in our own Christmas TV and radio campaign with eBay – that was our first big TV job. In February we interviewed the stars of The Kid Who Would Be King movie – that was incredible!
We joined Mo Farah's family in a home-cleaning challenge for Mr Muscle in April. In May we reported from Magical Pride at Disneyland Paris – Disney's world-first official Pride event. In June we took part in 'Screen Free Fathers' Day' with Vodafone. During all this we've also been visiting and reviewing the country's top theme parks. We've been very busy! I guess if we had to pick a favourite, Disney's Magical Pride was utterly wonderful, and we've never felt prouder of our family.
What advice would you give PRs looking to work with you?
We love working with brands on family-friendly campaigns. Same-sex families are under-represented in the blogging world and in mainstream media so we're aiming big. While we do work with brands like Disney on LGBTQ content, our mission is to be considered a mainstream parenting blog and a resource for brands who want to feature a happy, active family in their campaigns. The fact we're two dads should really become less important as time goes on. If you're a PR and reading this, we'd love to hear from you – please do get in touch!
Do you accept press releases?
We do, yes. We're especially interested to hear about family-friendly events, movie releases, father-and-son fashion and theme park attractions.
What other blogs do you read?
Parenting blogs, mainly! We're friends in real-life with loads of lovely bloggers (through events like the Vuelio Blog Awards and Dadcon) and we try to read them all. We keep up with LesBeMums and their days out around the south coast. We follow The Dadsnet and Dadblog UK for tech reviews. Howeydon is our fashion guru! We also read Nige's blog DIY Daddy for his mental health and DIY musings. Our favourite new blog this year is Two Dads in London.
https://www.vuelio.com/uk/wp-content/uploads/2019/07/Daddy-and-Dad-2019.jpg
430
760
Holly Hodges
https://www.vuelio.com/uk/wp-content/uploads/2019/09/vuelio-logo.png
Holly Hodges
2019-07-04 14:29:23
2019-07-04 14:29:23
LGBT Spotlight: Jamie Beaglehole, Daddy & Dad