Media Spotlight: Incisive Media
John Barnes is the MD for digital and tech at Incisive Media. A global B2B publisher, Incisive specialises in the financial, legal, technological and digital industries. John spoke to Cision about online events, digital innovations and wanting X-Ray vision.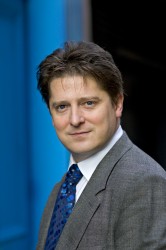 How do the tech and digital divisions work together?
The technology division is servicing the IT industry and the banking technology industry and as such they're very early adopters of a lot of the things we're doing in digital like iPad editions, mobile versions and lead generation services. The tech division is a publishing unit and I use that as my laboratory, or greenhouse, for the rest of Incisive.
How does the 'greenhouse' process work?
We encourage lots of experimentation in the company, particularly in the tech division. If we see a rival doing something, or if we see an opportunity for a client because a rival isn't doing something, we'd like to try it out. Some of those things won't pan out in the way we thought they would.
For example, you could have 11 projects on the go, five of which will never succeed, five of which will do okay and one of which will be extraordinary. Of course, you don't know which one will be extraordinary when you've got them all running, so we're quite happy to start projects, set objectives for them and if they don't meet those objectives quickly, we'll kill them off. If they do meet the objectives, we'll set more and see if they keep going.
How true is the concept of swapping digital dimes for print dollars at Incisive?
I wouldn't say it was true for Incisive Media in the same way it is for a consumer company or a large newspaper organisation. Our market is slightly different because we're a high-end B2B. If you take something like Risk magazine, the subscription is £1,000 a year. So it's not like a £19.99 subscription to a weekly or a monthly. The app store Risk costs £700 for six months; it's one of the most expensive apps. So it doesn't follow that it's dimes not dollars at Incisive. The other thing we do a lot of is online events, web seminars, all-day online exhibitions, which are very high revenue.
How does an online exhibition work?
Online exhibitions are a whole series of webinars, joined together around different themes, with a keynote. Each webinar has a chat room so the audience can discuss topics with the presenter at the end. There's also a virtual exhibition hall where attendees can pick up collateral and have sales calls with representatives from different companies.
The whole thing is built in and around the concept of generating high-value leads, that's why the commercial partners want to engage with us. Increasingly, for certain markets like tech, it's probably a better solution than actually trudging up to the Birmingham NEC, because it's quite a big deal going there.
What's the future focus for Incisive?
The key thing we're focusing on right now is devices proliferating. It's a great opportunity and a great worry to most publishers because how do you cater for all these different devices, and screen sizes? The way we're looking at it is during the course of the day, our users are interacting with our services on a number of different devices for a number of different reasons.
For example, a lot of the actions they're taking around email are at the beginning or the end of the day on their mobiles, so the websites we're sending them to have to be optimised for a small screen. People are increasingly using a second screen; they may be using a desktop to attend a web seminar and, while they're doing that, they might be looking at a whitepaper on a tablet. We want to make sure if someone is interacting with our product, we don't have to worry if they're on their phone, tablet or desktop.
Take Five
What's your favourite publication outside of Incisive Media's portfolio? 
NME.
Who is the best Doctor Who?
John Pertwee.
Do you have any surprising hobbies or interests?
Pen and ink drawing, tapestry and baking.
What would your super power be? 
X-Ray vision.
Who would play you in a film? 
John Cusack.
Editorial information on Incisive Media, its publications and thousands of other media contacts and outlets, can be found in the CisionPoint Media Database.
Priyanka Dayal
https://www.vuelio.com/uk/wp-content/uploads/2019/09/vuelio-logo.png
Priyanka Dayal
2013-08-30 09:29:10
2013-08-30 09:29:10
Media Spotlight: Incisive Media