PMQs: Theresa May's word cloud – 28 February 2018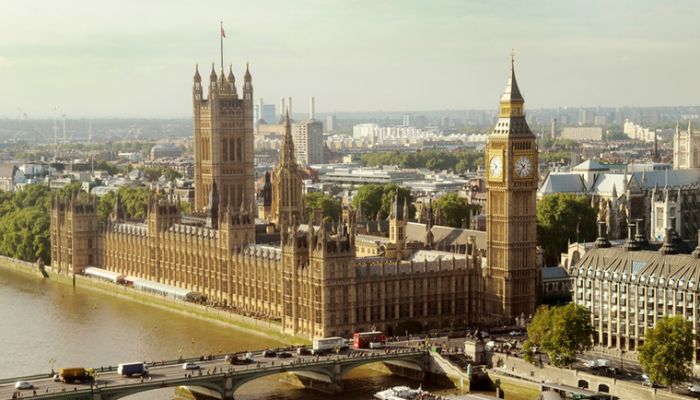 During this week's PMQs, Theresa May faced questions from MPs on Brexit and the Irish border. We present the word cloud for Theresa May's answers at PMQs on 28 February 2018: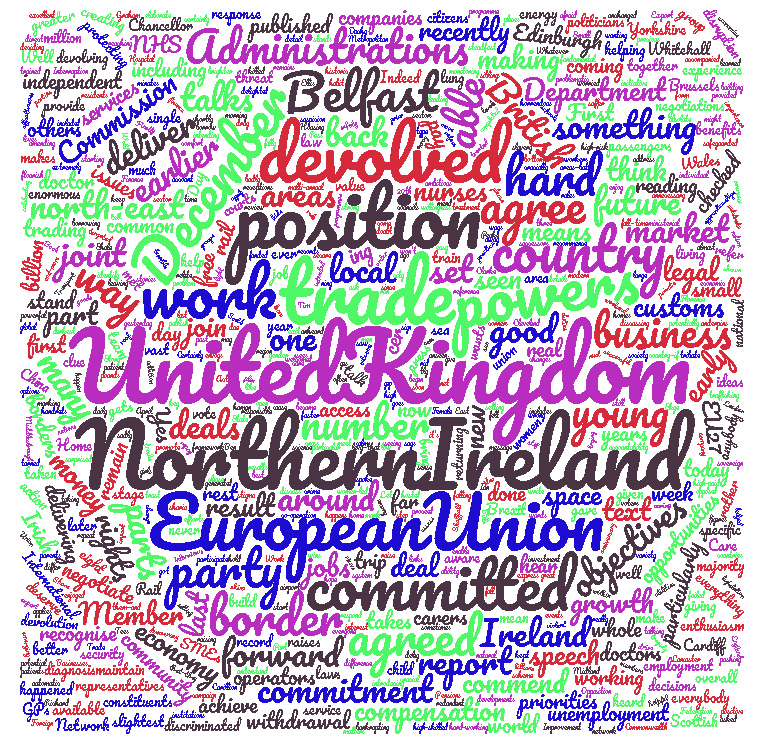 Brexit
For the second week in a row, Corbyn focused his questioning on Brexit. After setting out Labour's position on the Customs Union earlier this week, Corbyn seemed to have more ammunition for his clash with May surrounding this issue. The Labour Leader mocked May's claim to be pursuing 'ambitious managed divergence' from the EU, asking 'what on earth' she was talking about.
May spoke about the importance of bringing back control of our borders and our money, to which Corbyn referenced the positive feedback his Customs Union speech got from the CBI and other business groups. He then turned on Liam Fox, who claimed that Labour did not have a clue about the issue.
May attempted to tease MPs with the speech she had planned for Friday, spelling out the details of her policy. Some opposition MPs shouted at May to question why she was making a separate speech outside parliament, which prompted the PM to say: 'Just calm down'.
Corbyn continued to attack the Government's handling of Brexit, highlighting the importance of the NHS's reliance on immigrant staff. Corbyn then turned on Boris Johnson, claiming that he had 'mixed up' the Irish border with the one separating the North London boroughs of Camden & Islington and Westminster, a reference to a 'comical' comparison made by the Foreign Secretary on BBC Radio 4's Today programme. To round up his attack on the Government, Corbyn asked May when she will put the country's interests 'before the oversized egos in her own cabinet'.
Irish Border
The SNP's Westminster leader Iain Blackford continued with Corbyn's attack on the Government's handling of the Irish border. He claimed the 'bumbling foreign secretary' was 'making the UK a laughing stock', prompting May to repeat that her Government was committed to the Good Friday agreement.
DUP MP David Simpson asked the PM to confirm that she will 'never agree' to a border between Northern Ireland and the rest of the UK. She said that such a proposal would 'undermine the UK common market and the constitutional integrity of the UK'. She told the house that 'no UK Prime Minister could ever agree to it'.
Vuelio's dedicated political services team can provide intelligence on topics and areas vital to your business, find out more here. 
https://www.vuelio.com/uk/wp-content/uploads/2017/08/Parliament.jpg
439
760
Jake O'Neill
https://www.vuelio.com/uk/wp-content/uploads/2019/09/vuelio-logo.png
Jake O'Neill
2018-02-28 15:47:19
2018-02-28 15:47:19
PMQs: Theresa May's word cloud – 28 February 2018