Political Headlines – Boris burka row, citizen juries and Brexit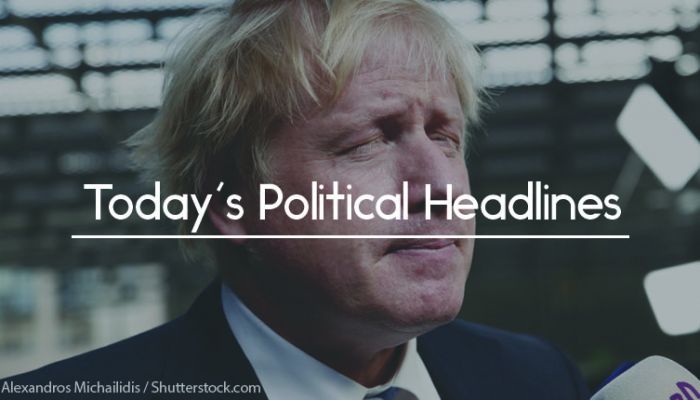 Today's Political Headlines include Davidson calling Johnson's burka remarks gratuitously offensive, residents to be given a direct say over local decisions, no deal Brexit fears causing the pound to fall and May writing to Tory members about her Brexit plans.  
Davidson calls Johnson's burka remarks 'gratuitously offensive'
The Daily Telegraph reports that Scottish Conservative leader Ruth Davidson has said that Muslim women who wear burkas should be treated in the same way as Christians who wear crucifixes, describing comments by Boris Johnson about the garment as 'gratuitously offensive'. The Times adds that a 'senior iman', Taj Hargey of the Oxford Islamic Congregation, has said that Johnson should 'not apologise for telling the truth', while The Sun claims that the party has been accused of 'blinking' by not launching an investigation, despite deceiving 'dozens' of complaints.
Residents to be given direct say over local decisions
The Times carries details of the Government's new civil society strategy, which it says will give residents the power to have their say on local proposals, using online polls or 'citizen juries', with local authorities in six areas taking part in a trial over the next year. The Guardian adds that the 'big society'-style policy will also see charities playing a larger role in providing public services, such as social care, homelessness and libraries.
No deal Brexit fears cause pound to fall, as EU leaders prepare new offer
The Guardian says that the pound has fallen against the dollar and the euro to the lowest level this year, which it links to increasing concerns that the UK could leave the EU without a deal. The Times adds that European leaders are preparing to offer a deal allowing the UK to remain in the single market for goods but opt out of free movement of people, in return for further concessions from May, under a plan to be discussed in Salzburg next month.
May writes to Tory members about Brexit plan
The Guardian reports that Theresa May has written a letter to Conservative members in an attempt to persuade them to back her Chequers plan for Brexit. The letter, which carries the endorsement of prominent Brexiteers including Andrea Leadsom and Liam Fox, claims that her proposals are 'in no sense a concession' to the EU's demands.
McDonnell claimed Israel tried to commit 'genocide' against Palestinians
According to The Daily Telegraph, in 2016 Shadow Chancellor John McDonnell told a meeting of the Labour Representation Committee that Israel was trying to commit 'genocide' against the Palestinians and shared a platform with Jackie Wilson, who had previously accused Jews of being the 'chief financiers of the sugar and slave trade'.
Corbyn faces 'ambush' by local parties over second Brexit referendum
The Sun claims the Jeremy Corbyn is facing 'an ambush' by 300 local Labour parties in an attempt to force him to back a second Brexit referendum. A campaign is to be launched next week to persuade activists to sign a motion to be voted on at the party's conference next month calling for a 'People's Vote' and possibly also for the UK to stay in the EU.
Lewis announces aim to make MP shortlists gender-balanced
The Financial Times says that Conservative Party Chairman Brandon Lewis has announced that the party is aiming to have shortlists for prospective MPs split equally between male and female candidates. He said that the current situation under which around 30% of the people selected by the party to stand at the next election are women was 'not enough'.
Tory MP calls on Government to learn lessons from council's collapse
The Guardian reports that Andrew Lewer, the Conservative MP for Northamptonshire South, has asked ministers to 'learn the lessons' from the financial collapse of Northamptonshire County Council in order to prevent it from happening elsewhere. He said that there needed to be 'a discussion on how future local government is structured, financed and delivered'.
Vuelio Political Services is never on recess – find out why.  
https://www.vuelio.com/uk/wp-content/uploads/2018/08/Boris-eyes-closed.jpg
430
760
Thomas Stevenson
https://www.vuelio.com/uk/wp-content/uploads/2015/10/vuelio-logo-transparent.png
Thomas Stevenson
2018-08-09 09:38:40
2018-08-09 09:38:40
Political Headlines - Boris burka row, citizen juries and Brexit