Political Headlines – Cabinet ministers consider resigning, DUP 'not afraid' and McVey admits Universal Credit flaws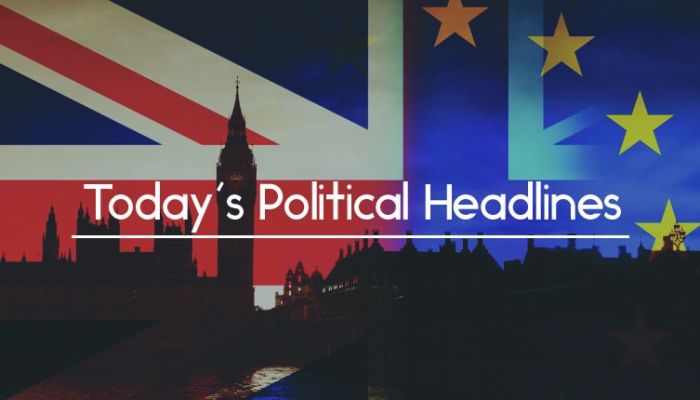 Today's political headlines include the DUP's threat to withdraw support from Government, May to launch plans for ethnicity pay gap reporting, Home Office guidelines may have been breached and Major compares Universal Credit to the poll tax. 
Cabinet ministers consider resigning over Brexit customs plans
The Daily Telegraph reports that at least three Cabinet ministers are considering resigning after Theresa May told her 'war cabinet' that there will be no end date on a plan to keep the UK in a customs union with the EU. Esther McVey, Penny Mordaunt and Andrea Leadsom, all of whom are said to have concerns about the proposal, were not at the meeting, and The Times adds that six cabinet ministers who did attend challenged the plans: Liam Fox, Jeremy Hunt, Sajid Javid, Dominic Raab, Gavin Williamson and Michael Gove.
DUP 'not afraid' of general election
The Financial Times says that the DUP has claimed that it is 'not afraid' of a general election, with Jim Shannon adding that it would decide in the next fortnight whether it supported Theresa May's Brexit deal, and that the Government should take a 'hard look' at its worries. Government sources have told The Sun that they believe that a further payment in addition to the £1bn agreed in 2017 will ensure that the party backs the final deal.
McVey admits Universal Credit will leave some people worse off
The Times reports that charities and companies that work with Universal Credit claimants have been made to sign gagging clauses, preventing them from doing anything which would harm the Work and Pensions Secretary Esther McVey's reputation. McVey has admitted that 'some people will be worse off' as a result of the policy, while the paper adds that a growing number of Tory MPs are opposing changes to be voted on later this month. According to The Daily Telegraph, Chancellor Philip Hammond is planning to abandon plans to cut income tax to help find £2bn in order to reverse changes to Universal Credit announced in 2015.
Home Office agrees to independent investigation into detention centres
The Guardian says that the Home Office has agreed to an independent inquiry into alleged abusive treatment of immigrants held in detention centres. The department had initially refused to agree to the investigation but agreed to do so in return for the end of legal action launched in the wake of a BBC Panorama documentary about the Brook House centre.
Charities ask MPs not to report constituents to immigration hotline
The BBC reports that a group of charities have written to Commons Speaker John Bercow asking MPs to pledge not to use an immigrant enforcement hotline to report on constituents, after it emerged that it was called by MPs and their staff 68 times last year. 107 MPs have already signed the pledge, but only one Conservative MP, Heidi Allen, has done so.
Report recommends 32% pay hike for High Court judges
In an exclusive, the Daily Mail says that a report has recommended that High Court judges' salaries are increased by 32%, owing to low morale, long hours, changes to pension taxation, and a recruitment crisis. A source close to Justice Secretary David Gauke said he was 'sympathetic' but the increase 'is likely to be closer to 2% than 32%.
HMRC chief received death threats after select committee appearance
The Daily Mirror says that the head of HM Revenue and Customs, Jon Thompson, told an event hosted by the Institute for Government that he had had to 'change how I travel and what my personal security is' and has had two death threats investigated by the police 'for speaking truth unto power about Brexit', after he gave evidence to a select committee.
Pension tax relief reform rejected
The Financial Times reports that the Government has ruled out making changes to pension tax relief, rejecting a report from the Commons Treasury Committee that suggested that it should either be fundamentally reformed or improved by making incremental changes.
Brexit is due in mere months – do you know how it will affect you? Vuelio Political Services does. 
https://www.vuelio.com/uk/wp-content/uploads/2018/10/Brexit-parliament.jpg
430
760
Thomas Stevenson
https://www.vuelio.com/uk/wp-content/uploads/2015/10/vuelio-logo-transparent.png
Thomas Stevenson
2018-10-12 09:27:18
2018-10-12 09:27:18
Political Headlines - Cabinet ministers consider resigning, DUP 'not afraid' and McVey admits Universal Credit flaws