Political Headlines – defiant May, Gove's considerations, no confidence vote and business concerns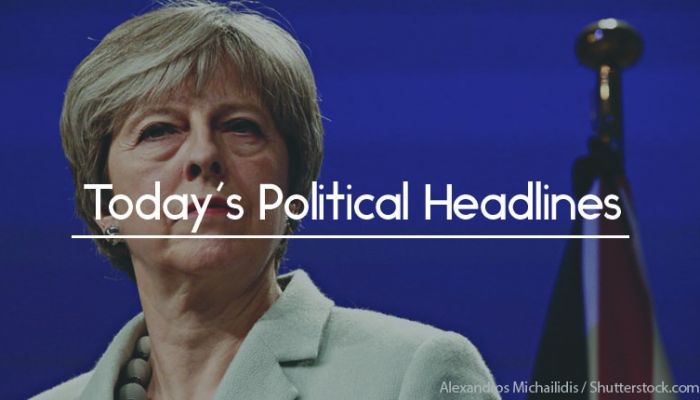 Today's political headlines include May's vow to carry on despite the resignations, Gove considering his position after rejecting the Brexit Secretary, no confidence vote in May expected next week and businesses concerned by political turmoil.
May vows to carry on despite resignations over Brexit deal
The Guardian reports that Theresa May has vowed to 'see this through', despite the resignations of Brexit Secretary Dominic Raab, Work and Pensions Secretary Esther McVey and various junior figures over her Brexit deal yesterday. She warned that rejecting the deal would cause 'deep and grave uncertainty' and said it was 'the right one for our country'. The Daily Telegraph adds that it has been told by 'sources close to Arlene Foster' that the DUP's deal with the Conservatives will be abandoned unless May is replaced.
Gove considering position after rejecting Brexit Secretary role
The Times says the Environment, Food and Rural Affairs Secretary Michael Gove is considering his position. Yesterday Theresa May offered him the role of Brexit Secretary, but he would only accept on the condition that he could renegotiate the deal, and she was unable to agree. The paper adds that International Development Secretary Penny Mordaunt is calling for a free vote on the deal and that this has yet to be definitively rejected.
No confidence vote in May expected next week
The Daily Telegraph claims that a no-confidence vote is expected in Theresa May next week after the chair of the European Research Group, Jacob Rees-Mogg said that he would write to the chair of the 1922 Committee calling for one, although he denied planning a 'coup' and said that he was not 'offering myself as leader'.
Businesses concerned by political turmoil
The Financial Times says that businesses 'expressed horror' at yesterday's political turmoil. Josh Hardie, the CBI's deputy director general warned that crashing out of the EU without a deal 'would be a disaster', while Adam Marshall, director-general of the British Chambers of Commerce said that he was concerned about the reaction of 'major international investors' to the uncertainty which would be created if the deal collapsed.
EU members worried deal is too soft
The Guardian claims that some EU members are concerned that the proposed deal may be too soft on the UK, including France, Spain, Denmark and the Netherlands. They are concerned about the implications of the UK remaining in a customs union with the EU and want tighter guarantees to make sure that it is prevented from being able to undercut EU standards. There are also worries about fishing rights post-Brexit.
Poll shows Tory supporters back May
A poll conducted for the Daily Mail shows that Conservative supporters do not support attempts to depose Theresa May, with respondents backing her by around 2 to 1 over both Boris Johnson and Jacob Rees-Mogg. However, just 27% of all voters back the deal, with 49% being opposed. 42% of voters would back a People's Vote, but 38% oppose it.
Chance of Labour MPs backing deal 'ebbing away'
According to the Financial Times, the Prime Minister's chances of persuading Labour MPs to back her Brexit deal are 'ebbing away', despite her hopes that some of them would vote for it to avoid a no-deal Brexit. Eurosceptic Labour MP Graham Stringer told the paper that he would not back the deal and that he hadn't found anyone else who would.
Lords vote not to suspend peer accused of sexual harassment
The Times reports that peers voted not to suspend Lord Lester of Herne Hill, despite a report by the House of Lords standards commissioner finding that he offered the campaigner Jasvinder Sanghera 'inducements' to sleep with him. Peers raised concerns the investigation was unfair, but Sanghera said the vote left her feeling 'bullied and re-victimised'.
Are you able to present your political intelligence? Find out how Vuelio Political Services can help.
https://www.vuelio.com/uk/wp-content/uploads/2018/11/Theresa-May-defiant.jpg
430
760
Thomas Stevenson
https://www.vuelio.com/uk/wp-content/uploads/2015/10/vuelio-logo-transparent.png
Thomas Stevenson
2018-11-16 10:20:35
2018-11-16 10:20:35
Political Headlines - defiant May, Gove's considerations, no confidence vote and business concerns