Political Headlines – Government defeated three times over Brexit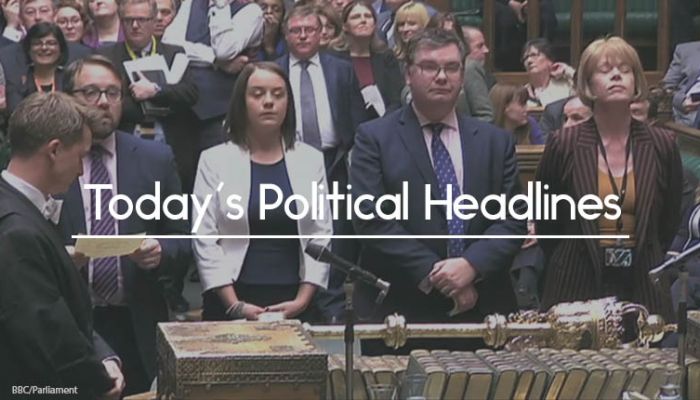 Today's political headlines include the Government defeated three times over Brexit, leavers call on May to renegotiate backstop, Brexit notification could be withdrawn and former chief whip to vote against Brexit deal. 
Government defeated three times over Brexit
As The Guardian reports, Theresa May suffered three defeats in Parliament yesterday. A motion finding the Government in contempt of Parliament for not publishing its Brexit legal advice was passed, as was a compromise amendment it had put forward. Then the Government was defeated over an amendment tabled by Conservative backbencher Dominic Green which strengthens the role of Parliament if May's deal is defeated.
Leavers to call on May to renegotiate backstop
The Times reports that Brexiteers in the Cabinet are to call on Theresa May to return to Brussels to negotiate a unilateral exit from the backstop, despite being told at a meeting yesterday that the EU was not prepared to reopen negotiations. Other members of the Cabinet are reported to prefer the Norway option, although a source told the paper that the soft-Brexiteers were not united.
ECJ Advocate General suggests Brexit notification can be withdrawn unilaterally
As the Financial Times reports, the European Court of Justice's Advocate General, Manuel Campos Sánchez-Bordona, has issued advice to judges that the UK's notification that it wishes to leave the EU could be withdrawn unilaterally. While the Advocate General's opinion is non-binding, it is generally followed in rulings of the court.
Former chief whip to vote against Brexit deal
Mark Harper, the former chief whip, uses an article in The Daily Telegraph to say that he will vote against the Government for the first time in 13 years and reject Theresa May's Brexit agreement. He warns that the plans 'threaten the integrity of our country, keep us trapped indefinitely in a customs union and leave us in a weak negotiating position for our future relationship.'
49% of voters think Brexit was a mistake
A poll conducted by YouGov for The Times finds that 49% of voters, the highest level ever recorded, believe that leaving the EU was a mistake, compared to 38% who think it was the right decision. Support for May's Brexit deal has fallen from 27% to 23% in a week, and the Conservatives' lead over Labour has narrowed, with the Tories on 40% and Labour on 38%.
Farage exits UKIP
Writing in The Daily Telegraph, Nigel Farage reveals that he has left UKIP, warning that the party was becoming one of 'street activism', not 'elections', and would be 'damaged beyond repair' unless it excluded extremists and leader Gerard Batten ceased association with the EDL founder Tommy Robinson
Carney brands Norway-style Brexit 'highly undesirable'
The Financial Times reports that Bank of England Governor Mark Carney has claimed that a Norway-style Brexit would be 'highly undesirable' as it would leave the UK subject to rules it couldn't influence which would pose difficulties for financial stability, adding that the risks posed by this would go 'up over time'.
Home Office criticised by Windrush report
The Guardian carries details of a National Audit Office report looking at the Windrush scandal, which finds that the Home Office is failing 'to be proactive in identifying people affected', especially those of non-Caribbean heritage. The department is also criticised for poor-quality data, risky use of targets and poor value for money.
Brexit dominates the headlines, but what else should you know about? Find out with Vuelio Political Services.
https://www.vuelio.com/uk/wp-content/uploads/2018/12/Three-defeats.jpg
430
760
Thomas Stevenson
https://www.vuelio.com/uk/wp-content/uploads/2019/09/vuelio-logo.png
Thomas Stevenson
2018-12-05 10:28:51
2018-12-05 10:28:51
Political Headlines - Government defeated three times over Brexit