Political Headlines – 'hunting down' May, immigration, Corbyn's Brexit and Barnier's extension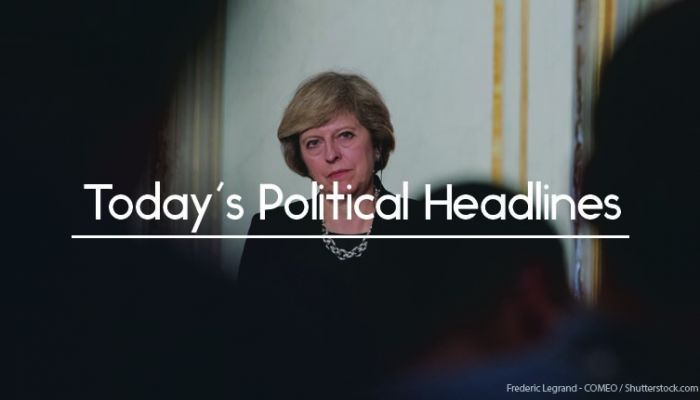 Today's political headlines include Tory MPs warned against 'hunting down' May, a 'fairer' immigration policy, Corbyn's alternative Brexit plan and Barnier's suggestion that Brexit transition could be extended until 2022. 
Tory MPs warned against 'hunting down' May
The Times reports that former chief whip Andrew Mitchell has warned his colleagues against 'hunting down' Theresa May, warning that a leadership challenge would do 'untold damage'. The Prime Minster claimed yesterday that a challenge to her would cause 'uncertainty for people and their jobs' and 'a risk that Brexit gets delayed or frustrated'. The Daily Telegraph claims that five Cabinet ministers will meet today to call for alterations to the deal, but that May will confront them and refuse to renegotiate the agreement.
May to tell CBI her deal delivers a fairer immigration policy
The Times says that the Prime Minister is to tell the CBI's conference today that her Brexit deal will allow immigration to be controlled, while permitting businesses to recruit from abroad, creating a level playing field between EU citizens and those from other countries in a system 'built around the talents and skills a person has to offer'. The Guardian adds that the CBI's president, John Allan, will endorse May's deal today, while admitting that it is 'not perfect'. He will warn that the current uncertain situation is 'damaging our country' and say that the deal opens 'a route to a long-term trade arrangement'.
Corbyn to set out alternative Brexit plan
According to The Guardian, Jeremy Corbyn will use a speech at the CBI conference to set out Labour's alternative Brexit plan. He will call for a permanent customs union and protection of environmental standards and workers' rights, as well as a 'strong single market relationship'. He will say that May's plan leaves 'the country in an indefinite halfway house'.
Barnier suggests Brexit transition could be extended until 2022
The Financial Times reports that the EU's chief Brexit negotiator, Michel Barnier, has proposed that the Brexit transition period could be extended until December 2022. He also told EU ambassadors that negotiations over the Withdrawal Agreement should not be reopened despite the 'volatile' political situation in the UK.
Six letters needed to trigger vote of no confidence in May
In an exclusive, The Sun reports that 42 Tory MPs have 'given firm assurances' that they have submitted letters of no confidence in Theresa May, meaning that six more are needed to trigger a vote in her future as leader. According to the paper, MPs admit that today is 'judgment day' and if the threshold is not passed today, it is unlikely that it will be before the vote on the deal in December.
Cyber security minister needed to tackle Russian threat
The Daily Telegraph carries details of a report by the Joint Committee on National Security Strategy which calls on the Government to appoint a minister for cyber security, as the current level of oversight was 'wholly inadequate' and countries such as Russia are expanding their capacity to deliver cyber-attacks.
Jeremy Hunt to call for Iran to release British prisoner
The Daily Mail reports that Foreign Secretary Jeremy Hunt is visiting Iran today and will use the trip to lobby for the release of Nazanin Zaghari-Ratcliffe, jailed on spying charges. Speaking ahead of the visit, he condemned using innocent people for 'political leverage'.
Report calls for cap on number of peers
The Daily Telegraph says that a new report by the Commons Public Administration and Constitutional Affairs Committee calls for the House of Lords to be capped in size at 600 members, a decrease of 200 from the present figure. It suggests achieving this through a 'two-out-one-in' policy.
Worried about Brexit uncertainty? Find out how Vuelio Political Services can bring you clarity.
https://www.vuelio.com/uk/wp-content/uploads/2018/11/Hunting-May.jpg
430
760
Jake O'Neill
https://www.vuelio.com/uk/wp-content/uploads/2015/10/vuelio-logo-transparent.png
Jake O'Neill
2018-11-19 10:33:59
2018-11-19 10:33:59
Political Headlines - 'hunting down' May, immigration, Corbyn's Brexit and Barnier's extension