Political Headlines – Irish border, benefit sanctions, death tax and pets after Brexit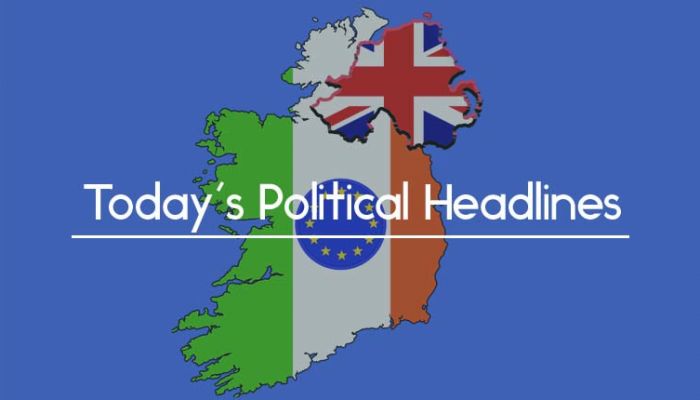 Today's political headlines include EU preparations to back border compromise, pointlessly cruel benefit sanctions, a stealth death tax and advice for pet owners planning European visits after Brexit. 
EU prepares to back border compromise as May pressures Eurosceptic ministers
The Times claims that the EU is preparing to back a compromise on the Irish border in order to resolve the Brexit negotiations in which the UK would be offered an 'independent mechanism' for ending a temporary customs arrangement between the two sides. The Financial Times adds that Theresa May is to pile pressure on Eurosceptic cabinet ministers today, warning them that time is running out and the Government will soon have to tell businesses to start spending money on no-deal Brexit preparations.
Benefit sanctions 'pointlessly cruel', MPs claim
The BBC says that a new report by the Commons Work and Pensions Committee warns that the Government's benefits sanctions are 'pointlessly cruel', with single parents, care leavers and people with disabilities and health conditions 'disproportionately vulnerable'. The Department for Work and Pensions insisted that its sanctions are 'reasonable' and 'only used in the minority of cases'.
Government introduces 'stealth death tax'
The Daily Mail warns of what it calls a 'stealth death tax', after the Government announced an increase in the cost of obtaining probate, with around 280,000 families having to pay more than the current £215, with 56,000 becoming liable for £2,500-£6,000. Liberal Democrat leader Vince Cable says the increase could 'cause a lot of families a great deal of difficulty'.
Pet owners planning European visit after Brexit urged to visit vets
According to The Daily Telegraph, Environment, Food and Rural Affairs Secretary Michael Gove will today warn pet owners planning to travel with their pets after March 2019 to see a vet this month to ensure that they can still visit Europe in the event of a no-deal Brexit, which would lead to more stringent requirements including acquiring a £55 certificate.
Hammond admits lobbying led to delay in maximum stake reduction
The Times reports that Philip Hammond admitted to the Commons Treasury Committee yesterday that he delayed the implementation of the maximum stake for Fixed-Odds Betting Terminals because of lobbying from the industry. He told the committee that delaying the change would mean more of the 15,000-21,000 job losses would be voluntary, but committee chair Nicky Morgan warned of the impact of the delay on those addicted.
Culture Secretary admits he doesn't subscribe to newspapers
The Guardian reports that Digital, Culture, Media and Sport Secretary Jeremy Wright told the Society of Editors conference yesterday that quality journalism was 'not sufficiently rewarded', but admitted to not subscribing to any British newspapers or magazines, instead reading a summary of news and comment, and only named a female columnist he liked reading after being asked five times.
£7bn hole in defence budget
The Daily Mail carries details of a new report by the National Audit Office that warns that the Ministry of Defence needs to find 'immediate' savings owning to a £7bn hole in the department's budget. As a result, the department's 10-year plan, covering 2018 to 2028, remains 'unaffordable' and it is considering deferring or delaying projects.
MPs warn against returning gold to Venezuela
The Daily Telegraph says that MPs from both Labour and the Conservatives have warned that if the Bank of England returns £422m worth of gold bars it holds to the Venezuelan Government as it is seeking, there is a risk that it will be used, in the words of Labour MP Graham Jones, to help the 'Boligarchs line their own pockets'.
Don't compromise on your political intelligence, get Vuelio Political Services.
https://www.vuelio.com/uk/wp-content/uploads/2018/11/Ireland-border-Brexit-.jpg
430
760
Thomas Stevenson
https://www.vuelio.com/uk/wp-content/uploads/2015/10/vuelio-logo-transparent.png
Thomas Stevenson
2018-11-06 10:39:43
2018-11-06 10:39:43
Political Headlines - Irish border, benefit sanctions, death tax and pets after Brexit