Political Headlines – May blames MPs and the EU is prepared to block extension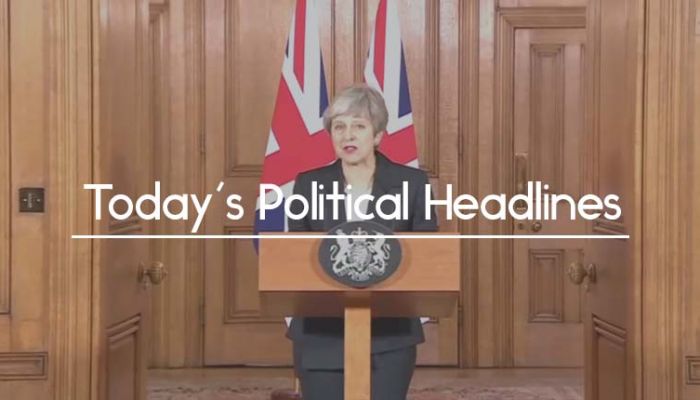 Today's political headlines includes May blaming MPs for Brexit delay and EU countries prepared to block Brexit extension unless MPs approve deal. 
May blames MPs for Brexit delay
As The Times reports, Theresa May used a public statement last night to try and put pressure on MPs to back her Brexit deal, claiming that 'you the public have had enough' of arguments about Brexit when there are 'real concerns' about issues such as the NHS. She claimed that the Brexit extension she had requested was a 'matter of great personal regret', blaming MPs for the delay. Labour MP Wes Streeting claimed that May's speech was 'incendiary and irresponsible' given the background of 'very credible' death threats to MPs. Prior to the address, May had convened a meeting of opposition leaders, but Jeremy Corbyn had walked out because Chukka Umunna, spokesperson for The Independent Group, was present.
EU countries prepared to block Brexit extension unless MPs approve deal
The Daily Telegraph reports that at least three EU countries, including France, are prepared to block any approval of Theresa May's requested Brexit extension at today's summit unless she can convince them that she has a credible strategy to pass her Brexit deal. European Council President Donald Tusk said that he thought that a short extension would be granted, subject to the Withdrawal Agreement being approved by the House of Commons.
Corbyn to meet Barnier
The Guardian says that Jeremy Corbyn will hold talks with the EU's chief Brexit negotiator Michel Barnier ahead of today's European Council summit, outlining his Brexit vision and the progress of cross-party talks. He will also attend a gathering in Brussels of European socialist prime ministers and opposition leaders.
MPs to get fresh chance to take control of Brexit
The Financial Times says that on Monday MPs will get a further chance to take control of the Brexit process from the Government by voting on an amendment to a Brexit motion tabled by Theresa May. The amendment would allow indicative votes later in the week on different Brexit options and is similar to one which was narrowly rejected last week.
Hinds claims that truancy contributes to knife crime
The Daily Telegraph reports that Education Secretary Damian Hinds has denied claims that an increase in pupils being excluded from school is contributing to the rise in knife crime. He insisted that the situation is more complex, with truancy levels a 'much bigger concern', with absent students more at risk of committing crime and unable to be helped by schools.
Hancock criticised over genetic test claim
The Times says Health and Social Care Secretary Matt Hancock has been criticised after he claimed that his life may have been saved by a genetic test. Angela Culhane of Prostate Cancer UK warned about the accuracy of such tests, while David Curtis of University College London claimed that Hancock had 'massively misinterpreted' the meaning of his test results' and had ended up wasting 'the NHS's scarce resources'.
Labour hints at fuel duty increase
The Sun reports that Labour's Shadow Transport Secretary Andy McDonald has hinted that his party would end the nine year freeze of fuel duty, saying that it was 'not a sensible approach' when train and bus fares were rising. A spokesperson later clarified that the party was not pledging to do so. He also suggested that Air Passenger Duty might also increase.
NHS won't be able to solve GP shortage
The Guardian carries details of a report by the health think tanks the King's Fund, the Nuffield Trust and the Health Foundation which warns that the NHS will never be able to solve the GP shortage and that instead it will have to use the skills of other health professionals, such as pharmacists and physiotherapists, 'much more widely and routinely'.
Brexit is just due in eight days – keep up to date with Vuelio Political Services.
https://www.vuelio.com/uk/wp-content/uploads/2019/03/Theresa-May-blaming-MPs.jpg
430
760
Thomas Stevenson
https://www.vuelio.com/uk/wp-content/uploads/2019/09/vuelio-logo.png
Thomas Stevenson
2019-03-21 10:30:37
2019-03-21 10:30:37
Political Headlines - May blames MPs and the EU is prepared to block extension