Political Headlines – May resists pressure to quit in Brexit latest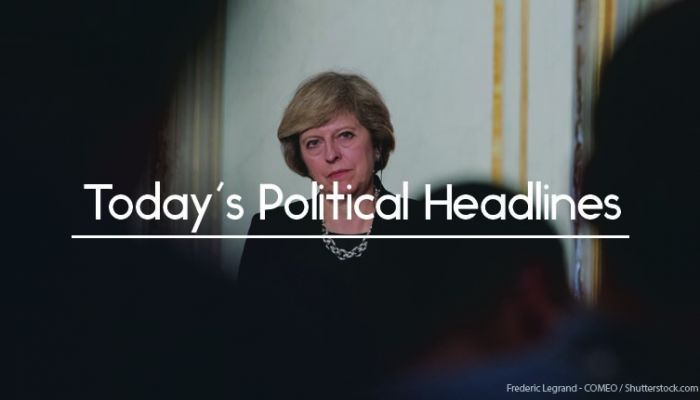 Today's political headlines covers May resisting pressure to quit, Johnson accusing May of being 'chicken', The Sun tells May to resign and more than a dozen racist councillors have been reinstated.  
May resists pressure to quit at Chequers meeting
The Times says that Theresa May has resisted pressure from prominent Brexiteers to set a date for her resignation in return for securing backing for her Brexit deal. At a meeting at Chequers yesterday senior Brexit-backers are believed to have told May to set out a departure timetable, but a source said that 'she refused to be drawn'. The Sun adds that May suggested that the deal could be voted on tomorrow if they agreed to back it, and that Chief Whip Julian Smith warned that an attempt by MPs to take decision-making powers from the Government today will succeed.
Johnson accuses May of being 'chicken'
Writing in The Daily Telegraph, Boris Johnson accuses the Government of being 'chicken' and of having 'bottled' Brexit, telling Theresa May to 'tell Brussels to let me people go' and 'channel the spirit of Moses'. The paper says May is to hold a Cabinet meeting this morning, having been given public backing by Michael Gove and David Lidington who had been named as potential successors over the weekend. Ahead of the meeting, ministers will be given an hour in a reading room to consider papers covering seven Brexit options, with May expected to use Cabinet to announce plans for 'indicative votes' on these later this week.
Sun tells May to resign
The front page of The Sun says 'Time's Up, Theresa', calling on Theresa May to resign as Prime Minister because 'she has lost the backing of much of the country and now her party'. It tells her that she should promise to resign, and then Conservative Brexiteers and the DUP 'must back the deal', warning that 'if it fails again this week we are heading for a much softer Brexit'.
Racist Tory councillors reinstated
An investigation by The Guardian reveals that more than a dozen Conservative councillors who had been suspended after they posted Islamophobic or racist material online have had their membership 'quietly reinstated'. Mohammed Amin, who chairs the Conservative Muslim Forum, has called on the party to publish formal disciplinary processes.
CPRE says brownfield land could deliver a million homes
The Sun carries details of research by the Campaign to Protect Rural England, which finds that the UK's housing crisis could be solved if a million homes were built on brownfield land, with two-thirds of the potential sites 'shovel-ready' and deliverable within five years.
Former top Treasury official warns over HS2 cost
The Financial Times says that Lord Macpherson, former Permanent Secretary at the Treasury, has said that HS2 would now fail 'a rigorous cost-benefit analysis' and that the technology behind it was likely to be outdated when the line becomes fully operational.
Opposition parties call for Saudi arms sales ban
The Guardian reports that the leaders of Labour, the SNP, the Liberal Democrats, Plaid Cymru and the Green Party have all signed a letter calling on the UK to stop selling arms to Saudi Arabia. The letter comes on the fourth anniversary of the civil war in Yemen and ahead of the visit of the UN special envoy for Yemen to London this week.
Lib Dem MP admit slapping boyfriend
The Daily Telegraph says that Liberal Democrat MP Layla Moran has admitted that she was arrested and detailed by the police after she slapped her then-boyfriend during a row over a computer cable at the party's 2013 conference in Glasgow. While some activists have praised her honesty, others have demanded that she step down.
Is this the biggest week in politics? Maybe, find out what happens when its happens with Vuelio Political Services.
https://www.vuelio.com/uk/wp-content/uploads/2018/11/Hunting-May.jpg
430
760
Thomas Stevenson
https://www.vuelio.com/uk/wp-content/uploads/2019/09/vuelio-logo.png
Thomas Stevenson
2019-03-25 10:32:04
2019-03-25 10:43:16
Political Headlines - May resists pressure to quit in Brexit latest