Political Headlines – May suffers historic defeat in Brexit latest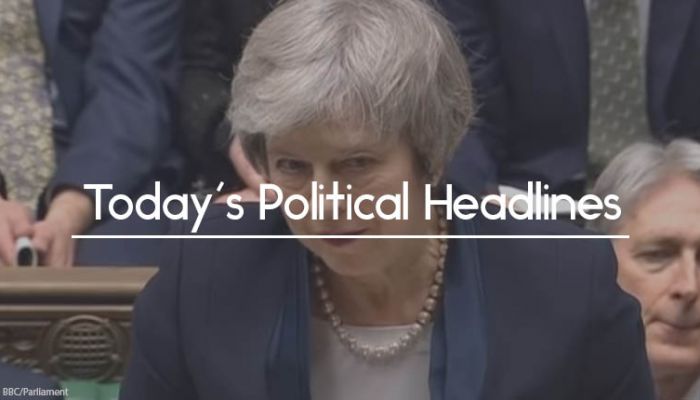 Today's political headlines include May's historic defeat over Brexit deal, Cabinet split over way forward, Corbyn fails to raise the possibility of a second referendum and Hammond suggests Article 50 could be extended. 
May suffers historic defeat over Brexit deal
As The Times reports, last night Theresa May suffered a 'historic defeat' over her Brexit deal, with 202 MPs voting in favour of her plan and 432 against. She has now called for cross-party talks, although according to the paper, a spokesperson said that she would be 'determined to preserve her interpretation of the referendum result' in these. Labour has now called a motion of no confidence to be voted on this evening, but the support of Brexiteers and the DUP means that the Government is likely to win.
Cabinet split over way forward
According to The Daily Telegraph, the Cabinet is 'deeply divided' over its response to the Brexit defeat. Ministers including Philip Hammond, Amber Rudd and Greg Clark support a series of indicative votes by MPs on alternative outcomes such as an Article 50 extension or a second referendum, but others, such as Jeremy Hunt, Andrea Leadsom and Chris Grayling oppose removing the 'no deal' option. Damian Hinds, Karen Bradley and James Brokenshire reportedly support May bringing the deal back for another vote.
Corbyn fails to raise possibility of a second referendum
The Guardian claims that Jeremy Corbyn has 'risked antagonising' remain supporters in his party after he failed to refer to the possibility of a second referendum in either of his speeches yesterday evening, arguing that 'a general election would be the best outcome for the country'. The Times adds that if Labour's vote of no confidence in the Government fails today, the party could make further attempts in 'a sustained campaign'.
Hammond suggests that Article 50 could be extended
The Financial Times says that Chancellor Philip Hammond used a conference call with businesses leaders last night to suggest that the Article 50 period to negotiate Brexit could be extended and that a consensus needed to be built in Parliament. He also said that the Government would not put 'obstacles' in the way of Nick Boles' plans to block a no-deal Brexit and let MPs find a workable Brexit solution.
DUP calls for 'fundamental change'
The Daily Telegraph reports that DUP leader Arlene Foster said that the rejection of May's deal by MPs showed that she needed to 'seek fundamental change to the Withdrawal Agreement' from the EU, while Boris Johnson claimed that the vote gave May a 'massive mandate' for renegotiation and also called on the Government to prepare 'for no-deal with ever more enthusiasm'.
Cross-party plan suggests delaying Brexit until December
According to The Times, a bill published by backbench Conservatives Nick Boles, Sir Oliver Letwin and Nicky Morgan, backed by Labour MPs Hilary Benn and Yvette Cooper, would strip the Government of its power to set the Brexit terms, leaving this to MPs, and if this failed would compel the Prime Minister to request an extension of Article 50 until December.
Tusk suggests UK should cancel Brexit
The Daily Mail says that European Council President Donald Tusk has suggested that the UK should remain in the EU, asking 'If a deal is impossible, and no one wants no deal, then who will finally have the courage to say what the only positive solution is?' European Commission President Jean-Claude Juncker has warned that the changes of a 'disorderly withdrawal' have increased and that the 'time is almost up'.
Lords backs upskirting ban
The BBC reports that the House of Lords has approved a bill outlawing upskirting in a victory for campaigner Gina Martin, who was upskirted at a music festival 18 months ago, and Liberal Democrat MP Wera Hobhouse who introduced a private members' bill as a result.
Brexit continues to dominate the headlines, but there's more to politics than Brexit. Don't miss what matters to you with Vuelio Political Services.
https://www.vuelio.com/uk/wp-content/uploads/2019/01/May-defeat.jpg
430
760
Thomas Stevenson
https://www.vuelio.com/uk/wp-content/uploads/2019/09/vuelio-logo.png
Thomas Stevenson
2019-01-16 10:18:13
2019-01-16 10:18:13
Political Headlines - May suffers historic defeat in Brexit latest