Political Headlines – May's 'bold offer' accused of being a retread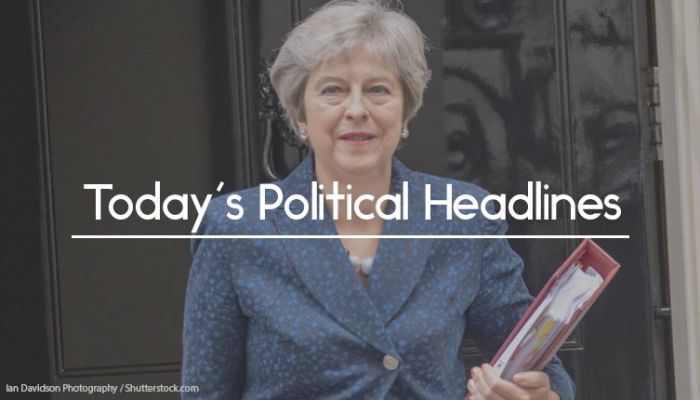 Today's political headlines includes May's 'bold offer' being accused of being a 'retread', ministers accused of breaking the law, benefits policy accused of breaching human rights, Farage claims it would be hard to work with a deal-backing Tory leader. 
May's 'bold offer' on Brexit accused of being a 'retread'
The Daily Telegraph has obtained a leaked summary of Theresa May's proposed Withdrawal Agreement Bill, which she has said will be a 'bold offer'. According to the paper, it appears to be a 'retread' of previous concessions, including giving Parliament the final say on implementing the backstop, an obligation for the Government to find alternative arrangements for it by 2020, giving Parliament a say on the objectives of trade negotiations and giving the Northern Ireland Assembly a 'role' in any backstop decision.
Ministers accused of breaking law with secret torture policy
The Times says that the Ministry of Defence is accused of drawing-up a secret torture policy, allowing ministers to approve intelligence-sharing with allies where there is a risk of torture, so long as they feel that the benefits justify it. David Davis says that the policy 'betrayed' British values, and is calling on new Defence Secretary Penny Mordaunt to overturn it. Kirsty Brimelow QC said that the 'document is supporting ministers breaking the law'.
Benefits policy accused of breaching human rights
The Daily Mirror reports that Human Rights Watch has accused the Government of breaking human rights with its cuts to welfare. The watchdog claims that the right to food has been breached by Government policies and has called on it to 'take urgent and concerted action to ensure that its poorest residents aren't forced to go hungry'.
Farage claims it would be hard to work with deal-backing Tory leader
The Daily Telegraph reports that Nigel Farage has claimed that it would be hard for him to work with a Conservative leader who had backed Theresa May's Brexit deal, such as Boris Johnson or Dominic Raab. Conservative MP Crispin Blunt has suggested that a pact between the two parties will be an 'unavoidable necessity'.
Brexit Party funding under scrutiny
The Daily Mirror says that Nigel Farage's company made nearly half-a-million pounds in two years, and he appealed for funding for his Brexit Party during afternoon tea at the Ritz, despite portraying himself 'as a man of the people'. The Guardian adds that Gordon Brown has written to the Electoral Commission, calling for it to urgently investigate Farage's party funding, while it has also emerged that a convicted money launderer may be helping to fundraise for the party.
Standards Commissioner suggests new penalties for misbehaving MPs
The Sun reveals that a letter from Standards Commissioner Kathryn Stone suggests a new range of sanctions for MPs found to have abused staff or colleagues, ranging from 'words of advice or warning', to sending them on training courses, such as on 'anger management'. Further penalties could include banning them from services such as restaurants, or from sitting on select committees. The Standards Committee will now consider the suggestions.
Local leaders warn against HS2 cancellation
The Times reports that over 20 high-profile local government and business figures have warned the Treasury that not building HS2 would be a 'disaster' for the economy of the Midlands and Northern England. The group, which includes Conservative West Midlands Mayor Andy Street has written to the Chief Secretary to the Treasury, Liz Truss, who has said that HS2 will form part of this year's spending review. A poll of Tory members show that most want the project to be cancelled, with most leadership contenders also opposed.
Cabinet set for new no-deal Brexit row
The Financial Times says that the Cabinet is set for a new row over no-deal Brexit planning. Eurosceptic ministers including Brexit Secretary Stephen Barclay want preparations for no-deal in the autumn to be increased. However, others warn that a no-deal Brexit would put the country and the Conservative Party at risk.
Political intelligence that means something? get Vuelio Political Services.  
https://www.vuelio.com/uk/wp-content/uploads/2018/12/Theresa-May-action.jpg
430
760
Jake O'Neill
https://www.vuelio.com/uk/wp-content/uploads/2019/09/vuelio-logo.png
Jake O'Neill
2019-05-20 10:06:42
2019-05-20 10:06:42
Political Headlines - May's 'bold offer' accused of being a retread