Political Headlines – Robbins' claims and EU help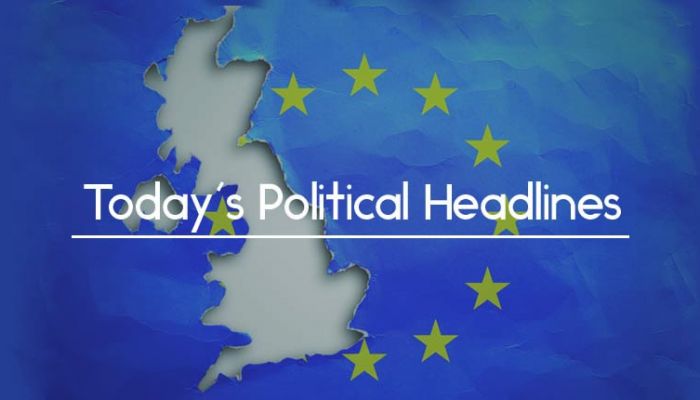 Today's political headlines include Robbins' claims that MPs will be offered choice of deal or extension, EU to help May, Hancock tells doctors to use email and just six trade deals ready for Brexit. 
Robbins claims MPs will be offered choice of Brexit deal or long extension
In an exclusive, ITV News overheard the UK's chief Brexit negotiator Olly Robbins having a conversation in a hotel bar, in which he claimed that at the end of March, MPs would be given a choice of a reworked Brexit deal or a significant delay to Brexit, despite Theresa May having claimed that the latter is not an option.
EU to help May by 'dragging out' Brexit agreement
The Sun claims that the EU is prepared to help Theresa May by keeping Brexit negotiations going until March and offering a last minute compromise at a summit on March 21. It could propose six-monthly reviews of the backstop and turning the political declaration on the future relationship into a legal instrument or depositing it at the UN.
Hancock to tell doctors to use email, not post
The Times says that Health and Social Care Secretary Matt Hancock will use a speech at a conference held by NHS England to tell the health service to stop sending letters, setting 2021 as a target for email to be the default means of communication. He will warn that 'a letter lost in the post could be the difference between life and death', but doctors and patient representatives have warned about confidentiality and digital exclusion.
Just six trade deals ready to rollover after Brexit
The Sun has obtained leaked documents which show that just six of the 40 free trade deals which the EU has with 70 other countries are ready to rollover in a no-deal Brexit. A minister told the paper that the Government is now hoping to obtain 'letters of understanding' with other countries
Shadow cabinet in antisemitism argument
The BBC says that Labour's chair Ian Lavery and deputy leader Tom Watson fell out over antisemitism at a meeting of the shadow cabinet. Watson argued in favour of suspending the Liverpool Wavertree branch of the party for 'bullying' its MP Luciana Berger, but Lavery claimed that this would be 'unhelpful'. A source described the argument as 'shouty'.
May warns business leaders extending Article 50 won't help
According to the Financial Times, Theresa May used a phone call with business leaders to tell them that there was no reason to extend the Article 50 negotiation period, claiming that it wouldn't end uncertainty or bring Parliament closer to agreeing a Brexit deal. One participant warned her that a no-deal Brexit would be 'a failure of duty'. The Guardian reports that the British Chambers of Commerce have produce twenty questions about trade after Brexit which they want the Government to answer.
Home Office criticised over deportations to Zimbabwe
The Guardian says that Labour, charities and asylum lawyers are criticising the Home Office after it started working with the Zimbabwean government to increase deportations of asylum seekers to the country despite human rights abuses. Two people are believed to be due to be deported 'within days'.
Campaigners say immigration will rise under new policy
The Daily Telegraph carries details of a new report by the anti-migration campaign group Migration Watch, which claims that the Government's new migration policy could lead to net migration increasing by over half, reaching 300,000. It believes that a fall in immigration from the EU will be cancelled out by an increase in skilled migrants coming to the UK.
Ready for more Brexit talks? Find out what they mean for you with Vuelio Political Services.
https://www.vuelio.com/uk/wp-content/uploads/2018/11/EU-Brexit.jpg
430
760
Thomas Stevenson
https://www.vuelio.com/uk/wp-content/uploads/2023/09/vuelio-logo-200px.png
Thomas Stevenson
2019-02-13 09:53:05
2019-02-13 09:53:05
Political Headlines - Robbins' claims and EU help