Political Headlines – Sturgeon's conference speech, IMF calls for spending increase and Hammond under pressure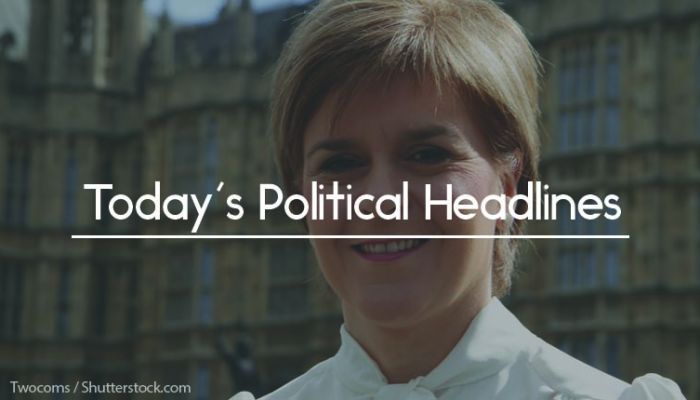 Today's political headlines include Sturgeon's conference speech, the IMF's calls for a spending increase in the event of a hard Brexit, Hammond under pressure to back digital tax and May accused of trying to avoid public scrutiny. 
Sturgeon to use conference speech to deliver message of 'hope'
The BBC says that Scottish First Minister Nicola Sturgeon is to use her speech to her party's conference to set out a message of 'hope and optimism', contrasting Scotland's 'progressive values' with the 'unfolding calamity' at Westminster, claiming that 'much more hope will be possible' when the country becomes independent.
IMF calls for spending increase in hard Brexit scenario
The Financial Times reports that the International Monetary Fund has advised Philip Hammond to increase public spending after a hard Brexit, contrary to his warning that there was no money for a fiscal stimulus in the event of a no-deal Brexit. The IMF urged the UK to adopt a 'flexible' monetary policy, suggesting interest rates might be lowered in this scenario, and cut its growth forecast for the country.
Hammond under pressure to back digital tax
The Times claims that Chancellor Philip Hammond is facing 'mounting pressure' to include a digital tax in the budget later this month, after the release of Facebook's UK results shows that it paid just £7.4m in tax last year, on revenues of £1.27bn. Damian Collins, Chair of the Commons Digital, Culture, Media and Sport Committee, said the firm should be 'should be paying a level of tax which more accurately reflects the value of their business in the UK'.
May accused of 'trying to avoid public scrutiny' by not updating Commons on Brexit
The Guardian says that Labour has accused Theresa May of 'trying to avoid public scrutiny' by not appearing in the House of Commons to give a statement on the Salzburg summit. Brexit Secretary Dominic Raab is expected to deliver an update on the negotiations today.
Water companies should be able to force every household to have a water meter
The Daily Telegraph carries details of a new report by the Commons Environment, Food and Rural Affairs Committee, which calls for all water companies to be allowed to force every household to have a water meter. The committee admits that this may lead to 'significant bill increases' but chair Neil Parish said that it would make sure that all 'companies have the same tools at their disposal to reduce consumption of water in their regions'. The Financial Times adds that the report criticises Ofwat for letting water firms put investors ahead of consumers.
CBI calls for £2bn package to support businesses
The Guardian reports that the CBI is calling on Philip Hammond to unveil a £2bn package of measures to support businesses in the budget. Its proposals include increasing the annual investment allowance, making it easier for small and medium-sized enterprises to access funding from the apprenticeship levy, and changes to business rates.
Brussels delays trade plan after UK signals more concessions
The Times expects that the EU's Brexit negotiator Michel Barnier to delay the publication of a draft political declaration on a future trade deal, originally scheduled for tomorrow, so that it can be redrafted to show areas of agreement and disagreement between the sides and take into account a changed negotiating position. Downing Street has played down suggestions that a border deal is imminent, claiming that more concessions are necessary.
Mordaunt to replace taxpayers' aid funding with cash from private investors
According to The Sun, International Development Secretary Penny Mordaunt will use a speech today to outline her plan to use private investors to fund overseas aid, reducing the amount contributed by taxpayers. According to the plans, non-Government money will be allowed to be used in order to reach the 0.7% of GDP on aid target.
Learn more about Vuelio Political Services.
https://www.vuelio.com/uk/wp-content/uploads/2018/10/Nicola-Sturgeon.jpg
430
760
Thomas Stevenson
https://www.vuelio.com/uk/wp-content/uploads/2015/10/vuelio-logo-transparent.png
Thomas Stevenson
2018-10-09 09:30:26
2018-10-09 09:30:26
Political Headlines - Sturgeon's conference speech, IMF calls for spending increase and Hammond under pressure