Politics on Sunday – 28 January 2018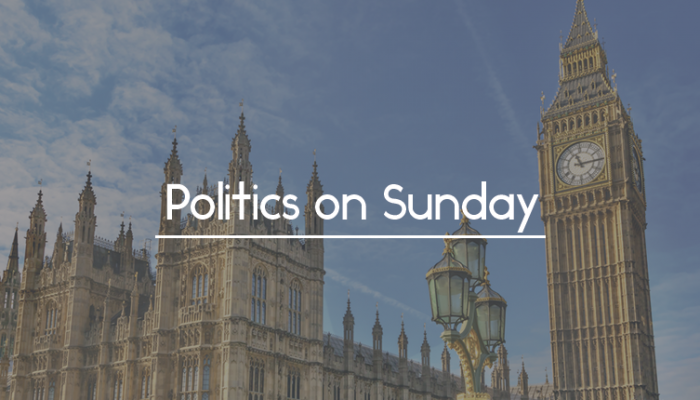 The leader of the opposition was the big guest on a day that seemed to be all about Piers Morgan and that interview. 
With the exception of Jeremy Corbyn, Sunday's political shows seemed to lack star power – it was as though high-profile politicians knew they did not have the clout to match up to Piers Morgan interviewing Donald Trump later that day. As such, the guests across all the morning shows mainly find themselves on the fringes of politics.
In his appearance on Andrew Marr, the Labour leader unveiled a new housing police aimed at reducing the number of homeless people. A Labour government would purchase 8,000 homes and make them available to people with a history of homelessness through housing associations. More controversially, Corbyn said his Labour government would allow local authorities to take homes that are being kept empty; he finds the idea of building luxury blocks and keeping them empty 'grossly insulting'.
Corbyn provided clarity on what Labour does not want from Brexit without saying what they do want. 'The remain ship has sailed' was the remark Corbyn made as he ruled out Labour calling for a second referendum. The Norway model was also rejected with Corbyn saying he would want Britain to be able to be an important player in negotiating trade deals in the future. This referred to the fact that while Norway is in the single market, they are unable to influence it.
Andrew Marr spends too much of his time reading the Daily Mail, was an accusation Corbyn made against the presenter when he was told that he has not condemned the actions of the Government of Iran. Corbyn went on to say that the Labour Party has and will continue to take a tough stance on those that abuse human rights.
Minister for the Cabinet Office, David Lidington was one of the other guests on The Andrew Marr Show and he faced a similar line of questioning. Lidington's presence was particular interesting in light of Philip Hammond's remarks saying he wants the UK and EU to be as close as possible post-Brexit. Lidington said Hammond 'is fully onboard' with the plans of the government and the government wants future trade with the EU to be as free as possible. When asked about homelessness, Lidington did not present as many fresh ideas as Corbyn saying the Government is taking the issue seriously and investing in prevention.
Leader of the House of Lords, Baroness Natalie Evans, appeared on Peston and Sunday and Sunday with Paterson, expressing confidence that the EU Withdrawal Bill would pass through the Lords unscathed. Evans also suggested Jacob Rees-Mogg's fear that BRINO (Brexit in name only) will happen, did not have any real substance to them. Rees-Mogg was also a guest on Peston and could not resist letting it be known that his view on Philip Hammond should not be expressed in public. Nadine Dorries was not as diplomatic as Rees-Mogg, she said he 'needs to go' when asked about Hammond's future.
Check out the dedicated Canvas of political coverage by clicking here or on the image below.
Want to make your own canvas? It's easy and effective.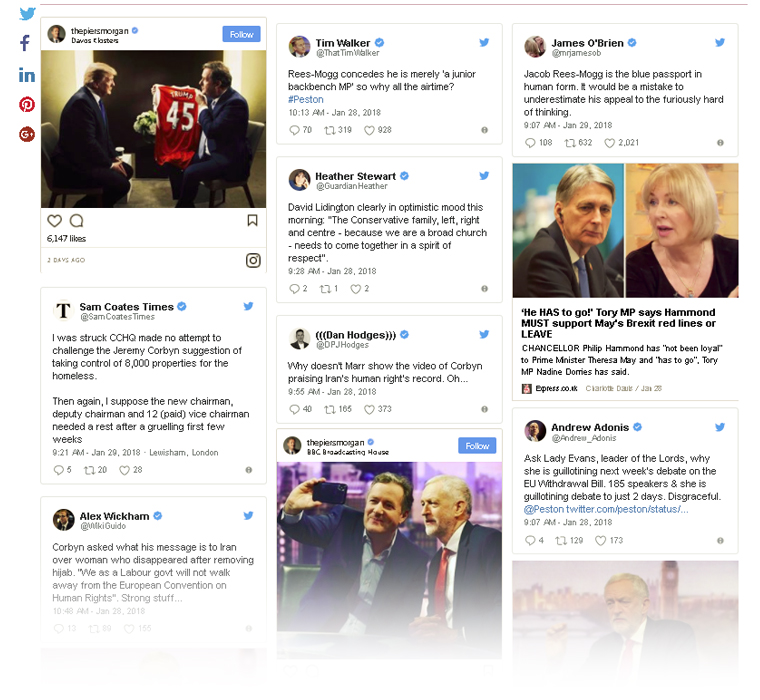 https://www.vuelio.com/uk/wp-content/uploads/2017/11/Politics-on-Sunday.png
430
760
Daniel Loman
https://www.vuelio.com/uk/wp-content/uploads/2019/09/vuelio-logo.png
Daniel Loman
2018-01-29 10:42:05
2018-02-07 12:02:01
Politics on Sunday - 28 January 2018