Politics on Sunday – 4 February 2018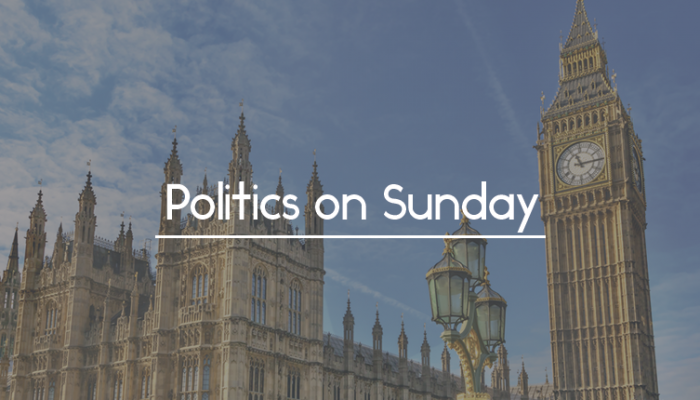 The Sunday political shows gave us guests from local, regional and national government alongside a former head of the civil service and the leader of the Liberal Democrats.
Andrew Marr's headline guests were Amber Rudd and Gerry Adams. Rudd was asked about Brexit and Brexiteers in the Conservative party; she said they should be aware of the unity in the Cabinet committee on Brexit. Rudd rebuked Jacob Rees-Mogg for his suspicions of how civil servants in the Treasury are reporting their figures. The Home Secretary was confident about the prospects for Britain after Brexit saying the country will 'absolutely grow' once the UK has left the EU.
Asked a question about possibly becoming chancellor under Boris Johnson, if he were to become PM, she responded by saying the question was 'too difficult to answer on a number of levels' and so passed on answering.
Gerry Adams made what will be his last appearance on Marr in his position as President of Sinn Féin. He expressed a view that the current lack of government in Northern Ireland 'could be solved by tomorrow'. Adams also gave a warning to Theresa May that her deal with the DUP will 'end in tears' once things hit a rocky patch.
He was also asked why he never joined the IRA; his answer was that he was very active in Sinn Féin and despite never joining, he never distanced himself from them. Adams did say that he wished nobody had been harmed in the conflict. He also made clear his view that Brexit will be a disaster for the people of Ireland as the UK Government is unclear on what they want to do. 'Outstanding' was the word the Sinn Féin leader chose to use when describing Jeremy Corbyn and said he would like to see him as the next PM.
Vince Cable and Claire Kober were the other guests of note on Marr's show. The former began positively, highlighting the Lib Dems' unity on the issue of Brexit. Cable also showed how things can change in a year by pointing out he was not even an elected politician this time last year. Sir Vince believes the Government is making a mess of negotiations with the EU, and he is continuing to press Labour to back the position of a vote on the final deal.
Former leader of Haringey Council, Claire Kober, has had a tumultuous week and she cited the abuse she received in her position and put it down to her being a woman. Kober said that she had not raised any complaints with the Labour NEC due to her lack of faith in it.
A number of pro-Brexit MPs have been voicing concerns that the civil service may not be acting in a completely neutral manner when approaching Brexit, so a former head of the civil service went on Peston on Sunday to say, 'If you're selling snake oil, you don't like the idea of experts testing your product'. Lord O'Donnell did not have any time for the accusations against civil servants, saying they appear to be measures to 'shoot the messenger'. His wider point was that people like to promote the impartiality of the Civil Service when it is convenient for them.
Shadow Attorney General, Baroness Chakrabarti, used part of her interview with Peston to respond to Claire Kober's remarks on The Andrew Marr show. Chakrabarti said Labour must do more to get sexism and antisemitism out of the Party but said any complaint made to Labour's NEC will be investigated. Chakrabarti also called for BBC Director General, Tony Hall, to do more on the issue of equal pay.
Housing Minister, Dominic Raab also appeared on Peston and confidently claimed that the PM would not support the UK remaining in a customs union – contradicting remarks made by Rudd. Raab did support Rudd's remarks relating to unity in the party. Stella Creasy was another guest on Peston who spoke on the Claire Kober situation calling for Labour to act and sharing the difficulty she has experienced when it comes to making complaints.
Check out the dedicated Canvas of political coverage by clicking here or on the image below.
You can make a canvas for any type of story, campaign or coverage? Find out how easy and effective it is here.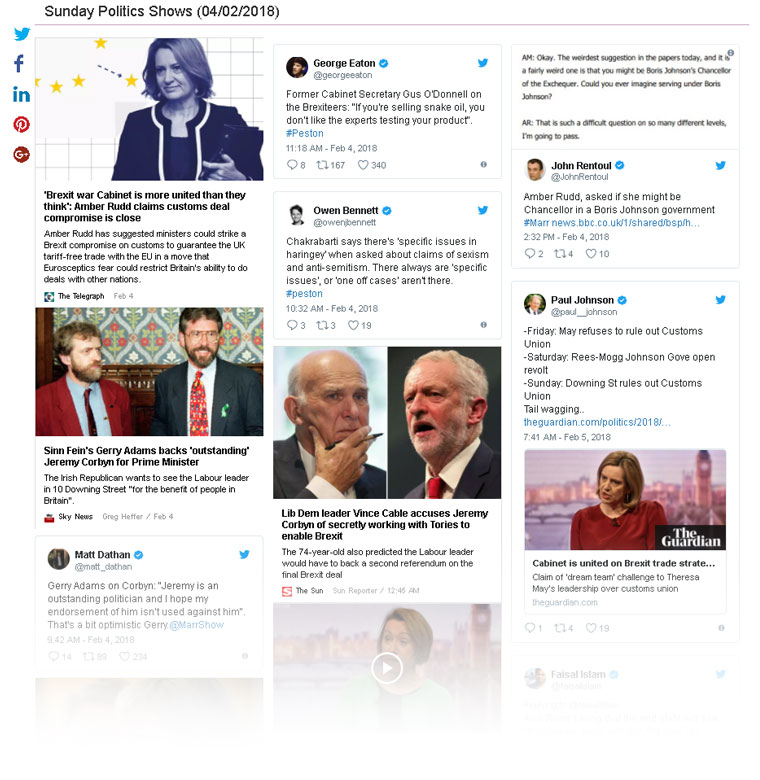 https://www.vuelio.com/uk/wp-content/uploads/2017/11/Politics-on-Sunday.png
430
760
Daniel Loman
https://www.vuelio.com/uk/wp-content/uploads/2019/09/vuelio-logo.png
Daniel Loman
2018-02-05 12:26:26
2018-02-07 12:01:44
Politics on Sunday - 4 February 2018