PR industry worth £9.62 billion – up £2 billion in two years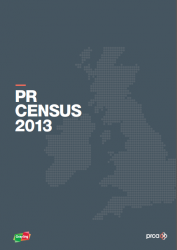 The UK PR industry is worth £9.62 billion – up £2 billion from two years ago, according to the 2013 PR Census released today. 
The number of professionals employed in the industry is also slightly ahead at 62,000 people as compared with 61,600 in 2011. The is probably because the profession has become more rewarding with salaries averaging at £54,000, with the most popular bracket being £30,000- £40,000 applying to 18% of professionals.
The results indicated that overall optimism in the sector is stronger on the agency side, with nearly 77% of agency professionals forecasting increasing revenues and 76% expecting a higher head count. While 47% of in-house teams expected an increase in revenues, and 32% expecting greater staff numbers.
The public sector remains very cautious as it continues to suffer budget cuts. Interestingly, the study revealed that this sector is more optimistic about revenue increases than in headcount rises.
Digital platforms continue to drive growth and gain prominence for the PR industry. According to the findings, over 90% of industry specialists report that the importance of digital and online communication tasks has grown over the last two years.
Meanwhile, a fifth of professionals noted that sales promotion and event planning/organisation have declined in importance over the last two years.
The gender bias in the industry continues with a predominant female population. However, the ratio shifts significantly at the C-suite level with senior roles within agencies and in-house teams still more likely to be held by men.
Developed by the Public Relations Consultants Association (PRCA) in conjunction with PRWeek and global research house YouGov, the PR Census uses data from a survey of over 1,500 PR professionals, combined with information from the first PR Census published in 2011, the PRCA's benchmarking studies, PRWeek's 2013 Top 150 PR Consultancies, and Office of National Statistics tables.
Priyanka Dayal
https://www.vuelio.com/uk/wp-content/uploads/2023/09/vuelio-logo-200px.png
Priyanka Dayal
2013-12-17 13:27:37
2013-12-17 13:27:37
PR industry worth £9.62 billion - up £2 billion in two years