PRCA boat party: New horizons for the PR industry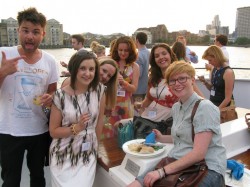 London's sweltering sun is deserving of chilled cocktails and barbecues, but when you add a river cruise, a live band and a DJ into the mix, it's a summer's day well spent. This was the setting on Tuesday evening for close to 250 PR professionals on board the luxury boat 'The Erasmus,' at a party on the Thames, organised by industry body, The Public Relations Consultants Association (PRCA). While the weather contributed to the party ambience, the uncertainty and challenges facing the PR industry dominated discussions.
Professionals present at the party were representative of the top 150 PR agencies in the country, and together formed a hotbed of opinions and ideas.
Cision, the event sponsor, had a few representatives of their own at the party. Anna Organ, client manager said: 'It was a fun gathering of PR professionals allowing many of the best in the industry to network and exchange ideas'. She added: 'Most conversations were about the massive change PR is undergoing, and it was particularly interesting to hear their strategies in an informal setting'.
A PR executive from a leading firm set the tone for the evening when she stated, 'PR is dead'.This comment got a buzz going and led many discussions. Most conversations leaned towards the need for a stronger digital strategy within PR companies in order to survive.
It is no secret that the UK's PR and communications sector is facing tough times as a fragmented media landscape coupled with a scarcity of corporate funds induced by the recession, has changed the way business is done. While media reports indicate double-digit growth rates for average fee income increases within the PR industry, the sector confidence and direction remains doubtful.
Meanwhile, a social media and marketing blogger, Shane Atkins narrows down the challenges facing the PR community to four accurate areas: management of an influx of information, integration of social media, improving measurement, and crisis and reputation management.
However, the big question here is, do most PR companies have the required investment backing needed to make the above improvements? Going forward it will be interesting to watch out for the approach companies take to stay competitive and agile in these market conditions.
A PR professional on the PRCA boat party perhaps summed up the general sector sentiment best when she said: 'I know there is a lot happening, and it's time to keep up'.
PR will be an exciting space to watch out for, but in the meantime, let us know what your thoughts are on best practices that can help PR companies sail forward.  
Priyanka Dayal
https://www.vuelio.com/uk/wp-content/uploads/2019/09/vuelio-logo.png
Priyanka Dayal
2013-07-18 10:27:27
2013-07-18 10:27:27
PRCA boat party: New horizons for the PR industry