PRCA Census 2019: Majority is female, white and British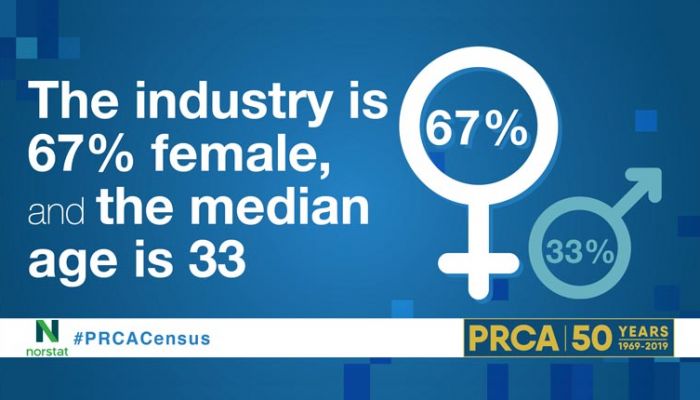 The PRCA's PR and Communications Census 2019 has been published showing an industry in rude health. The topline stats show that the industry value has grown by 7.9% since 2018 and is now worth £14.9bn while the number of practitioners has shot up to 95,000 – some 9,000 more than last year.
While the industry has improved, diversity is still lacking – the majority of the industry is still white, British and female, and the median age is 33. And while the industry is dominated by women, the gender pay gap is still in men's favour, sitting at 13.6% (7.4% lower than 2018's).
On average, female employees earn £40,651 and male employees earn £47,063. The pay gap is higher than the industry average at agencies but lower in-house.
Bibi Hilton, president of Women in PR and managing director of Golin London, said: 'It's positive to see the gender pay gap in our industry reducing, but in an industry which is 67% female, we should have no pay gap.
'The lack of change in the ethnic diversity of the industry is even more concerning. Talking about the issues is not enough, we have to collectively take action – from overhauling outdated recruitment practices to championing flexible working and increasing the representation of women from all backgrounds and all ages at leadership level. At Women in PR, we are doing this through our mentoring programme, speaker directory and monthly events which give leaders of all genders and backgrounds a platform but there is a lot more work to be done.'
The ethnic diversity of the industry is a huge concern, with no improvement from 2018; white practitioners still make up 89% of the industry and a bigger group in this segment are white British than in 2018. The Census points out that the 13% of the younger portion of the industry that 'identifies as non-white' brings hope that the industry is changing, but the fact it has grown 10% and the ethnicity breakdown remains the same, suggests otherwise.
The full report gives a fascinating insight into a burgeoning, but in many ways problematic, industry with year-on-year trends as well as new stats – for the first time it's asked about mental health and discovered that 32% have suffered from or been diagnosed with mental ill health.
Much like the CIPR's State of the Profession survey earlier this year, the PRCA Census has revealed an industry in need of help, guidance and change. Shining a light on the problems is a good place to start so we can see where we are now, but that's the easy part. What comes next is the challenge.
https://www.vuelio.com/uk/wp-content/uploads/2019/05/PRCA-Census-2018-diversity.jpg
430
760
Jake O'Neill
https://www.vuelio.com/uk/wp-content/uploads/2019/09/vuelio-logo.png
Jake O'Neill
2019-05-08 08:30:52
2019-05-08 13:24:43
PRCA Census 2019: Majority is female, white and British