Qantas and Oceania Express: how the human touch helps brand fly high on Twitter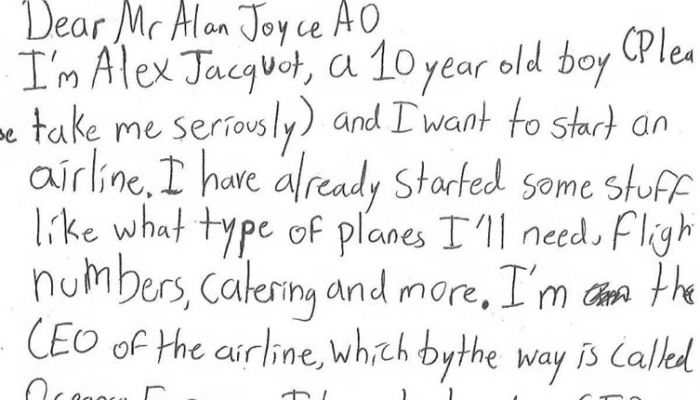 If you're up on brand engagement or extremely-ambitious children building businesses on social media, you'll have seen Alex Jacquot's successful schmoozing of Qantas boss Alan Joyce this week. Alex, the Sydney-based 10-year-old 'CEO' of 'start-up airline' Oceania Express, got in touch with Alan, the 52-year-old CEO of Qantas, for advice on providing a quality service for his customers. Because funnily enough, both Alex and Alan's airlines are planning similar Australia-to-London flights at the moment.
Our competitors don't normally ask us for advice, but when an airline leader reached out, we couldn't ignore it.
Naturally, there was only one way to respond: CEO to CEO. pic.twitter.com/JTFpzn5a6Y

— Qantas (@Qantas) 11 March 2019
Alex asked: 'I'm thinking about, as you are, about an A350 for Sydney/Melbourne to London flights. Seeing as it is a 25-hour flight, we are having a lot of trouble thinking about sleep. Do you have any advice?'
Alan's response: '…to your troubles thinking about sleep on 21-hour flights. This is something we are grappling with too, as we embark on Project Sunrise (which is our plan for flying passengers non-stop between the east coast of Australia and London).'
Cynics may suggest this was a meticulously planned attempt to get publicity for Project Sunrise, but that wouldn't change the outcome. To media outlets covering the viral tweet, it's 'heart-warming' and 'cute', and a story worth publishing.
Seeing it posted on social media does make this more of a marketing exercise, but can't fault it if the end result is inspiring entrepreneurs of any age. Well done Qantas.

— Jason Bowman (@freakdesign) 11 March 2019
Just as most of us would prefer human aircrew flying from Melbourne to London instead of the automatic pilot from 'Airplane', humanity is what works for brand engagement rather than robotic automated approaches.
Using the human touch to achieve Twitter success is nothing new – here are six examples of brands flying high you may have missed:
1. Wendy's grapples with wrestling fans
The brand that helped Carter get his nuggs is well-known in social media circles for its sass and witty replies – even interacting with fans of things other than chicken. Wrestling fans, for example, can always depend on the Wendy's account (and whichever WWE fans are running it) to give thoughts on upcoming bouts and reply with popular catchphrases.
@thejasonkeisler IT DOESN'T MATTER WHO THE OTHER ENTRANTS ARE!

— Wendy's (@Wendys) 5 November 2015
To those who don't watch this stuff, it seems niche. But to fans, it inspires loyalty to a fast-food brand, which happens to be a perfect accompaniment to pay-per-view watching.
2. Merriam-Webster uses words good
— Nima Akbarpour نیما (@nima) 22 September 2017
Dryly tweeting long words people can use in their next Scrabble game is one way to use Twitter if you're a dictionary account. Another is to react to the same things your followers are tweeting about, with added commentary. Merriam-Webster has been helpfully explaining some of the new phrases that have come out of the Whitehouse since 45 moved in, which is very Covfefe, as well as smart PR.
3. DiGiorno brings us back to dough
DOUGH a crust an unbaked crust
RAY, a guy that likes pizza
ME a pizza liked by a guy named ray
FAH no idea what fah is
SO so
LA a city
T tee

— DiGiorno (@DiGiorno) 6 December 2013
Making use of popular hashtags is another tried and tested approach for quick engagement, and live-tweeting Maria's escape from the Nuns and Nazis in 'The Sound of Music' is always popular. DiGiorno, the US-based pizza brand, got some tasty returns on their participation during NBC's live production of the musical in 2013, earning 4,000 extra followers and 65 million media impressions after write-ups in outlets including USA Today, Buzzfeed and Mashable.
4. Fiat drives their followers away in Germany
Back in 2013, the Fiat 500 Abarth was just 'too fast to follow'. So fast, in fact, that Twitter users were swiftly blocked from following its social media account in Germany. Rushing to see if you'll be left out can be just as powerful a force as fear of missing out – a tactic also used by the Thanos subreddit that banned half of its community last year. Individual bans: turns out lots of people quite like it.
5. The Philadelphia Flyers' social media team hits it out of the park
@steveyeun Let's go Lucille

— Philadelphia Flyers (@NHLFlyers) April 6, 2016
If you watch 'The Walking Dead', or read the comics, you'll know why this Philadelphia Flyers tweet got so much attention. If you don't [SPOILERS] – actor Steven Yeun tweeted support for the Detroit Red Wings, which the Flyers (the rival team) didn't take too kindly to… so they tweeted support for Lucille, the baseball bat that's used to kill Yeun's character in The Walking Dead TV series. Ouch. It's nasty, and petty, and got retweets from Dead watchers, and follow-up articles on sports and entertainment websites. Which didn't hurt the Philadelphia Flyers brand at all.
6. Twitter gets 'excited' for a Meghan Trainor press release [Mildly explicit]
The PR email for Meghan Trainor's new album is absolutely insane pic.twitter.com/2yULHkSJIl

— Katie (@WizzKhaleesi) February 16, 2019
And now to the uniquely human trait of hubris. This is a hard thing to pull off, but when it works, it goes viral quickly. This press release for pop star Meghan Trainor's upcoming single release was considered to be so overwritten and overambitious, it had to be shared with the world. A lot. Not every product can be publicised with phrasing like 'smashing bae's junk to smithereens' but in this instance, it worked, and became one of the most successful press releases of recent times – achieving huge coverage for 'All the Ways'.
If something's embarrassing, novel, or features a cute kid who wrote someone a cute letter, it's got a good chance of getting your brand some attention, particularly from all the humans out there who've got access to a retweet button.
https://www.vuelio.com/uk/wp-content/uploads/2019/03/Alex-Jacquot-letter.jpg
430
760
Phoebe-Jane Boyd
https://www.vuelio.com/uk/wp-content/uploads/2019/09/vuelio-logo.png
Phoebe-Jane Boyd
2019-03-13 15:32:05
2019-03-13 18:17:51
Qantas and Oceania Express: how the human touch helps brand fly high on Twitter