Royal Baby dominates the Week on the Web
Today's Week on the Web might seem redundant as the future king dominated proceedings. Baby George caused quite a storm in traditional and new media, reducing the level of other news.
One of Cision's services is media monitoring. In a typical week, Cision provides coverage reports to clients and delivers thousands of individual 'clippings'. The week of the royal baby saw a reduction in the amount of clippings Cision provided to its clients as traditional PR received less coverage.
This week, Cision has delivered 23% less PR print clippings as editorial space was gobbled up by pictures of a baby not actually waving. There are, of course, opportunities for marketers to exploit the new arrival and brands have jumped on the bandwagon in an attempt to associate themselves with THE story of the week.
The blogosphere also joined in on the frenzy with a variety of bloggers approaching the story from different angles, including some rather alternative ideas.
Unsurprisingly, social media also got caught up in the excitement. Cision Social Media reveals that Prince George received over five million social mentions this week, far more than any other story on the web: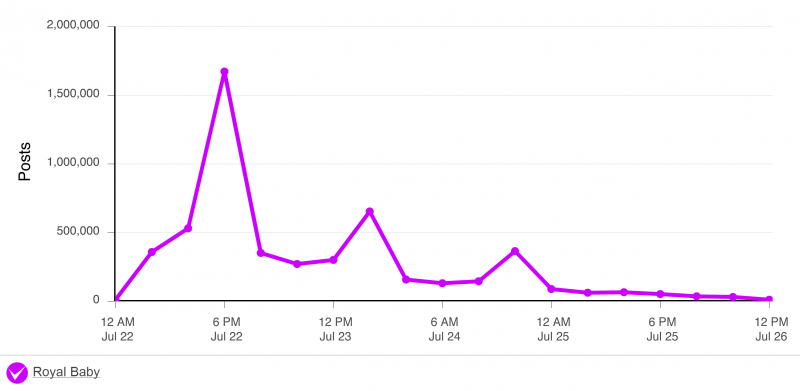 So what have you missed?
This week there have been, wait for it, other stories in the news. Our second Cision Social Media graph shows how other popular web stories have performed on social networks: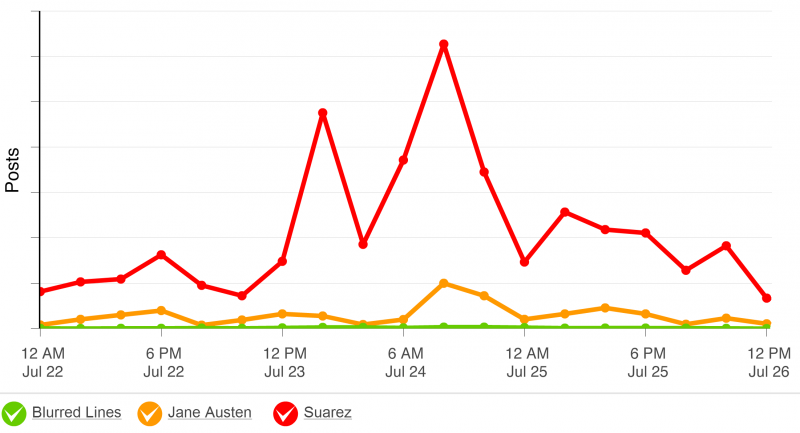 Sport once again dominates with the news that Luis Suarez is a key Arsenal transfer target this summer. Having reportedly had two offers rejected, Arsenal's next step will be watched closely as this story rumbles on. On the blogs, Football Talk reports that Real Madrid are no longer interested in signing Suarez; Just Arsenal quotes Lukas Podolski who gives his opinion about the possible transfer; and Off the Post has an alternative take on an official Liverpool FC photo.
Jane Austen is going to appear on the next £10 note in 2017. On the blogs, For Books' Sake breaks down the Twitter reaction; Zoe Williams writes on Comment is free about 'how lethal and determined the new generation of feminists is'; and Gizmodo suggests the accompanying quote, 'I declare after all there is no enjoyment like reading!' is a PR coup for 'struggling' book retailers.
And finally, for those that haven't seen it already, Mod Carousel's parody of Robin Thicke's Blurred Lines video has also been making the rounds. Reversing the gender roles within the video, it makes interesting viewing:


All the graphs made with Cision Social Media via CisionPoint. All the bloggers are listed are available in the Media Database and were found through Cision's free Influencer Search.
https://www.vuelio.com/uk/wp-content/uploads/2019/09/vuelio-logo.png
0
0
Priyanka Dayal
https://www.vuelio.com/uk/wp-content/uploads/2019/09/vuelio-logo.png
Priyanka Dayal
2013-07-26 14:14:04
2013-07-26 14:14:04
Royal Baby dominates the Week on the Web