Running Blogger Spotlight: John Kynaston, John Kynaston's ultra running diary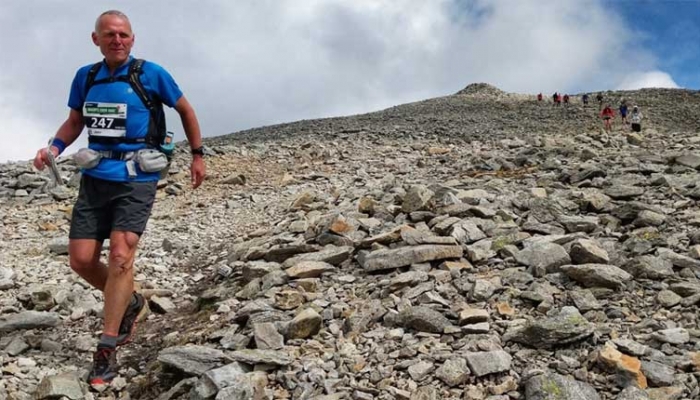 With 51 ultra-races under his belt, 61-year-old running enthusiast John Kynaston knows what it takes to stay motivated. Read today's Spotlight interview for his favourite running routes and the best snacks to pack next time you head out.
What got you into running as a hobby and what keeps you passionate about it as a way to keep fit?
As long I can remember I have always enjoyed running. In school, I was one of the children who loved the cross-country season and athletics in the summer.
Throughout my life I have always run, and at 61 I continue to enjoy it. In 2006 I discovered ultra-running, as it combined my love of the mountains and running, and I've not looked back. I have now completed 51 ultras.
What's your favourite thing to post about and why?
I love to write up race reports as it gives me a chance to reflect on the race and share my thoughts on what went well and what didn't. This gives me a chance to learn for future races.
Did you take part in the London Marathon this year?
I've never run the London Marathon as I prefer the trails over road and smaller fields rather than mass events.
Do you think the different format of the Marathon, in light of the COVID-19 pandemic, was a good idea?
I think anything that helps to motivate people to run is a good thing. It has obviously been difficult this year with so many races cancelled so all the virtual races that have been going on have been really good.
How did you change your approach and content during lockdown?
I decided to try and keep ticking over and maintain my fitness so I ran five times a week as normal but my longer runs were shortened from around 25 to 15 miles.
What's the best route you've ever taken for a run?
My favourite has to be on the West Highland Way. This race is the one that introduced me to ultra-running and I love the various sections and the variety.
Having said that, I have many close seconds from the Lake District, to the Cleveland Way, to Wainwright's Coast to Coast, the Dragon's Back route, etc, etc!
Best snacks/drinks to take along for a race?
Chia Charge bars …. But I'm slightly biased as they sponsor the podcast I host every week called 'Run to the Hills'.
What advice would you give to someone who's never been into running but would like to start?
Find someone to run with and learn from them. When you start it can be quite hard going so having a friend to run with who can help motivate can make the difference to whether you stick at it.
How do you collaborate with brands, and which kind of brands do you really like working with?
The main one is Chia Charge, who make flapjacks using chia seeds.
Ultramarathonrunningstore.com also provides prizes for my 'Guess My Time' competitions I run where friends try to guess how long I will take in a race. I started this for my first ultra in 2007 and it has been a tradition ever since!
For PRs looking to work with you and your blog/website, how would you prefer they approach you and with what kind of content?
Email is the best way (regarding content anything to do with running in general and ultra running in particular).
What other blogs do you check out regularly?
I have a number of running blogs I read regularly and enjoy.
https://www.vuelio.com/uk/wp-content/uploads/2020/10/John-Kynaston.jpg
430
760
Holly Hodges
https://www.vuelio.com/uk/wp-content/uploads/2023/09/vuelio-logo-200px.png
Holly Hodges
2020-10-19 15:13:56
2020-10-19 15:22:31
Running Blogger Spotlight: John Kynaston, John Kynaston's ultra running diary