Social media reacts to Obama and Boris on Friday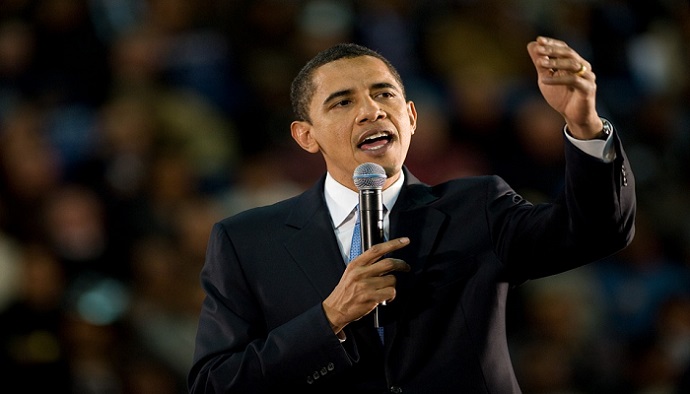 President Obama's arrival on Friday made a big impact on social media. He used the visit as an opportunity to outline his support for Britain remaining in the EU, and quickly started trending on Twitter after publishing an article on the topic in the Telegraph. While the intervention was largely expected, will it have any impact?
Critics are quick to point out that Obama would be unlikely to take the advice he's giving to the UK. They're also quick to point out that the tone of his message, and talk of Britain being at the 'back of the queue' for trade talks, does nothing to quell 'project fear' accusations.  Despite this, there's no doubt that an endorsement from Obama is good news for the Remain campaign. Cameron and other EU supporters are hoping that his high approval rating in the UK translates to votes from those people who are still on the fence. Twitter activity around Obama and the EU jumped from Thursday to Friday: the question will be whether this is simply passing excitement at his visit and reaction to the frank tone of his message, or if he's done enough to make a long term impact.
Boris Johnson also started trending on Twitter on Friday, after suggesting in a Sun article that President Obama may have an 'ancestral dislike' of Britain because of his 'part Kenyan' heritage. His comments brought swift responses from No 10, Labour, Churchill's grandson Nick Soames MP as well as the broader Twitter community. Perhaps worse for Vote Leave, the campaign group Johnson heads up, were Nigel Farage's comments on Radio 4. Largely mirroring Johnson, he said '"I think Obama, because of his grandfather and Kenya and colonisation, I think Obama bears a bit of a grudge against this country".
While there are generally higher numbers of pro-Brexit hashtags used on Twitter than pro-EU hashtags, between Thursday and Friday, pro-Brexit numbers fell while there was an increase in pro-EU tweets. As this reflects the timing of Johnson and Farage's comments, it may be that Brexit supporters are taking a dislike to the change in tone of the debate. While this may do little to influence the final vote of those who have already decided, it may also do nothing to persuade voters who are on the fence to support an 'out' vote.
https://www.vuelio.com/uk/wp-content/uploads/2016/04/Obama.jpg
394
690
Jake O'Neill
https://www.vuelio.com/uk/wp-content/uploads/2019/09/vuelio-logo.png
Jake O'Neill
2016-04-26 15:00:22
2016-04-26 15:00:22
Social media reacts to Obama and Boris on Friday