Speedy Spotlight: Father Fitness
Father Fitness will be featured in this week's Media Updates. Author Paul Stainthorpe talks about fitness, working with PR and advice for Prince William.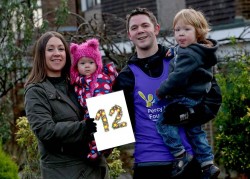 Why should people read your blog?
I think people should read my blog because it's real. I have nothing to hide; I don't take shortcuts or use supplements. It's my fitness journey from becoming a first-time father to regaining my fitness. I've had some lovely comments in the past from people who've said my journey has inspired them to exercise so I hope my blog continues to do that.
How important is the fitness community to you?
Since deciding to produce my blog last year, I've made tons of new friends. A lot of them exercise, run and eat healthy. When times are hard and the temptations to have an extra slice of chocolate cake are there, I turn to social media and blogs to motivate myself. I enter events to give me deadlines so I know I need to get in shape. I always release this information via my blog and on social media so everyone knows about it. This gives me the added motivation to make sure I follow through with my actions!
What's your favourite blog and why?
I read loads of blogs and one of my favourites would have to be Sore Limbs. Phil and I have things in common. We're both devoted dads and we have a history of drinking probably a bit too much. Phil also used to smoke and was bordering being clinically obese. I love reading Phil's blog because it's real too. He doesn't dress things up, he just says it how it is and gets straight to the point. He covers a wide range of topics and I'd highly recommend reading his blog.
How often do you aim to post?
I try to post at least once a month, sometimes more. It really depends on the events I've done and if I have any reviews in the pipeline. I also draft up post titles as and when I come across experiences.
How do you feel about guest posts?
I don't mind guest posting. I set up a section on my blog for guest posting a few months ago and it seems to be pretty successful. At the end of the day, I may not agree with everything that my guest writers say but it's another opinion on my blog and I think that's important.
How does a good PR work with you?
I like question and answer sessions like this one. It means I can get across my opinions within a few sentences rather than limited characters on social media. As I've said before, my journey is real and I know for a fact there are other unfit dads out there that need some encouragement. If I can help one or two dads decide to pick up some weights or go for a run, then that's good enough for me.
What do PRs do that's bad?
I've never had any negative PR to be honest so I can't really comment. I guess if you took this interview and totally changed my words then I wouldn't be happy! Ha ha.
Are there any tips you would like to share with Prince William on his new role as a dad?
I'd tell him the same thing I tell all my mates. Embrace it and enjoy it. For me, becoming a father was the most special and proud moment of my whole entire life. I'm not scared to say I cried like a baby when both my children were born. The release of worry and stress is overwhelming so imagine how the mother feels! I try to always be there for my kids. Take them to playgroup, bath them and put them to bed. Try not to reward them with treats like chocolate for good behaviour but say they'll get to get to spend some more quality time with you instead.
Editorial information on Father Fitness, Paul Stainthorpe and thousands of other media outlets and contacts can be found in the CisionPoint Media Database.
https://www.vuelio.com/uk/wp-content/uploads/2019/09/vuelio-logo.png
0
0
Priyanka Dayal
https://www.vuelio.com/uk/wp-content/uploads/2019/09/vuelio-logo.png
Priyanka Dayal
2013-07-25 08:41:41
2013-07-25 08:41:41
Speedy Spotlight: Father Fitness