Speedy Spotlight: Not My Year Off
Not My Year Off is featured in this week's Media Updates. Author Tas spoke to Cision about her fun toddler, balancing life and working with PRs.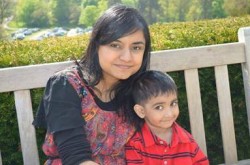 Why should people read your blog?
My blog started off as a diary of a clueless and very tired mum. It is a journal of honest discoveries of parenting and being mum to a very fun toddler. It's written in a humorous fashion through our ups and downs and at the moment we are discovering what being aged two is really like.
What is the most important issue in your blogosphere?
Parenting can be a complete minefield and I think one of the most important issues in my blogosphere is trying to balance everything. How on earth do people do it? Not just looking after your children but yourself and your family and your house and your job and .. and ..and etc.
What's your favourite blog and why?
My all-time favourite is Northernmum.com. Jane was one of the first bloggers I became addicted to.  She has an excellent sense of humour and writes with wit and dry humour whilst tackling some very important subjects like diabetes in children and hip dysplasia, both of which have affected someone in her family.
How often do you aim to post?
About three times a week.
How do you feel about guest posts?
I like them as long as they fit into the theme of my blog. So at the moment that's anything relating to a two year-old, mums, working mums, family days out etc.
How does a good PR work with you?
I have a couple of excellent relationships where we both understand what the other wants (targets, campaigns that are currently going on, what is priority for both) and we work well together. This includes working out schedules to post in time for a PR's target date as well as it fitting in well with my blog.  
What do PRs do that's bad?
The most off putting is when a PR doesn't do their research about your blog or appear willing to do any research (e.g a blitz email trying to reach out to random bloggers) and when they don't make their T&Cs of what they would like clear.
Editorial information on Not My Year Off, Tas and thousands of other media outlets and contacts can be found in the CisionPoint Media Database.
https://www.vuelio.com/uk/wp-content/uploads/2023/09/vuelio-logo-200px.png
0
0
Priyanka Dayal
https://www.vuelio.com/uk/wp-content/uploads/2023/09/vuelio-logo-200px.png
Priyanka Dayal
2013-06-06 10:26:25
2013-06-06 10:26:25
Speedy Spotlight: Not My Year Off