Speedy Spotlight: Purplemum
Purplemum will be featured in this week's Media Updates. Author Ella Tabb spoke to Cision about good PR, life as an ex-circus girl and guest posts.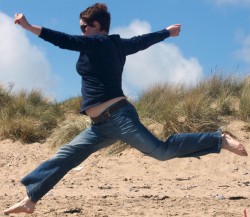 Why should people read your blog?
My blog is predominately aimed at families. I cover all aspects of family life including recipes, parenting and lifestyle tips, reviews and competitions. Plus of course lots of honest real life stories from my day to day life as an ex-circus girl turned failed 1950s housewife. My blog is honest, helpful, heartwarming and sometimes downright daft. 
The most important issue in your blogosphere is… How to survive life with three children and a house full of pixies. 
What's your favourite blog and why?
This is tricky as I love lots of blogs for different reasons, so I can't choose just one, sorry. I love an American blog called Baby Rabies for inspiring me to blog in the first place. I like Thinly Spread for consistently good content and a great ethos. I also like Knitty Mummy for craft projects that I would never contemplate, it's almost like she's doing it for me! 
How often do you aim to post?
I try to be consistent and post three times a week. 
How do you feel about guest posts?
I would be happy to host guest posts which fit the tone and ethos of my blog. I do not, however, welcome commercial content posing as guest posts. In that case I would be clear about the commercial relationship and expect some kind of compensation for my time.
How does a good PR work with you?
A good PR would read my blog and approach me with relevant content. I prefer to work on projects which target smaller amounts of bloggers in order to create good and original content. I don't like to do things which are all over the blogosphere and a bit spammy. A good PR is polite, friendly and respectful of the time I put in and the reality of my life as a stay at home Mum. 
What do PRs do that's bad?
Blanket approach huge amounts of bloggers with no knowledge of their blogs, and often content which is not relevant. 
Editorial information on Purplemum, Ella Tabb and thousands of other media outlets and contacts can be found in the CisionPoint Media Database.
Priyanka Dayal
https://www.vuelio.com/uk/wp-content/uploads/2019/09/vuelio-logo.png
Priyanka Dayal
2013-09-19 09:08:09
2013-09-19 09:08:09
Speedy Spotlight: Purplemum