Today's Political Headlines – 2 February 2018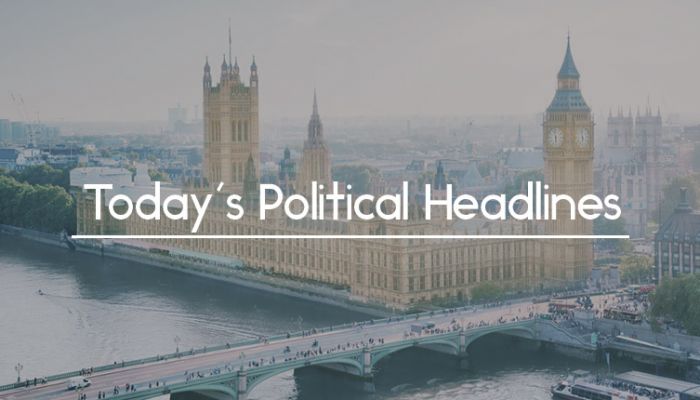 Today's Political Headlines include the UK's potential to stay in a customs union with the EU, Brexit migration figures, NHS spending on compensation and medicines under review and 'Auntie May'. 
UK might stay in customs union with the EU
The Financial Times claims that Theresa May's advisers are considering striking a customs union deal on trade in goods with the EU, which would allow the UK to strike trade deals on services (although the paper notes that 'services-only deals are a relative novelty'). The Daily Telegraph reports that International Trade Secretary Liam Fox has ruled out such an arrangement, but the Prime Minister has been less clear.
Brexit economic analysis reveals that EU migration might fall by just 40,000
The Daily Telegraph claims that leaked Government economic analysis of Brexit reveals that ministers are planning for EU migration to fall by just 40,000 a year if the UK reaches a free trade deal with the EU. If the Government fails to agree a deal with the EU, the analysis expects EU migration to fall by 90,000. An estimated 230,000 immigrants migrated to the UK in the year to June 2017.
NHS spending on compensation and medicines under scrutiny
Two articles in this morning's papers focus on high costs being incurred by the NHS. The Daily Telegraph says that health service leaders have written to the Justice Secretary David Gauke, claiming that unless victims of NHS errors receive less compensation, the service will be bankrupted. Meanwhile, an investigation by The Times finds that the NHS has been overcharged for thousands of drugs.
Labour considers new policy to cut house-building costs
A new policy to cut the cost of council house building is being considered by Labour and is detailed in The Guardian. The proposals, drawn up by Shadow Housing Secretary John Healey, would see an English Sovereign Land Trust established to buy land at its pre-planning consent value, cutting the cost of building 10,000 homes a year by £10bn.
May praised by Chinese state media and dubbed 'Auntie May'
According to The Guardian, Chinese state-run media has praised Theresa May following her trip to the country. The Global Times reportedly said that she had 'sidestepped' issues including human rights and Hong Kong, and had sought 'pragmatic collaboration'. The Times adds that young social media users in the country have dubbed her 'Auntie May' and says that she is set to announce £300m of commercial deals to export British cultural brands.
Groups opposed to hard Brexit join forces
The Guardian reports that groups opposed to a hard Brexit have coalesced under the leadership of Chuka Umunna. The groups, with over 500,000 members, will work together as the grassroots coordinating group (GCG). Other politicians involved include Anna Soubry, Caroline Lucas and Jo Swinson.
Unlimited fines for carmakers who cheat emissions tests
New Department for Transport proposals would see carmakers who cheat emissions tests faced with unlimited fines, The Times says. The proposals, which go beyond EU law, come after the scandal triggered by Volkswagen's use of 'defeat device' software to beat tests.
Brexit minister admits making mistake
Yesterday, in the House of Commons, Jacob Rees-Mogg asked Brexit minister Steve Baker whether Treasury officials had 'deliberately developed a model to show that all options other than staying in the customs union were bad', attributing his claim to Charles Grant of the Centre for European Reform. Baker said that Rees-Mogg's account was 'essentially correct', but later had to back down after an audio recording of Grant emerged. Baker will now apologise to Grant and 'clarify' his remarks to the Commons, as the BBC reports.
Vuelio Political services are available to you, find out how. 
https://www.vuelio.com/uk/wp-content/uploads/2018/01/Vuelio-Political-News.jpg
430
760
Thomas Stevenson
https://www.vuelio.com/uk/wp-content/uploads/2019/09/vuelio-logo.png
Thomas Stevenson
2018-02-02 09:44:44
2018-02-07 11:53:06
Today's Political Headlines - 2 February 2018