Today's Political Headlines – 31 January 2018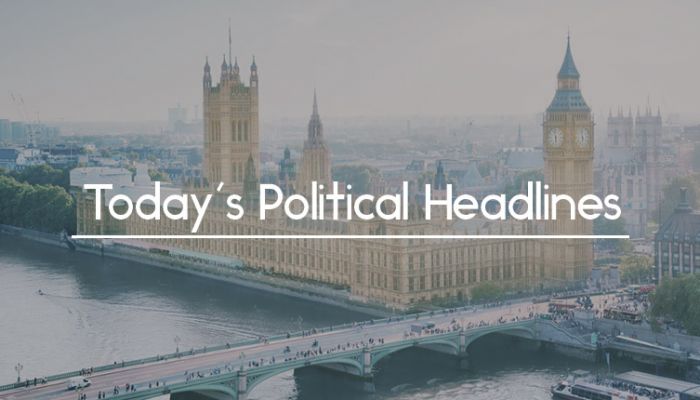 Today's Political Headlines include the continued controversy surroung the government's leaked Brexit forecasts, Theresa May's visit to China and the UK's skilled immigration cap. 
Brexit analysis causes continued controversy
Brexit minister Steve Baker has claimed that Government economic forecasts are 'always wrong' and that the leaked Brexit forecast 'is not yet anywhere near being approved by ministers', according to The Daily Telegraph. A 'Cabinet source' told the paper that it was 'Project Fear Mark II'. The Guardian suggests that Baker's claim has 'triggered a furious backlash' and says that Labour is to try to force the Government to publish the analysis using the same procedure previously deployed to force the publication of the Government's sectoral reports. Theresa May has told the Financial Times that economic assessments will be given to Parliament after the final deal has been agreed, but ahead of the vote on it, 
Theresa May: 'I'm not a quitter'
The Times reports that Theresa May has told reporters that 'I'm not a quitter, and there is a long-term job to be done.' She refused to say if she would fight on in the event of a vote of confidence. May insisted that she had a plan to get 'the best Brexit deal' and that 'we need to ensure that we do speak about the achievements that we've seen'. 
Theresa May: China should play by rules
Theresa May has written an opinion piece for the Financial Times ahead of her trip to China, in which she argues for 'deepening co-operation' but warns that the two countries 'will not always see eye-to-eye', raising issues such as steel overcapacity, intellectual property, and trade rules. The paper describes this as a 'blunt warning'.
Housing developers to lose right to build
Housing developers should lose planning permission on unused land, if they fail to hit construction targets, a review into land-banking is expected to conclude in the spring, according to The Times. The paper has interviewed Sajid Javid, who said 'We are on the side of people who want more homes.'
Inheritance tax gifting limit under review
Chancellor Philip Hammond has ordered a review into inheritance tax, The Daily Telegraph says. The review, to be carried out by the Office for Tax Simplification, could lead to an increase in the tax-free gifting limit, which has been frozen at £3000 since 1981. The paper says that the move would 'help younger generations onto the property ladder'.
UK should add folic acid to flour, study says
The BBC reports on a new study in Public Health News, which suggests that adding folic acid to flour would prevent spina bifida in unborn babies and not harm the public. Ministers in Wales, Scotland and Northern Ireland have already backed the move.
Parliament could be 'at risk', Historic England warns
The Guardian has seen a Historic England briefing note, which warns that the Palace of Westminster could be placed on the 'at risk' register of historic sites. MPs have a free vote tonight on whether or not to delay making a decision on repairs until the end of parliament, or to set up a delivery authority to draw up options to be voted on in 18 months' time. 
UK hits skilled immigration cap
The Financial Times reports that the UK has hit the cap for skilled non-EU migrants for two months in a row, attributing this to companies being 'forced to look further afield to make up for falling numbers of European immigrants.' The NHS is amongst those being forced to turn away potential workers, whilst the Institute for Directors described it as a 'particularly big concern' for businesses.
If you want Vuelio Political services in your life, you can access them here. 
https://www.vuelio.com/uk/wp-content/uploads/2018/01/Vuelio-Political-News.jpg
430
760
Thomas Stevenson
https://www.vuelio.com/uk/wp-content/uploads/2023/09/vuelio-logo-200px.png
Thomas Stevenson
2018-01-31 09:49:35
2018-02-07 11:53:44
Today's Political Headlines - 31 January 2018