19 Tory Party Conference tweets that make us miss it…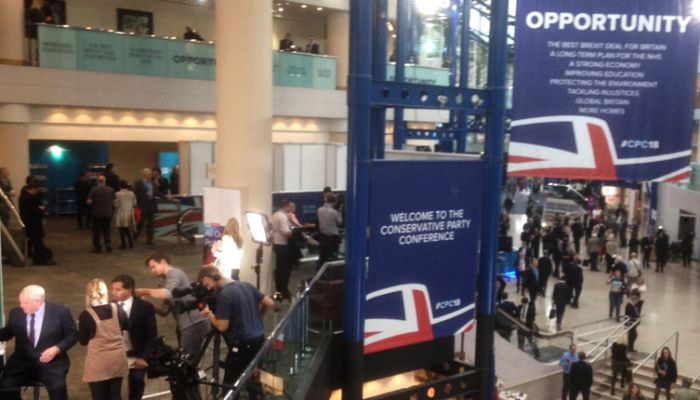 The Conservative Party Conference is over for another year but did you see all that there was to see?
Vuelio were at the Lib Dem, Labour and Tory Conferences, and while the team are briefing clients on all the sessions – we thought we'd see what Twitter had to say about the Government's conference in 2018.
Here are some of the best [may contain bad language]:
Most talked about moment
Watching Theresa May coming out to Dancing Queen. pic.twitter.com/WEF88jwNSe

— Paddy Power (@paddypower) October 3, 2018
Bit of honesty from the subtitlers there pic.twitter.com/QGDetFQkED

— James Felton (@JimMFelton) October 3, 2018
Most Charmingly Optimistic Fringe Title
Award for 'Most Charmingly Optimistic #cpc18 Fringe Title' goes to pic.twitter.com/0G4k52zOmv

— James Davies (@jamesorharry) October 2, 2018
Most 'app' tweet
I bet CCHQ are regretting moving the guy who ordered last year's magnetic letters into the IT department.

— Tim Dawson (@Tim_R_Dawson) September 29, 2018
Most self-deprecating
Matt Hancock tells Tory conference he's been able to consult widely on new NHS tech over the past few days "because CCHQ has given everyone my phone number"

— Jasmin Gray (@JasminGray2) October 2, 2018
Most honest journalist
I'll tell you who I can't stand in politics: everyone

— Matt Chorley (@MattChorley) October 2, 2018
Most tired journalist
This is what a couple of weeks of party conferences does to you. Photographic handiwork courtesy of the community spirited @samcoatestimes #cpc18 #lab18 pic.twitter.com/jPAZk808ZV

— Chris Mason (@ChrisMasonBBC) October 3, 2018
Most frustrated journalist
I hope whoever designed the ICC in Birmingham is trapped on series of staircases forever.

— Owen Bennett (@owenjbennett) October 1, 2018
Most shade from a journalist
Stanley's here, Rachel's here…almost the whole of one of his families.

— Tom Peck (@tompeck) October 2, 2018
Most sycophantic MP
He's raised hundreds of thousands for colleagues, some of whom now openly castigate him. Never heard him say a bad word about any of them. It's unseemly and unprofessional. Politics is not ours, it's the voters, and they vote for him. He's imperfect, but he's our imperfection. pic.twitter.com/A3xR9Cv9lI

— Johnny Mercer MP (@JohnnyMercerUK) October 2, 2018
Most seal-like MP
Michael Gove claps like a Sea Lion at feeding time #CPC18 pic.twitter.com/8AyiKgL8AR

— Jack D 🌹| #GTTO | (@JackDunc1) October 3, 2018
Most sarcastic MP
Some nice words from Tory leaders like Theresa May and Sajid Javid. Makes you wonder who was responsible for the Tory party's relentless personal attacks in the general election campaign 2017 #CPC18 pic.twitter.com/w3Ar0dZLkA

— Diane Abbott (@HackneyAbbott) October 3, 2018
Most awkward analogy
Bit of a gift to sketch writers at the Tory conference where there is literally a barrier to opportunity. (Photo: @Labour4EU) pic.twitter.com/q2giPAhRWI

— Ciaran Jenkins (@C4Ciaran) September 30, 2018
Most words removed
The writing is on the wall for the Conservatives. Or at least it was…

Eight years of budget cuts and the Tories have completely abandoned any pretense of standing for security and stability.#CPC18 pic.twitter.com/DydqAlUeOv

— The Labour Party (@UKLabour) October 3, 2018
Most 'dad' moment
Philip Hammond thanks Liz Truss for "tearing herself away from Instagram for a few minutes". All right dad

— Esther Webber (@estwebber) October 1, 2018
Most obvious place to be on Monday night (if you know, you know)
Excellent turnout at our #ABP Sea Fare and Sea Shanty event at #Conservatives2018 party conference and we were proud to welcome our Shipping Minister @Nus_Ghani #KeepingBritainTrading pic.twitter.com/2BQAFCDq4Q

— AB Ports (@abports21) October 1, 2018
Most adorable stand
At Conservative Party Conference with the Guide Dogs stand supporting their campaign against pavement parking. Always the best stand at conference. pic.twitter.com/H6gIT1hSsG

— Tim Loughton MP (@timloughton) October 1, 2018
Most accidental suggestion of incest
Mixed-sex civil partnerships to be legalised. Why not for siblings too?

— Sir Edward Leigh MP (@EdwardLeighMP) October 2, 2018
Most mini Moggs
The problem is they all look and sound like mini Moggs …. https://t.co/JgTdhntgVq

— Anna Soubry MP (@Anna_Soubry) October 2, 2018
Vuelio Political Services are available to anyone who wants to stay on top of the biggest issues and latest news in politics. 
https://www.vuelio.com/uk/wp-content/uploads/2018/10/Conservative-party-conference.jpg
430
760
Jake O'Neill
https://www.vuelio.com/uk/wp-content/uploads/2015/10/vuelio-logo-transparent.png
Jake O'Neill
2018-10-05 15:22:35
2018-10-05 16:20:39
19 Tory Party Conference tweets that make us miss it…