Political Headlines – Hunt's warning, border plans, aviation plans and food bank usage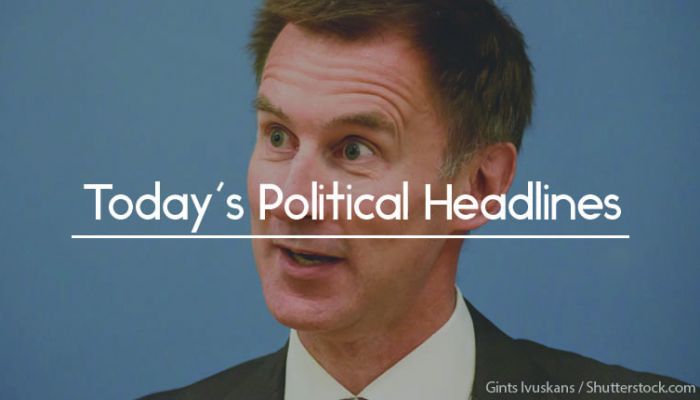 Today's political headlines include Hunt's warning of further sanctions against Russia, Varadkar's call for new border plans, the EASA has turned down the CAA's request for an aviation plan and Food bank usage up 52% in Universal Credit areas. 
Hunt warns of further sanctions against Russia as new plot is revealed
The Times reports that Western countries joined forces yesterday to expose a Russian GRU unit which tried to hack the Office for the Prohibition of Chemical Weapons a month after the Salisbury attack. Foreign Secretary Jeremy Hunt warned that the 'hard evidence' would lead to further sanctions against the country.
Varadkar calls for new border plans to be published quickly
The Guardian reports remarks made by the Taoiseach Leo Varadkar in Brussels yesterday, in which he called on the UK to publish the revised plan for the border 'as soon as possible' so that a deal could be reached by November. European Council President Donald Tusk criticised Foreign Secretary Jeremy Hunt's 'unwise and insulting' comparison of the EU and the USSR, and claimed that the EU was willing to offer a 'Canada-plus-plus-plus deal'.
European agency turned down UK's request for joint no-deal aviation plan
Correspondence seen by the BBC shows that the Civil Aviation Authority tried to reach a joint no-deal transition plan with the European Aviation Safety Agency but was turned down in July. EASA told the BBC that 'discussion about technical details would not be useful since the framework for which we need to prepare is not known.'
Food bank usage up 52% in areas where Universal Credit rolled out
The Financial Times warns that research by the Trussell Trust shows that use of food bank increases by 52% over twelve months in areas where Universal Credit has been rolled out, compared to 13% in areas where it hasn't. The benefit is due to be rolled out to 2.1m further families between 2019 and 2023.
Ending austerity could cost £20bn
The Times says that the Institute for Fiscal Studies has warned that the cost of ending austerity, as promised by Theresa May in her conference speech, will be £20bn if it includes an increase in public sector wages. Downing Street and the Treasury have not explained what the Prime Minister meant in her speech.
Wealthy move assets out of UK owing to Corbyn fears
According to the Financial Times, which has spoken to a number of wealth managers, many of the UK's 'super-rich' are moving assets out of the country or even planning to emigrate, because of the prospect of a Government led by Jeremy Corbyn. One wealth manager told the paper that 'most people are much more worried about Corbyn than Brexit.
No-deal Brexit leaves a million workers exposed to pay cuts and job losses
The Sun carries details of new research by the Institute for Fiscal Studies, which warns that a no-deal Brexit would leave almost a million blue collar workers in industries such as car-manufacturing and chemicals 'highly exposed' to job losses and pay cuts, with the biggest pain felt in the Midlands and Northern Ireland.
McDonnell joins McStrike
The Daily Mail reports that Shadow Chancellor John McDonnell joined striking workers from firms including McDonald's, TGI Fridays, Wetherspoons, Uber and Deliveroo at a protest in Leicester Square yesterday. The workers are calling for a minimum wage of £10 an hour and the end of 'precarious' contracts.
You need to know the latest in politics or you'll fall behind. Let Vuelio Political Services do the hard work for you.
https://www.vuelio.com/uk/wp-content/uploads/2018/08/Jeremy-Hunt.jpg
430
760
Thomas Stevenson
https://www.vuelio.com/uk/wp-content/uploads/2015/10/vuelio-logo-transparent.png
Thomas Stevenson
2018-10-05 09:26:16
2018-10-05 09:26:16
Political Headlines - Hunt's warning, border plans, aviation plans and food bank usage