Political Headlines – the end to austerity and Russian cyber attacks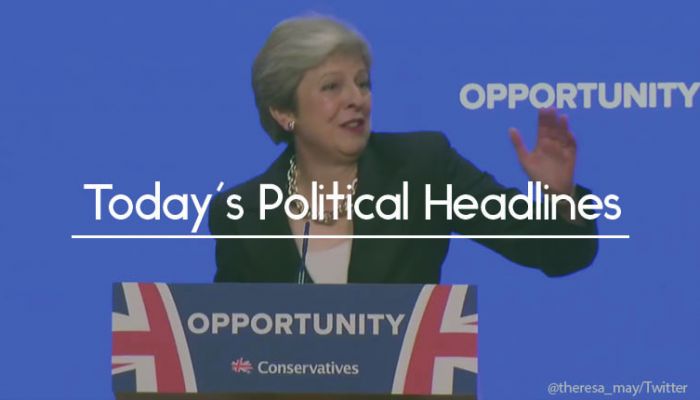 Today's political headlines include the Dancing Queen promising to end austerity, UK accuses Russia of cyber attacks, the Brexit deal push and Ireland backs British backstop proposals. 
'Dancing Queen' promises end to austerity
The Times reports that Theresa May used her conference speech to announce the end of austerity, promising to increase public spending post-Brexit. Appearing on stage dancing to ABBA's Dancing Queen, the Prime Minister also announced a cap on council borrowing to build new homes, promised quicker diagnoses for cancer patients (citing the story of her goddaughter who died of cancer last year) and, in a victory for The Sun, confirmed that fuel duty would be frozen.
UK accuses Russia of cyber attacks
The Guardian reports that Foreign Secretary Jeremy Hunt has accused Russia's intelligence services of a number of 'reckless and indiscriminate cyber-attacks' which were 'in flagrant violation of international law', including the 2016 hacking of the Democratic National Committee headquarters.
May starts Brexit deal push
According to The Sun, Theresa May will today start a ten-day push to get EU leaders to agree a Brexit deal, aiming to get a deal agreed at a summit on 16-17 October, which will be translated into legal text while a framework on future trade is negotiated, before both are formally agreed at a further summit in November.
Ireland backs British backstop proposals
The Financial Times says that Ireland has given its backing to a proposal from Theresa May to break the impasse over the Irish border backstop in the Brexit negotiations. Under the plan, if no other solution is found to the border problem, the whole of the UK would remain in a customs union with the EU (which has already been rejected by chief negotiator Michel Barnier) and agree that Northern Ireland would remain subject to single market regulations.
France would prefer no-deal Brexit to compromise
The Daily Telegraph reports that France's Europe minister, Natalie Loiseau, has warned that it would prefer the UK to leave the EU without a deal than accept a compromise which undermines the EU's integrity. The paper adds that it believes that a new British proposal will leave the UK in a de-facto customs union with the EU, with Northern Ireland aligned with single market rules.
Tory mayoral candidate under fire for remarks about multiculturalism
The Guardian reports that the Conservative candidate for Mayor of London Shaun Bailey used a pamphlet that he wrote for the Centre for Policy Studies a decade ago to claim that accommodating Muslims and Hindus 'robs Britain of its community' and risked turning it into a 'crime-riddled cesspool'.
Johnson paid £275,000 for Telegraph column
The Sun reports that Boris Johnson is being paid £275,000 for his column in The Daily Telegraph, which is double the salary he received while he was Foreign Secretary and ten times the average salary. According to the Register of Interests, he spends ten hours a month on the column, giving him an hourly rate of £2,300.
RBS and Nissan warn of Brexit consequences
Ross McEwan, the Chief Executive of RBS, has told the BBC that a 'bad Brexit' could lead to a recession and that as a result the bank was becoming more cautious about lending to certain sectors, especially retail and construction. The Guardian reports that Nissan has warned that an end to 'frictionless trade' with the EU would have 'serious implications'.
Missing the fun of Conference? Politics doesn't end when the dancing stops – Vuelio Political Services provide intelligence on all the issues that matter to you.
https://www.vuelio.com/uk/wp-content/uploads/2018/10/Theresa-May-Dancing-Queen.jpg
430
760
Jake O'Neill
https://www.vuelio.com/uk/wp-content/uploads/2019/09/vuelio-logo.png
Jake O'Neill
2018-10-04 09:33:08
2018-10-04 09:33:08
Political Headlines - the end to austerity and Russian cyber attacks