4 Instagram lessons from the Conservatives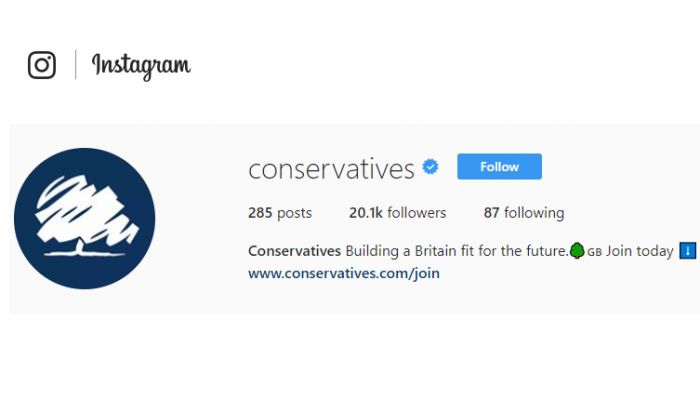 Last week it was revealed that Conservative MPs had been briefed on their use of Instagram. A comprehensive presentation covers everything from downloading the app to specific dos and don'ts, but what can this guide teach the PR industry?
Published by the BBC, the guide is obviously quite simple in places (MP friendly) but there are key lessons that are always worth reminding ourselves of. Not only does Instagram have a 'younger audience', an obvious attraction for the Conservatives, but it also gives a chance to show 'you are a real person who people can relate to or be inspired by'.
1. Context
One such 'real person' is defence secretary Gavin Williamson (of 'Russia should go away, it should shut up' fame), who was an early adopter of Instagram. He appears twice under the section 'Good examples: people' section, showing both 'to-camera smiling shots' and 'context seen in the photos' at an event.
Context is vital for any photo posts and the more that can be squeezed into the picture, the less work your caption has to do. Captions are much less likely to be seen let alone read, so for Instagram, the picture MUST paint a thousand words. Bear that in mind when creating a post, you may understand what event you're at because you're there, but if it isn't obvious in the picture, the post won't succeed.
2. Be playful
Another 'Good examples' section but this time for objects. The presentation uses Sam Gyimah's Christmas post as an example of how to create 'unique content' that's 'playful':
Instagram is a young platform and it's a social platform. Being serious or formal is not really social's style (with the exception of, perhaps, LinkedIn), so users should try to see the lighter side of life and have fun when creating posts. This is particularly relevant for corporate accounts or senior execs; if they want to appeal to the board or their investors, then social – and especially Instagram – probably isn't the place.
Another way to be 'playful' according to the presentation, is making use of emojis and stickers. It highlights a post from Sir Peter Bottomley, who used the #TBT (throwback Thursday) sticker on an historical picture of him campaigning with Margaret Thatcher.
It may feel unnatural to used such 'playful' items in your communications but remember this is about appealing to the Instagram audience. If you want to make friends in a Missouri truck stop, you probably wouldn't go in dressed like, or talking like, Jacob Rees-Mogg. Instagram is the same – if you want to reach people on Instagram, be more like people on Instagram.
3. Engage
According to the presentation, 'High engagement = higher chance of attracting more followers', which is true. It then gives specific examples of engaging, including: reply to comments, like comments, tag people in the text and include your location.
This is basic advice but it's true. If you want to organically grow your following on Instagram, then comment on other people's posts, like posts, follow other people, post regularly, engage with people that comment on your posts and generally be an active member of the Instagram community. It takes a lot of work and time, but being big on Instagram can make that work pay off.
4. Don't post press releases
Instagram is not your newsroom, so it's not a place for lengthy prose or adverts. The presentation highlights the types of posts that should be used sparingly, including James Cleverly's quote when appointed deputy chairman of the Conservative Party:
As the BBC points out, Cleverly seems to have heeded the advice and now his posts are more informal.
A beautifully designed advert or company quote next to a portrait of your exec may look good in magazines or on your website, but once again it's about context (think about Jacob Rees-Mogg at the truck stop).
Instagram is a place for beautiful photos of people, places and objects. It's not a place for text-filled images or obvious graphic design.
Be you
The Conservative advice may be simple but it's good. If you want to succeed on Instagram, be personable, be real and be you. Or, don't be on Instagram.
https://www.vuelio.com/uk/wp-content/uploads/2018/05/Instagram-Conservatives.jpg
430
760
Jake O'Neill
https://www.vuelio.com/uk/wp-content/uploads/2019/09/vuelio-logo.png
Jake O'Neill
2018-05-14 11:07:53
2018-05-14 13:09:32
4 Instagram lessons from the Conservatives