5 stats from Harvard's Life After COVID-19 report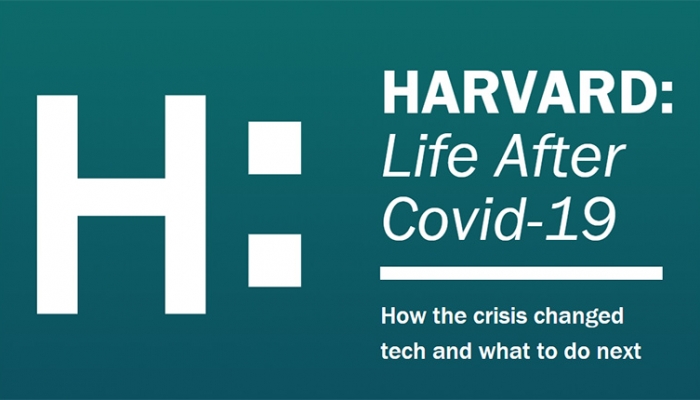 To better understand how the changes that have come in the wake of the coronavirus crisis will impact business leaders across the UK in the long term, Harvard comms partnered with research house Coleman Parkes for its study Life After COVID-19: How the crisis changed tech and what to do next.
Here are five quick takeaways from the survey of 450 UK C-suite professionals working across tech, telecoms, manufacturing, health, financial services and professional services…
1) Since the pandemic, 48% of those surveyed admit their perception of tech companies has become more positive
Unsurprisingly, a reliance on technology has become unavoidable for business to continue during the pandemic, with teams moving to home working on digital platforms, video networking and cloud-based projects. As a result, C-suite professionals are looking upon the companies providing these services with a kinder eye – 48% also plan to increase their investment in hardware over the next 12 months and 43% to invest more in software over the same period.
2) 58% said planned digital transformations at their businesses were accelerated by three years or more
With no time for catering to office politics or employer/employee resistance to big change, planned innovations have been implemented faster during the pandemic. 42% of business leaders reported that digital transformations that would typically take years to roll out were made possible in weeks.
3) 40% agreed that their employees' view of them as an employer would be impacted by their experience of technology
The importance of in-office friendships, work/life balance and perks for employee retention has given way to technological experience; what good is an emotionally supportive team if you can't keep in touch with them – or your clients – because of connectivity issues? Working from home can only truly be a boon for employee satisfaction if the technology provided for them works – 48% believe employees' tech experience will impact retention when 'regular' business resumes post-lockdown.
4) 47% of businesses expect to increasingly rely on Government
Particularly for those in the financial services sector (58%), businesses anticipate an increased reliance on Government in future. Aims for sustainability and local-over-global focuses have sparked trends for domestic sourcing.

5) Political unrest – not COVID-19 – is the number one environmental concern for businesses over the next few months
While it may feel as though all aspects of work and day-to-day life have narrowed down to coronavirus-related concerns, they aren't the be-all and end-all for business. Considerations of political unrest (53%), cyber security (53%) and Brexit (50%) will all come before COVID-19 (49%) over the upcoming 12 months for the companies surveyed. The current crisis is a critical issue, but not the only factor to navigate over the next year.
While continuing to challenge, the COVID-19 crisis has forced business leaders to adapt quickly and be flexible with their business models and ways of working. For Coleman Parkes Research director Stephen Saw, the survey shows a positive future for resilient teams working through times that are difficult to plan for:
'Even the darkest cloud has a silver lining – UK business leaders are utilising technology to adapt and respond to the market disruption caused by COVID-19 with unprecedented speed.
'This survey has helped us understand how their transformation efforts are paving the way to the 'new normal' way of working, for now and, likely, well into the future.'
Read the full 'Life After COVID-19: How the crisis changed tech and what to do next' report from Harvard and Coleman Parkes here.
https://www.vuelio.com/uk/wp-content/uploads/2020/05/Harvard-Life-After-COVID.jpg
430
760
Phoebe-Jane Boyd
https://www.vuelio.com/uk/wp-content/uploads/2019/09/vuelio-logo.png
Phoebe-Jane Boyd
2020-05-19 14:35:29
2020-06-06 18:38:00
5 stats from Harvard's Life After COVID-19 report