5 tips to improve your influencer marketing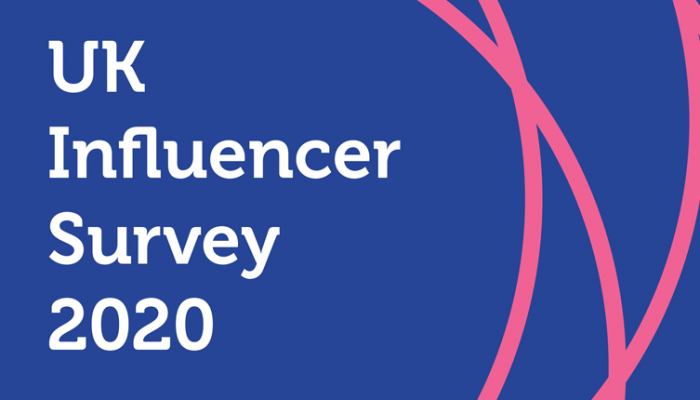 Are you working with influencers? The UK Influencer Survey 2020 reveals that one in five influencers say it's now their main source of income and one in twenty charge more than £1,000 per collaboration.
Here are five lessons from the Influencer Survey to improve your PR strategy.
1. Get your budgeting right
Influencers set their own prices and there are no industry standards. The Survey reveals that different activities demand different amounts of compensation, so consider what you're trying to achieve and how much you have to spend. If you have more budget and long-term awareness goals, then brand ambassador programmes are for you, but if you want a one-off hit across a number of influencers for less spend, consider sponsored blog or social posts.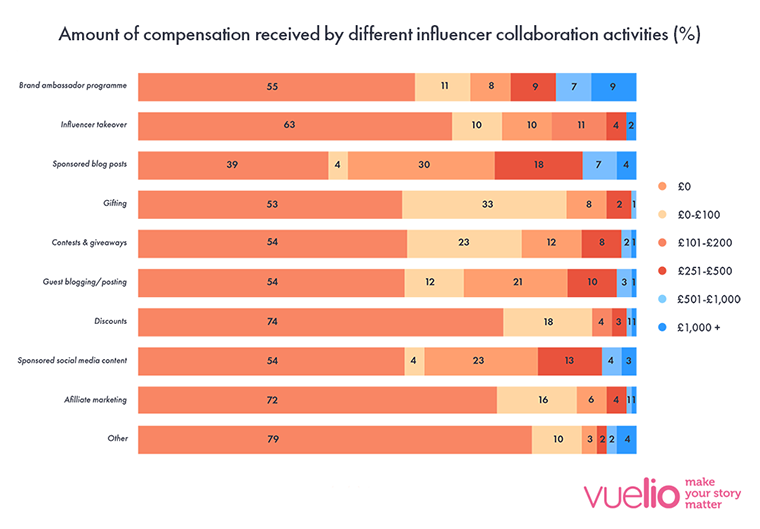 2. Target the right influencers
Three quarters of influencers reject pitches because they're not relevant to their audience and 35% reject on the grounds that they are not personalised. Spray and pray is the tool of the unprepared – PR is about building and maintaining relationships with the right people who have been identified ahead of time and then nurtured. A little research can go a long way to help secure coverage.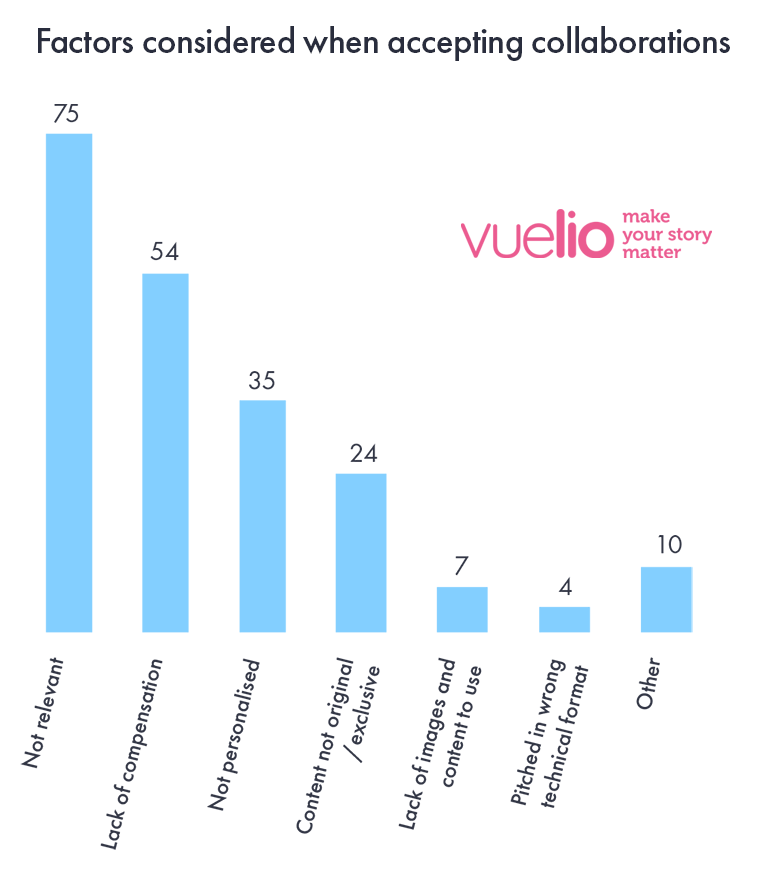 3. Respect full timers
There are more influencers who say it is now their main source of income, a proportion that's more than doubled in the last four years. There's a corresponding rise in the number of influencers spending over 30 hours a week on their channels, so we can see a clear pattern of more professionals working in the industry. And with any small business owner, focusing on the output is only part of their workday, they also have a heap of admin, finance, marketing and sales to do, so bear that in mind when you're negotiating deliverables.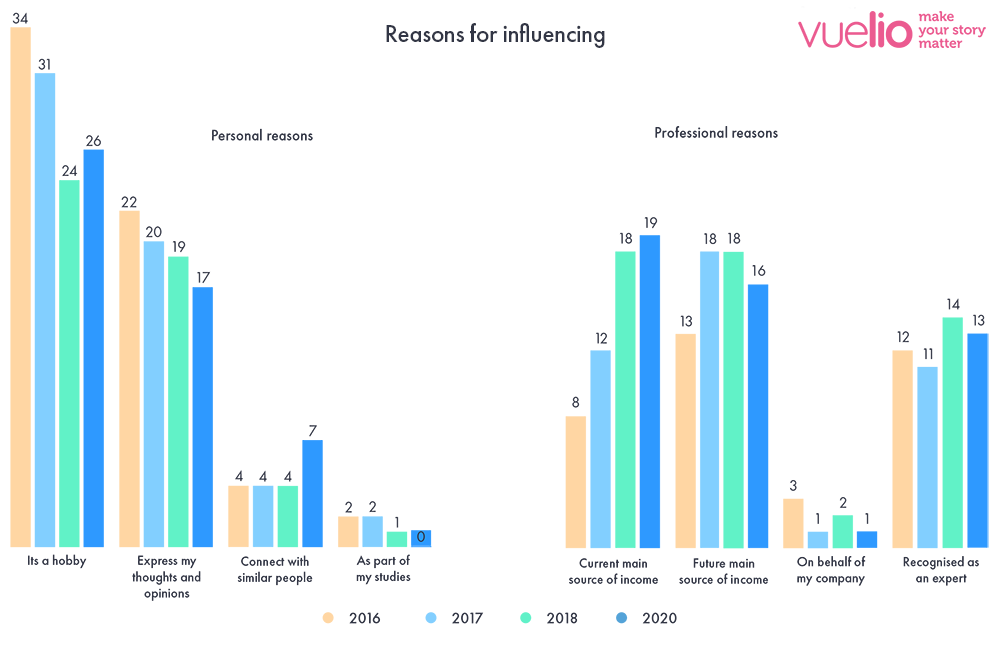 4. It's not just about the supersectors
The Survey once again highlights the dominance of five supersectors: Fashion & Beauty, Lifestyle, Parenting, Food and Travel, which account for 57% of all influencers. If you're not operating in one of those, it doesn't mean influencer marketing isn't for you. Categories rise and fall; the proportion of influencers in the supersectors is now in decline. Respondents had the option to choose a huge variety of categories, and nothing was left unchecked from gaming and gardening to politics and religion. Every sector can benefit from influencer marketing.

5. Focus on quality of engagement rather than follower numbers
This was the most (89%) agreed-with statement about working with PRs. And it makes sense, follower numbers can be bought, traded or built up through a series of laborious processes, but could ultimately mean nothing. The best collaborations lead to high engagement from audiences, so that's what you should be looking for before you start. Followers are vanity, engagement is sanity.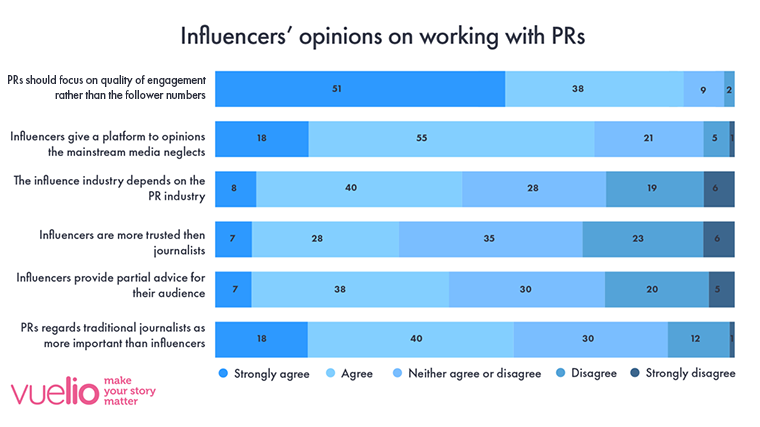 If you need help with your influencer outreach, find out more about the Vuelio Influencer Database and how we can help. 
https://www.vuelio.com/uk/wp-content/uploads/2020/05/Feature-image-front-cover.png
430
760
Jake O'Neill
https://www.vuelio.com/uk/wp-content/uploads/2019/09/vuelio-logo.png
Jake O'Neill
2020-05-18 09:32:11
2020-05-18 09:32:11
5 tips to improve your influencer marketing