6 reasons to stop searching #JournoRequest and start using the Journalist Enquiry Service
In need of media coverage for your brand, client or research? Ransacking the #JournoRequest hashtag for asks from UK journalists might seem like a quick solution for finding contacts, but here are six reasons why you should give the ResponseSource Journalist Enquiry Service a try instead…
1. Requests come straight through to your inbox
No searching required – relevant requests from UK journalists looking for contributions for their upcoming pieces (whether products for review, expert comment, statistics or survey results) are sent directly to the inboxes of Journalist Enquiry Service subscribers. And how often requests come through is up to you – sign up for a steady stream of requests as they're released, or a daily digest of enquiries you might be able to help with.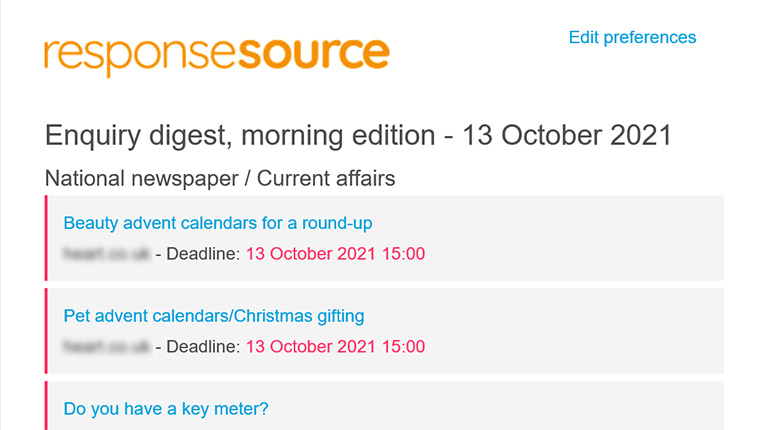 2. You'll receive all the details you need
Sometimes 140 characters just aren't going to tell you everything you need to help a journalist fill and finish their feature; you need to know exactly what they want, and when for. While you won't want to read through an enquiry that's the same length as the article the journalist is writing (nobody has time for that – certainly not the journalist), the Journalist Enquiry Form has enough space for the media professionals using it to be clear on what they want.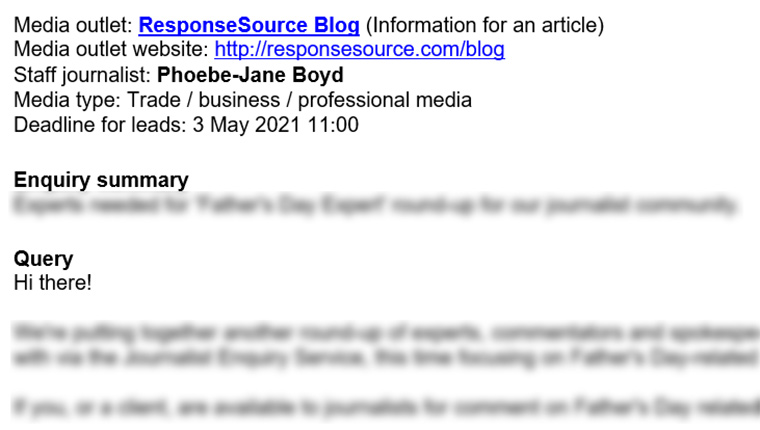 You'll find which publication they're writing for, when the piece is likely to be published and more.
3. You can filter requests so they're relevant to your specific sector
#JournoRequests is a busy hashtag filled with enquiries from journalists writing across almost any sector you can imagine – that's a very noisy place to navigate when you need to find something useful for you, fast. The Journalist Enquiry Service, in comparison, requires journalists to target their requests to the sectors they're writing about, right from the get-go.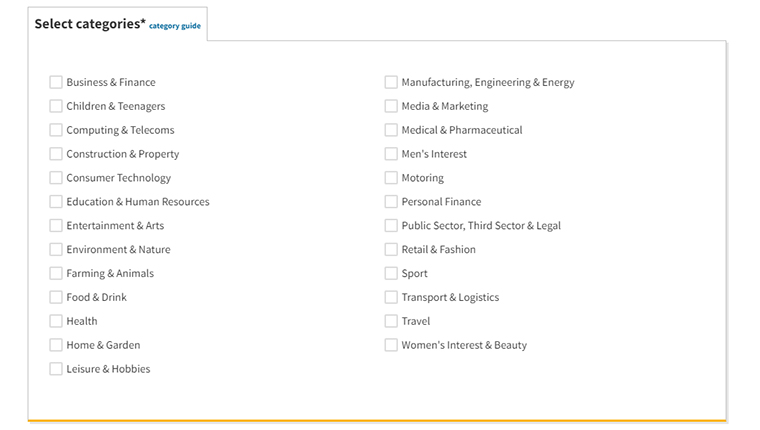 Working in the Home & Garden comms space? The service has a category for that. After requests from fashion journalists? Retail & Fashion is for you. You can pick the request categories relevant to you when signing up and start receiving enquiries from UK journalists you can help with relevant contributions.
4. It's secure
DM etiquette and email sharing doesn't even have to be a consideration when starting a (hopefully long-term and fruitful) relationship with a journalist working in your sector. Once a journalist has sent their request via the Journalist Enquiry Service, contact between you starts through the service's internal network. Email replies come via [email protected], until you're ready to share your contact details.

5. You have a set deadline to work to
While there are many differences between those in comms and those working in the media, keeping to strict deadlines throughout the day are a necessity for both. Knowing when you need to get information over to a journalist is a vital part of information easily missed on tweet threads. Requests sent through the Journalist Enquiry Service include the date and time the journalist needs the contributions by, as well as when their piece is likely to be published. When request deadlines are up, they fall off of the system, meaning no confusion – just fresh requests to look through.
6. Journalists at high-profile media outlets use the service
The Journalist Enquiry Service has many different users working across the media landscape. As well as staffers and commissioning editors on national press dailies, there are freelancers writing for a variety of consumer and trade magazines, broadcast journalists reporting for mainstream television and digital channels as well as influencers with swathes of followers across social media. Many who use the service have created useful working relationships – instead of searching for journalist connections across social media, sign up for targeted requests from media professionals who want what you have to offer.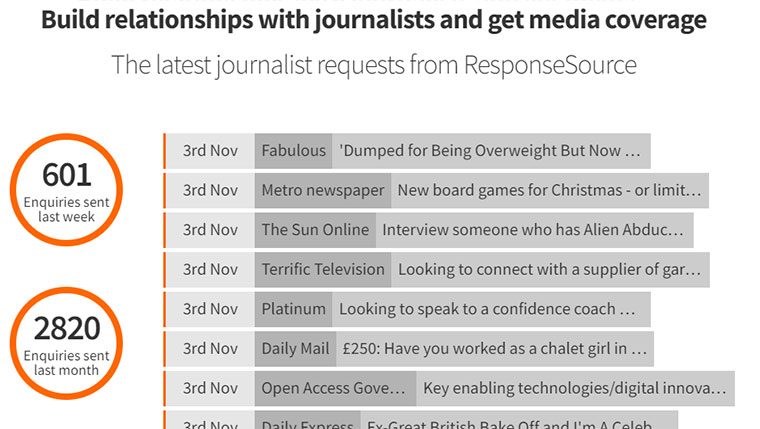 Find more information about becoming a ResponseSource Journalist Enquiry Service subscriber here.
Already a subscriber? Get the most out of the Journalist Enquiry Service with this piece on how to respond to journalist enquiries as well as these quick tips.
Get started now and track all your mentions across every type of media channel with Vuelio Media Monitoring.
https://www.vuelio.com/uk/wp-content/uploads/2021/11/6-reasons-to-stop-using-JournoRequest-and-start-using-the-Journalist-Enquiry-Service.jpg
430
760
Phoebe-Jane Boyd
https://www.vuelio.com/uk/wp-content/uploads/2023/09/vuelio-logo-200px.png
Phoebe-Jane Boyd
2021-11-08 11:15:32
2021-12-02 13:07:31
6 reasons to stop searching #JournoRequest and start using the Journalist Enquiry Service