Integration, responsibility and cake: 7 lessons from the CIPR National Conference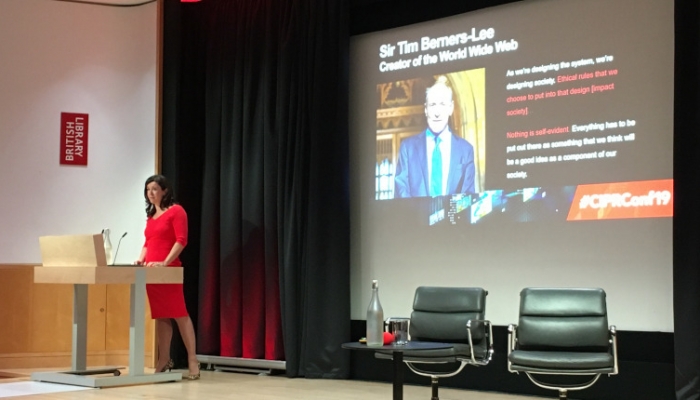 This year's CIPR National Conference 'Preparing for the Digital Future' focused on getting attendees ready for the challenges the industry will face over the next few years. Big issues highlighted at the conference that are already impacting PR and comms included mental health issues within the workplace, irresponsible use of data and CEOs resistant to necessary change.
What can we do to get ready for what's coming, and what's already here?
Check out the main takeaways from the speakers this year and where they believe time, energy and resources should be spent (the first is definitely the most doable…).
1. 'Cake always wins'
Katie Lawson, head of fundraising and communications at Tiny Tickers
Lack of budget and goodwill came up in questions to speakers a lot during the conference – naturally, not every team or corporation is going to have both. During the CIPR Not-for-profit Group Session 'Digital communications on a shoestring', Katie Lawson from charity Tiny Tickers talked about balancing the goodwill of her audience with a lack of funds. Want attention on social media? Office cake is the answer. Katie's advice: take photos of any cake that shows up in the office and post on Twitter – this also goes for dogs.
2. 'Spending money on content that isn't engaging is money down the drain… what you're doing is boring more people'
Helen Reynolds, communications and social media trainer at Comms Creatives
And on the subject of what works on social, Helen 'The old lady of social media' Reynolds also had advice during the panel on working with tiny budgets. Everyone wants more money for what they're planning, but for Helen 'the work is what's important'. As discussed during this talk (which also featured thoughts from Leanne Manchester from The Wildlife Trust), no amount of budget is going to make content that's lacklustre more interesting – it'll just be much more expensive.
3. 'Focus on the human aspect of work – if we're not more open and transparent, I think we're going to be forced to'
Peter Cheese, CIPD
'So, I'm the HR guy' is how Peter Cheese started his talk 'Rebuilding trust from the inside out'. Peter made the point that companies are part of communities and society, and therefore important stakeholders to be considered. Moves to sustainability within offices (the increasing popularity of recycling initiatives and paperless working) and the adoption of workplace charities shows that a greater focus on the human side of big business is already happening. But it can't merely be lip service. Like the RSC dropping BP as a sponsor, genuine steps must be taken for the wider community to see legitimate considerations for the future. Full accountability for bigger brands and high-profile people (Amazon was mentioned a lot during the conference, as well as a certain US president) might not be the reality yet, but it's coming and is worth planning for now. Communities demand, and deserve, better from the corporations that serve and sell to them.
4. 'Reputation management needs to be holistic and integrated. It's vital and necessary to speak out on the big issues of the day'
Tony Langham (CEO, Lansons)
In 'Reputation on the line', Tony Langham highlighted a growing area of the PR and comms industry being within organisations. Employee engagement is where PR is heading, and employees need to be able to trust their companies and those higher-up on the food chain. And this is possible even when it's not necessarily deserved; according to Tony: 'People will forgive anyone if they like them'. So, be trustworthy to your employees, if you have them. Or if you can't quite do that, be likeable.
5. 'If you don't take a stand on technology ethics, you're still taking a stand. There is no neutrality in this space'
Dr Stephanie Hare, researcher and broadcaster
During one of the most passionate talks of the day, Dr Stephanie Hare (in Ethics of Our New Technologies) urged those in the audience to take forward a greater understanding of how to use their influence and skillset. Particularly when it comes to GDPR. For her, 'the way that we are treating data isn't working' and the technology we use isn't without discrimination or potential harm. Having penned an op-ed on the subject for The Observer the weekend prior, and citing the recent controversy with Apple Pay's gender discrimination during her talk, Dr Stephanie made the case that 'building better tech is about building a better world – you'll have a better PR story if you get on the right side of history'.
6. 'The same way that companies can track us, we can track them and what they're doing – corporate digital responsibility needs to be applied in-house'
Dr Lawrence Ampofo, Digital Mindfulness
Also advocating for greater responsibility in the tech space, Dr Lawrence Ampofo argued for greater human interaction in the development of technologies and services, as well as with customers. Technology, services and products need to have the 'friction' of humanity alongside the benefits of AI (also a big topic during the conference, unsurprisingly). What humans can bring that AI can't (yet) is responsibility to employees and clients – that's only going to get more important, going by how many times it was talked about by the speakers and in audience questions.
7. 'Get your boss involved in decisions to be part-owner of solutions. Ask 'what do you think?' Take them on the journey'
Joanna Blackburn, Government Digital Service
Moving away from pure profit considerations and towards a more mindful approach for the wider community we serve and the colleagues we work with has to come with CEO approval. What do you do when you don't make all the big decisions at your company, and have a particularly resistant person in charge? Bring them on the journey with you, said Joanna Blackburn when talking through her successes with bringing about change at the Government Digital Service. And for those holding the power in organisations, her warning was that job titles don't guarantee respect anymore and that workplaces are filled with intelligent people quick with questions for those in charge.
To be ready for the future of PR – wherever you are in your company hierarchy, or whatever your budget – the lessons from this year's CIPR National Conference speakers was to be open, ethical and considerate. But also, to help get that started, bring more cake into the workplace. Also, dogs.
https://www.vuelio.com/uk/wp-content/uploads/2019/11/Dr-Stephanie-Hare-CIPR-2019.jpg
430
760
Phoebe-Jane Boyd
https://www.vuelio.com/uk/wp-content/uploads/2019/09/vuelio-logo.png
Phoebe-Jane Boyd
2019-11-18 15:45:43
2021-12-23 17:16:44
Integration, responsibility and cake: 7 lessons from the CIPR National Conference