AIinPR launches global AI Literacy in Public Relations Profession survey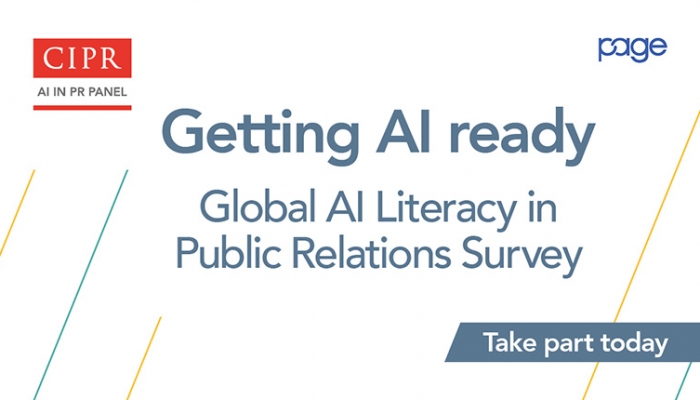 CIPR's Artificial Intelligence in Public Relations Panel (AIinPR) has launched its AI Literacy in Public Relations Survey in association with Page to assess understanding of the topic among PR professionals worldwide.
Results from the five-minute survey will inform plans for AIinPR work on improving knowledge levels and performance in the use of big data and AI across the industry.
All practitioners who work in PR across the world are encouraged to take part and can opt in for an additional short phone interview to further help with AIinPR research.
'Data and AI literacy is an essential skill to develop for public relations practitioners who want to remain relevant,' said AIinPR chair Kerry Sheehan.
'The coming months and next year will be crucial for us with AI in our own roles and in our advisory roles. The AIinPR Panel knows there is an urgent requirement for AI-aware and public relations practitioners upskilled into real data and AI. Public relations practitioners should be at the forefront of AI innovation in our own roles and, importantly, holding organisations, businesses and brands to account on ensuring only ethical AI4Good is built and deployed, and trust is maintained in our roles as reputation guardians and solutions-led leaders. We have a vital role to play here.'
Page VP for communications and content Eliot Mizrachi added: 'As PR adopts cutting-edge AI and machine learning, there will be profound opportunities to more deeply understand stakeholders and deliver more personalised content and experiences. At the same time, we must be cognisant of its implications, from algorithmic bias to the need to evolve how professionals work with these new technologies.
'Now is the time to assess what we know, what we don't, and develop smart approaches.'
AIinPR lead academic Professor Anne Gregory also highlighted the importance of understanding AI across public relations: 'We have seen a growing number of governments, NGOs and businesses across the globe adopting data and AI technologies in their business processes, activities and interactions. It is now embedded into almost every commercial and social transaction.
'Understanding AI is vital for the PR profession both in our own work practices and as advisers to senior leaders. With the power for good and harm that big data and AI offers, someone has to the perform the ethical guardian role. That is down to us.'
The AI Literacy survey can be completed here.
Find out more about the aims of CIPR's AIinPR panel in our write up of its launch and research.
https://www.vuelio.com/uk/wp-content/uploads/2021/04/AIinPR-survey.jpg
430
760
Phoebe-Jane Boyd
https://www.vuelio.com/uk/wp-content/uploads/2019/09/vuelio-logo.png
Phoebe-Jane Boyd
2021-04-06 13:13:01
2021-04-06 13:13:01
AIinPR launches global AI Literacy in Public Relations Profession survey